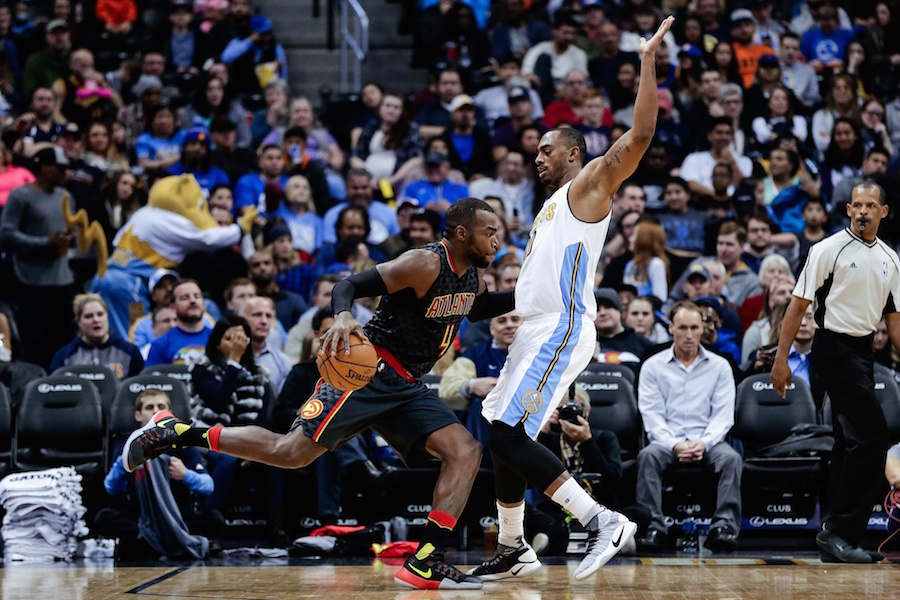 The Denver Nuggets have been widely regarded as one of the most-exciting young teams in the NBA, as they possess and intriguing core made up of players like Gary Harris, rookie sensation Jamal Murray and Serbian big man Nikola Jokic. But even the most-ardent fans would agree that the teams has been missing a player that could anchor them on defense, as well as contribute on the offensive end. Well, it appears as if they've finally filled that void, as they agreed to terms with Paul Millsap on a three-year, $90 million contract on Sunday. The news has Nuggets fans excited, as they should be.
Why this works for Denver
In Millsap, the Nuggets are adding a four-time All-Star and seasoned veteran that they've long coveted. Getting him shows that Tim Connelly and Company can actually close a deal.
Millsap is coming off of a year where he averaged 18.1 points and 7.7 rebounds per game during the regular season, which turned that into 24.3 points, 9.3 rebounds and 4.3 assists in the Hawks' first-round series loss to the Washington Wizards in the postseason.
With Northwest Division foes adding players such as Jimmy Butler and Paul George, this moves gets the Nuggets closer to their goal of making the postseason in a Western Conference that continues to get stronger and stronger.
Millsap is a player that head coach Michael Malone will love, as his presence will improve Denver's defense tremendously. This will help mask some of the flaws of Nikola Jokic on that end of the floor, as Denver had the 29th ranked defense in the NBA last season. It also gives Denver a player to play alongside Jokic on the offensive end, where Denver was the highest scoring team in the league from February until the end of the season. This addition makes them one of the best front-courts in the NBA.
A great contract
Had Millsap been on the market last year, he would've surely gotten paid max money. This time around, however, teams had a different idea on a committing long term on a 32-year-old player.
While it was unknown the exact number that Millsap would receive heading into free agency, there was a general idea that he would get something close to a max offer of $149 million over four years, a number the Nuggets had the means to do and probably would have in order to acquire a player of his caliber had the market been different. So being under those numbers in terms of total dollars, average dollars and length of the deal is a win on all fronts.
With questions lingering about a possible decline in Millsap's game, as well as uncertainties regarding his age and that type of money, it appears as if the Nuggets got him at a low-risk and beneficial contract that allows a team option in the third year. This is an excellent move by the Nuggets front office in preparation for next offseason, when they have to turn their attention to the inevitable re-signing of Nikola Jokic on a max contract as he becomes a restricted free agent.
Trickle-down effect
With the addition of Millsap it creates a rather unique atmosphere with the Nuggets as it forces you to ask the question, "What happens to the roster now?"
Consolidation has been a word thrown around Denver with reason, as there are six power forwards / combo forwards on the roster (Kenneth Faried, Darrell Arthur, Tyler Lydon, Trey Lyles, Juan Hernangonez and Millsap), not to mention it probably makes it harder to sign Mason Plumlee, as well. Somebody must go.
One player that looks as if they'll for sure have to get rid of is Danilo Gallinari.
To sign Paul Millsap into room, Denver will likely have to release the Danilo Gallinari and Roy Hibbert cap holds.

— Bobby Marks (@BobbyMarks42) July 3, 2017
The only way the Nuggets can keep Gallo is if they renounce his Bird Rights to get cap room or look for a sign-and-trade in the coming day. Ff not, it appears as if the forward will most likely have a new home; the weather is nice in Los Angeles.