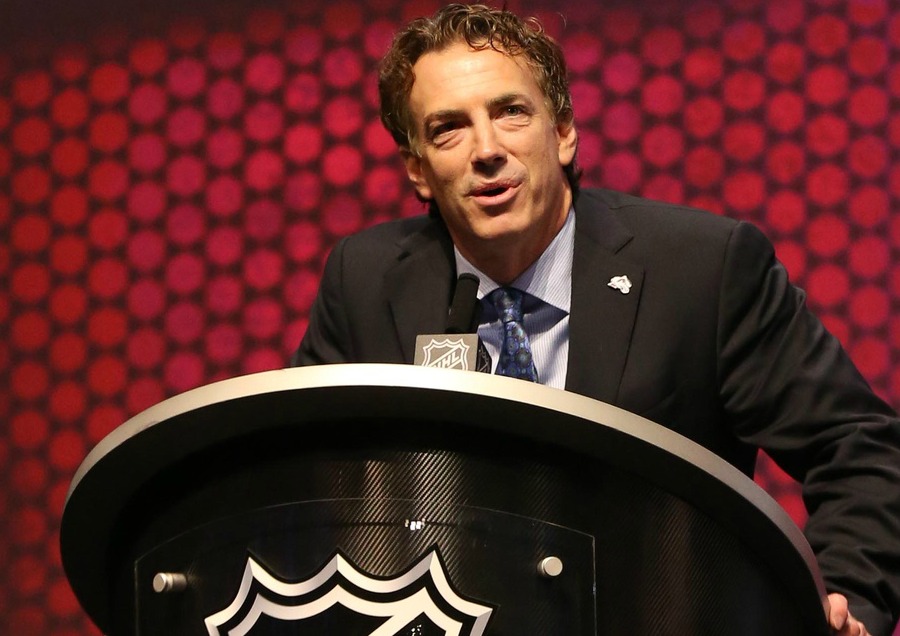 It's that time of the hockey season, the one that ends either feeling like Christmas in April or like the biggest sports disappointment outside of losing a playoff series 'due to an offside call.'
Yes, I'm talking about the trade deadline, which arrives on Monday.
So what should an Avalanche fan expect when expecting?
Expect the Avs to be buying what others are selling this year, though with a sharp eye on immediate value. The team has performed exceptionally well, particularly in the last month and change. This means that while the club doesn't need a whole lot, it also deserves reinforcements in specific areas for the final push to Lord Stanley's sweet silver chalice.
Expect, if history is to serve as any indication, at least one deal to be made. Colorado has made a player transaction the week of or on the deadline itself in 22 of the 25 years it's been in Denver. This also includes trades in the last 18-straight seasons and multiple moves in three of the previous five years.
Expect to see a new netminder in town to support Philipp Grubauer. While the German goaltender has been out of this world while backstopping the Avs to a 27-4-1 record through 38 games played to date, he's going to need some rest down the stretch. The Avalanche is going to need him healthy and ready for when the pace really picks up, and with 18 matches scheduled in the next 32 days—including two back-to-back sets—that means sitting him more than the six times he hasn't played thus far.
Sure, Jonas Johansson now has a win under his belt with the Avs, but is he reliable enough if an injury relegates the clear, far-and-away starter to the bench? He hasn't proven to be thus far in his two starts with the club. Also, Hunter Miska hasn't gotten the job done with his opportunities, Adam Werner has two contests under his belt, and Peyton Jones has yet to make his NHL debut.
Lastly, nobody has seen or heard from Pavel Francouz in months. This is concerning and signals he won't be eating pucks up anytime soon. So goaltending experience, meaning a quality backup pushing for potential starts, is needed.
Expect players and money to go the other way in any transaction. Moving money with a flat salary cap this year isn't easy for any club, which means picks could be in play. Plus, Colorado currently has room for just two more contracts on the books before the NHL-mandated limit of 50. This means it's time to prepare to say goodbye to a blue-collar fan favorite or two.
The club also has approximately $3.2 million in cap space available without any sleight of hand from the accountants. That means the team could seek out a Jonathan Bernier-type—the irony!—but he hasn't played since March 18 due to injury. Maybe Anton Forsberg, from the Ottawa Senators, will raise some eyebrows. If he were moved, he'd be joining his fifth team this season. The poor guy is more familiar with cross-border quarantining than anyone in the league.
Expect at least one more player, either a reliable forward or a solid defenseman to join the club. Let's be honest, the Avs have largely been fine with the not-so-merry-go-round of defensemen filling in for the litany of injuries on the blue line. Hell, this team used to live or die by Erik Johnson's presence and he's been missing in action since the end of January. But it wouldn't hurt to have someone steady on the back end, particularly when a guy like Ryan Graves has been so up and down this year.
Expect the looming moves to be smart, financially savvy, and an indicator of the all-in-nature of this season. There were high expectations for the Avalanche this season and Joe Sakic and Co. know what needs to be done. The playoffs are right around the corner and this team wants to win it all.
Avalanche Trade Deadline (and Deadline Adjacent) History:
**March 19, 1996 – Vesa Viitakoski from Flames for Paxton Schulte
March 20, 1996 – Dave Hannan  from Sabres for 6th Round pick (Darren Mortier) #161
March 24, 1998 – Warren Rychel (second time) + 1999 conditional pick (#112-Sanny Lindstrom) from Ducks for Josef Marha
March 23, 1999 – Sami Helenius from Tampa for future considerations
March 23, 1999 – Dale Hunter, 2000 3rd rounder (Sergei Klyazmin #92) from Capitals for what turned out to be 1999 2nd pick (#31-Charlie Stephens)
***March 6, 2000 – Dave Andreychuk, Ray Bourque from Boston for Martin Grenier, Samuel Pahlsson, Brian Rolston, and eventually 2000 1st (#27 Martin Samuelsson)
***February 21, 2001 – Rob Blake, Stephen Reinprecht from Kings for Adam Deadmarsh, Aaron Miller, 2001 1st round pick (#30-David Steckel), 2003 1st round pick (#26-Brian Boyle), player to be named later (Jared Aulin)
March 19, 2002 – Darius Kasparaitis from Penguins for Rick Berry and Ville Neiminen
**March 8, 2003 – Bryan Marchment from Sharks for 2003 3rd round pick (#97-Ryan Donally), 2003 5th round pick (#163-Brad Richardson)
March 11, 2003 – Bates Battaglia from Carolina for Radim Vrbata
**March 8, 2004 – Matthew Barnaby, 2004 3rd round pick (#72-Denis Parshin) from Rangers Chris McAllister, 2004 2nd round pick (#37-David Shantz), rights to David Liffiton
March 9, 2004 – Chris Gratton, Ossi Vaananen, 2005 2nd pick (Paul Stastny #44) from Coyotes for Keith Ballard, Derek Morris
March 9, 2004 – Tommy Salo, 2005 6th round pick (#168-Justin Mercier) from Oilers for Tom Gilbert
March 9, 2004 – Chris Bala from Wild for Jordan Krestanovich
**March 8, 2006 – Jose Theodore from Canadiens for David Aebischer
March 9, 2006 – Jim Dowd from Blackhawks for 2006 4th round pick (#111-Korbinian Holzer)
February 27, 2007 – Scott Parker from Sharks for 2008 6th round pick (#170-Jonas Holos)
February 27, 2007 – Michael Wall from Ducks for Brad May
**February 26, 2008 (deadline 2/28) – Russian Salei from Panthers for Karlis Skrastins, 2008 3rd round pick (#80-Adam Comrie)
**February 26, 2008 – Adam Foote from Columbus for conditional 1st pick (2008 #19-Luca Sbisa), 2009 conditional 4th round pick (if Avalanche re-sign Foote) (#94-David Savard)
March 4, 2009 – Lawrence Nycholat, Ryan Wilson, 2009 2nd round pick (#49-Stefan Elliott) from Flames for Jordan Leopold
March 3, 2010 –  Harrison Reed, Stephane Yelle from Carolina for Cedric Lalonde-McNicoll, 2010 6th round pick (#167-Tyler Stahl)
March 3, 2010 – Peter Mueller, Kevin Porter from Arizona for Wojtek Wolski
***February 19, 2011 – Erik Johnson, Jay McClement, conditional 1st round pick (#11- Duncan Siemens) for Kevin Shattenkirk, Chris Stewart, 2011 conditional 2nd round pick (#32 Ty Rattie)
February 28, 2011 – Shawn Belle from Oilers for Kevin Montgomery
February 27, 2012 – Jamie McGinn, Mike Connolly, Michael Sgarbossa from Sharks for T.J. Gliardi, Daniel Winnik, 2013 7th round pick (ANA – #207 – Emil Galimov)
** April 2, 2013 – Tomas Vincour from Stars for Cameron Gaunce
April 3, 2013 – 2014 4th round pick (#93 – Nick Magyar) from Toronto for Ryan O'Byrne
March 5, 2014 – Reto Berra from Flames for 2014 2nd rounder (#54 – Hunter Smith)
March 2, 2015 – Mat Clark from Ducks for Michael Sgarbossa
March 2, 2015 – Jordan Caron, 2016 6th round pick (#165 – Oskar Steen) from Bruins for Maxime Talbot, Paul Carey
March 2, 2015 – Freddie Hamilton from San Jose for Carl Stollery
February 29, 2016 – Taylor Beck from Islanders for Marc-Andre Cliche
February 29, 2016 – Eric Gelinas from Devils for 2017 3rd round pick (#63 – Fabian Zetterlund)
February 29, 2016 – Mikkel Boedker from Arizona for Alex Tanguay, Conner Bleackley, Kyle Wood
March 1, 2017 – 2018 conditional 4th round pick (#113 – Aidan Dudas) from Kings for Jarome Iginla
March 1, 2017 – Sven Andrighetto from Canadiens for Andreas Martinsen
March 1, 2017 – Brendan Ranford from Arizona for Joe Whitney
February 26, 2018 – Ryan Graves from Rangers for Chris Bigras
February 25, 2019 – Derrick Brassard, 2020 conditional 6th round pick (#167 – Nils Åman) from Panthers for 2020 3rd round pick (#87 – Justin Sourdif)
February 24, 2020 – Michael Hutchinson from Toronto for Calle Rosen
February 24, 2020 – Vladislav Namestnikov from Senators for 2021 4th round pick
** Within one week of the deadline