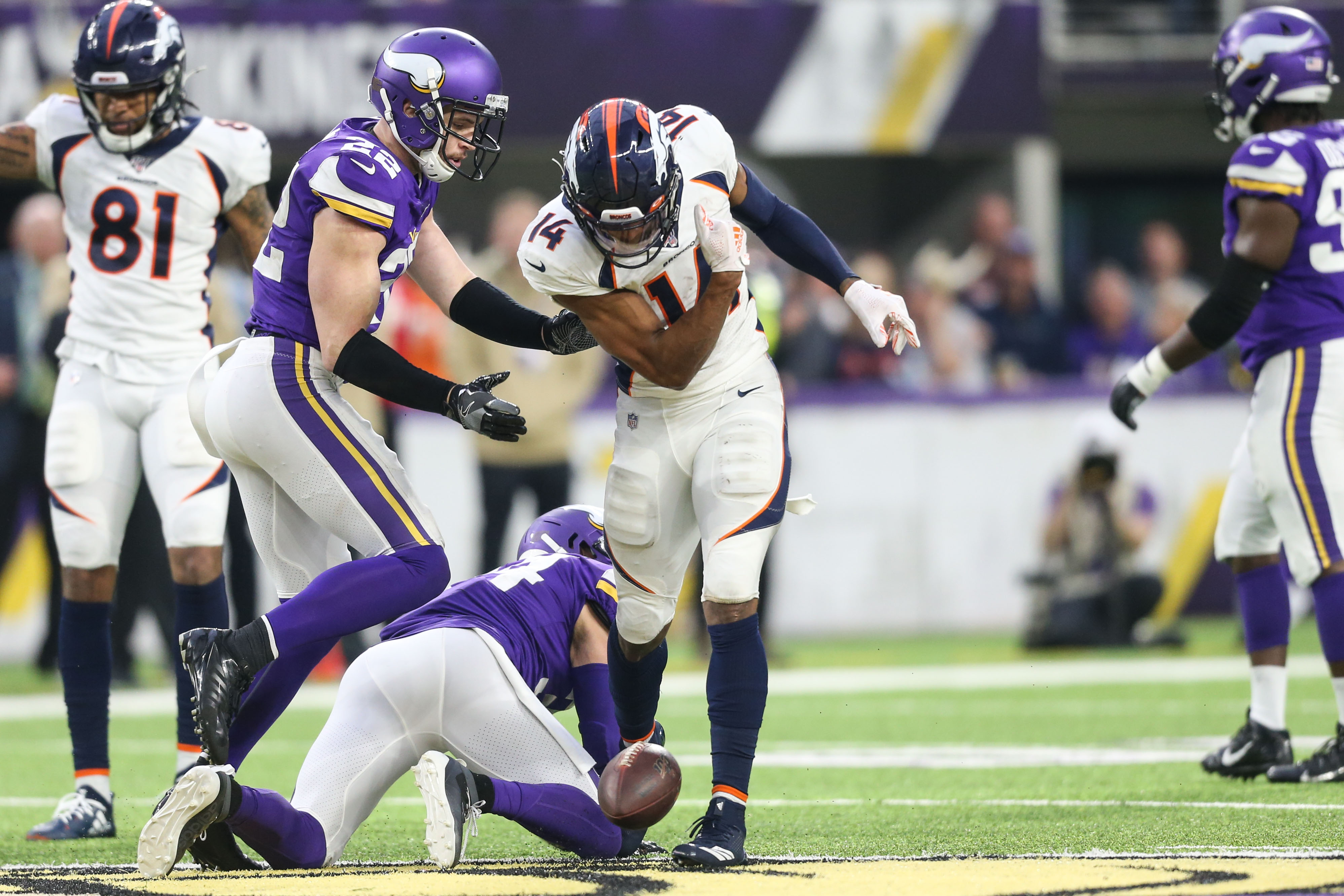 Hallelujah! Hallelujah! Football is finally back, and more specifically, Denver Broncos football is finally back.
Saturday night the Broncos will square off with the Minnesota Vikings in their first preseason, but what are the most important players and battles to keep an eye on? Let's take a look.
Quarterback Battle
We have to open things up with the marquee event that everyone will be watching. This preseason game will be hugely important for the battle of Teddy Bridgewater vs. Drew Lock, as we will now we'll finally have some more concrete data to base our observations on.
All reports have also seemed to indicate that the coaching staff has placed a premium on these preseason games when it comes to determining who the regular-season starter under center will be.
Through training camp, the competition has so far been very neck-and-neck, which is bad news for Broncos Country. The sooner one of the players separates themselves from the pack, the more time Denver will have to prepare them for the regular season by upping their share of reps in practice. Also, the lack of separation points to both quarterbacks being underwhelming, which has been the case so far.
Saturday night will provide a much-desired opportunity to turn the ship around though for the two quarterbacks.
The Vikings will be resting all of their defensive starters, according to Mike Zimmer. That's bad news for a secondary that has reportedly been eaten alive by Denver's pass catchers all throughout the joint practice period. Inserting backups into that secondary, likely won't improve how Minnesota fares.
Drew Lock will get the first opportunity to attack that bench unit, and it should make for an interesting test. Of course, the Broncos have a clear talent advantage, but few are better at perplexing quarterbacks, and baiting them into mistakes, than Vikings head coach Mike Zimmer.
Teddy Bridgewater will get the start next week against the Seattle Seahawks.
Trench Warfare
We have no real idea as to how strong the Broncos' ground attack is, how good their offensive line is, and how good their defensive line is.
The amount of contact that is allowed in practice limits the ability for players in those three groups to adequately perform their jobs, which can make evaluating their positions a difficult task in training camp.
Saturday Night, we'll get our first taste of what those three units could end up being, and who will win the depth chart battles occurring among each of the position groups.
It seems like Melvin Gordon has locked up the Week 1 starting running back job, but it'll still be exciting to get our first glimpse of Javonte Williams and to see how much he can pressure Gordon. Behind them, there's also an intriguing competition, as the injury to Mike Boone has opened the door for one of Royce Freeman, LeVante Bellamy and Damarea Crockett to push for a roster spot.
Out of those three, keep an eye on the little-known Crockett, who has been making plays all camp long.
We'll also get an opportunity to evaluate just how dire Denver's right tackle situation looks, with Calvin Anderson and Bobby Massie holding it down. So far, it seems Anderson is the leader in the clubhouse, but the preseason games will be huge for determining the starter.
Lastly, while there isn't a major position battle on the defensive line, it will be interesting to see how they perform. Throughout Broncos training camp here in Colorado, they looked like world-beaters, but seeing Denver's offensive line get bullied on the first day of joint practices forces one to wonder 'how much of that was them, and how much was the offensive line?'
Is this the No-Fly Zone 2.0?
We all know this defense is loaded, right?
The question now becomes, are they loaded like a top-five defense in football, or are they loaded like an undebatable No. 1 defense that has the chance to do something historic?
Saturday's matchup with the Vikings and their talented offensive unit should prove to be a good first trial for the unit.
Von Miller is unlikely to play, and the Broncos would be wise to bench many of their stars quickly — especially after the injury luck they had last season — but the depth will have plenty of opportunity to shine.
As a result, we should get a great read on Patrick Surtain II, Justin Strnad, McTelvin Agim, Jonathan Cooper, and Caden Sterns, all of whom have the potential to be major X-factors with important roles on this new-era Denver defense.
Just please, do us all a favor, and come up with a more creative (and potentially iconic) nickname than No-Fly Zone 2.0 or Orange Crush 2.0. This unit deserves it.