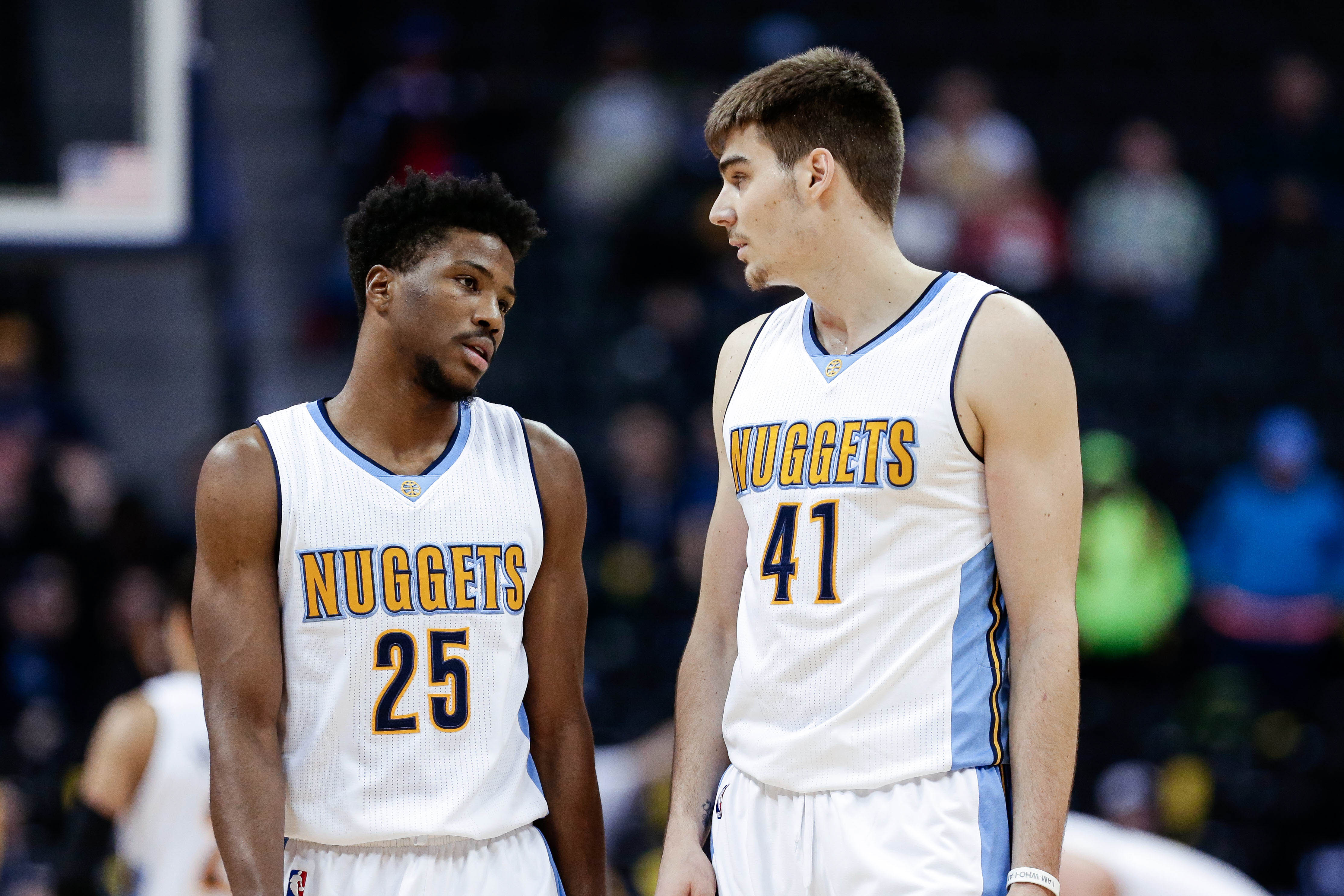 When the Denver Nuggets drafted three players in the first round of the 2016 NBA Draft — Jamal Murray, Malik Beasley and Juancho Hernangomez — the front office knew that they were going to have some tough decisions to make down the line.
Well, that time is just about here.
Murray has already agreed to a five-year, $170 million maximum contract extension, but Denver still has both Beasley and Hernangomez eligible for extensions. According to Mike Singer of the Denver Post, the Nuggets want to extend the contracts of both Hernangomez and Beasley and they have until October 31st to do so. If no deal is reached, both players will become restricted free agents in 2020.
If the Nuggets do manage to extend both Beasley and Hernangomez, they will be unable to avoid paying into the luxury tax in 2020-21; especially if they also want to retain the likes of Torrey Craig, Jerami Grant and Paul Millsap while also filling out the rest of their roster.
Now that Denver is staring down their first luxury tax bill in a decade, the question begging to be asked is how much will it cost to keep both Beasley and Hernangomez in the Mile High City and how far into the tax would Denver be willing to go to make sure that happens.
Before diving into what each player could command during extension talks or in restricted free agency, it is important to understand where the Nuggets are at financially right now and for the next few years.
Denver's future financial flexibility
Before going any further, here is Denver's full cap sheet, courtesy of EarlyBirdRights.com, which has Denver's committed salary from the 2019-20 season all the way through the 2024-25 season.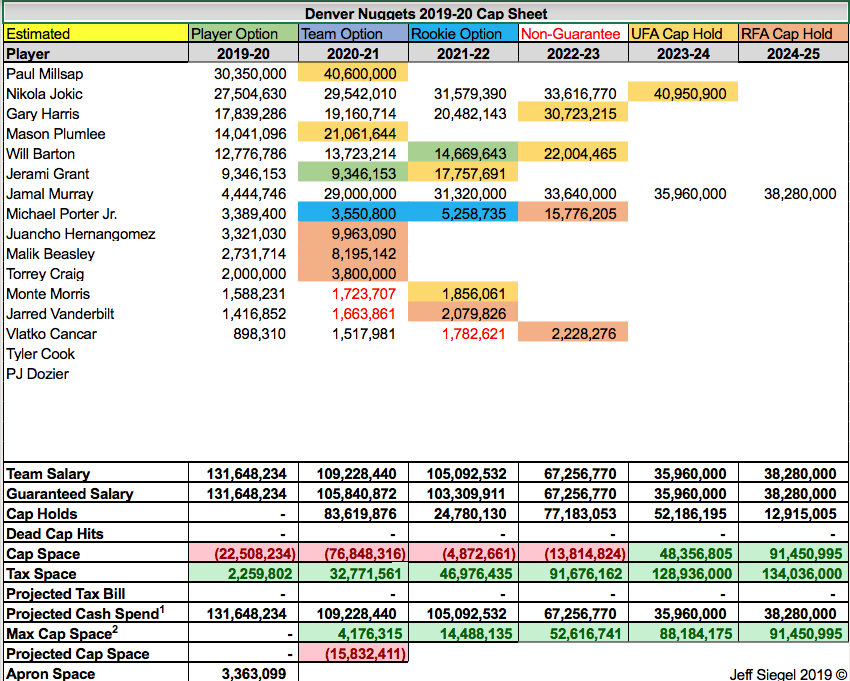 As things currently stand, the Nuggets will have just about $100 million in salary tied up in seven players for the 2020-21 season — the year that extensions would kick in for Murray, Beasley and Hernangomez. That number does not include Paul Millsap, Mason Plumlee, Jerami Grant (who has a player option), Torrey Craig, Beasley or Hernangomez.
That means Denver will have $41 million to fill out eight roster spots for the 2020-21.
With that money, it is safe to assume Denver will be looking to sign Grant to a new contract in addition to extending both Beasley and Hernangomez, as Singer reported. Denver did not trade a future first-round pick to acquire Grant purely as a rental. They view him as a long-term piece of their franchise and will do what they can to keep him in a Nuggets uniform beyond the 2019-20 season.
Let's play the hypothetical game and assume that the Nuggets plan to give Jerami Grant a deal worth $17 million per year (the average salary of a big who starts according to a study done by Jeff Siegel of EarlyBirdRights.com). Denver would suddenly be down to just $24 million left to sign seven players if they want to avoid the tax.
That means avoiding the luxury tax is nearly impossible if the Nuggets want to keep both Beasley and Hernangomez while also filling out the rest of the roster.
So how much can Denver afford to pay Beasley and what would be considered too much for his services? What would an extension for Hernangomez look like? After retaining all three of Beasley, Grant and Hernangomez, could Denver still find a way to keep Millsap, Craig or sign other players?
There are no easy answers to any of those questions. That is why time for Denver to make tough decisions starts now.
Malik Beasley
As stated before, it is going to be extremely tough — if not impossible — for the Nuggets to avoid the luxury tax in 2020-21. The real question is how far into the tax will Denver have to go to keep their team together.
Their hopes of keeping the team together while avoiding a large tax bill took a big hit on Monday morning when Shams Charania of The Athletic reported that Beasley has switched his representation from Richard Gray of Gray Area Sports to the infamous Rich Paul of Klutch Sports.
Beasley will now enter negotiations with one of the most gifted and tenacious agents in all of sports representing him.
When looking at other clients of Paul, there is really only one comparable player that Beasley could look to to for a baseline. In March of 2019, Paul negotiated a contract extension that kept Eric Bledsoe with the championship-contending Milwaukee Bucks. Bledsoe's deal is worth a total of $70 million over four years.
Paul also was able to get a three-year deal for Corey Joseph this past offseason that will pay him a total of $37 million in addition to getting Jordan Clarkson $50 million over four years all the way back in 2016, but Beasley is a much more impactful player than both of them and has significantly more potential.
So what does that mean for the Nuggets and how much it will cost to keep Beasley in Denver? A good place to start would be with the contracts that Gary Harris and Will Barton signed over the past couple years.
Back in October of 2017, Harris agreed to a four-year contract extension that could pay him a maximum of $84 million if he manages to reach all of his incentives which are worth a total of $10 million. When including all incentives, Harris averages $21 million per year. From Beasley's point of view, why not try to get a similar contract that Harris signed? At the time, Harris had only one strong season under his belt just like Beasley. Yes, Harris was a much better defender, but Beasley is a comparable three-point shooter and arguably the most athletic player on the Nuggets roster.
To kick off the 2018 free agency period, Barton — who was coming off of the bench at the time — signed a four-year deal worth $53 million despite having more lucrative offers from others teams. His deal pays him an average of $13.25 million per year. Beasley is currently five years younger than Barton was when he signed his four-year deal deal. Additionally, Beasley coming off of a season in which he was one of just five players to shoot 40% or better from three-point range while taking at least five 3-pointers per game.
Because of those facts, it is easy to see Beasley's contract being much larger than Barton's team-friendly contract.
Prediction:
There is almost no reason for Beasley and Paul to enter negotiations asking for anything less than $20 million per year over four years, but a four-year extension worth $70 million makes sense as a compromise.
Every franchise — rebuilding teams or contenders — could use a 22-year-old, sweet-shooting, hyper-athletic wing player. If the Nuggets and Beasley do not agree to an extension, there could be quite a few suitors for Beasley's services in restricted free agency which only increases the odds of him playing for a new team in 2020.
If the Nuggets want to ensure they keep Beasley in the fold, they need to get a deal done with him before he hits free agency like they did with Nikola Jokic and Jamal Murray.
Juancho Hernangomez
If Denver values Hernangomez and believe he can bounce back, there is no better time to get a deal done with him than right now.
Extending his contract before October 31st allows the Nuggets to capitalize on the fact that Hernangomez's value is at its lowest point. That may sound harsh, but as stated earlier, the Nuggets are going to be staring down a luxury tax bill in the very near future. Being able to keep Hernangomez as an offensive forward on a cheap deal could pay off in a massive way down the road while not breaking the bank.
One of the toughest aspects of competing for a championship is filling out the rest of the roster. For the Nuggets, the majority of their cap space is already used and that issue is not going to be going away anytime soon. Being able to get a strong bang for their buck when filling out the rest of the roster can be the difference between competing for the Larry O'Brian trophy or losing in the second round of the playoffs.
On the other side of the negotiation, signing a contract extension makes very little sense for Hernangomez at this point in time because his value is at its lowest point. If he can manage to have a breakout season, his value would skyrocket. The only thing that has held him back from playing well has been a bout with mononucleosis and a core muscle injury. When he has been healthy, he has been a very helpful player for the Nuggets.
Prediction:
Because Hernangomez's value is at its lowest point, it seems unlikely that the Nuggets will be able to extend his contract prior to the start of the preseason, but that does not mean he is headed for restricted free agency.
If Hernangomez is able to build on his strong FIBA World Cup showing than he could gather the momentum needed to build up his value. What is even better is that he will have ample opportunity to do so. Prior to the deadline to extend Hernangomez on October 31st, he will have all of training camp, four preseason games and five regular season games to prove his worth and raise his value.
If Hernangomez is able to thrive and stay healthy through the first couple regular season games, a three year deal worth a total of $30 million makes sense for both sides. Hernangomez gets life-changing money and stability and the Nuggets keep a very useful forward at a reasonable number.
If Hernangomez elects to become a restricted free agent, things become much more uncertain. He could massively raise his value if he breaks into Denver's regular rotation and plays well, but Hernangomez could also find himself bottoming-out his value if he gets hurt or does not play.
Conclusion
This Nuggets roster is about to get expensive and in a hurry.
If the Nuggets end up giving Grant $17 million per year, Beasley $17.5 million per year, and Hernangomez $10 million per year, Denver is suddenly looking at $144.5 million in guaranteed salary with only 10 players on the roster and that does not include Paul Millsap, Mason Plumlee or Torrey Craig. That would put them $3.5 million over the luxury tax line with five open roster spots.
Everyone is about to find out just how dedicated to winning Nuggets' ownership really is. If Denver wants to retain Millsap and Craig in addition to Grant, Beasley and Hernangomez, they could be well on their way to the highest luxury tax bill ever paid by the Nuggets franchise, but that is only the start.
Denver would essentially be staring at a luxury tax bill that could span three years if they keep their roster together and do not tear it down in a drastic way. That would put the Nuggets at risk of qualifying for the repeater tax if they stay above the luxury tax for at least three of their last four seasons.
The time is now for the Nuggets to begin making their toughest choices yet.ez