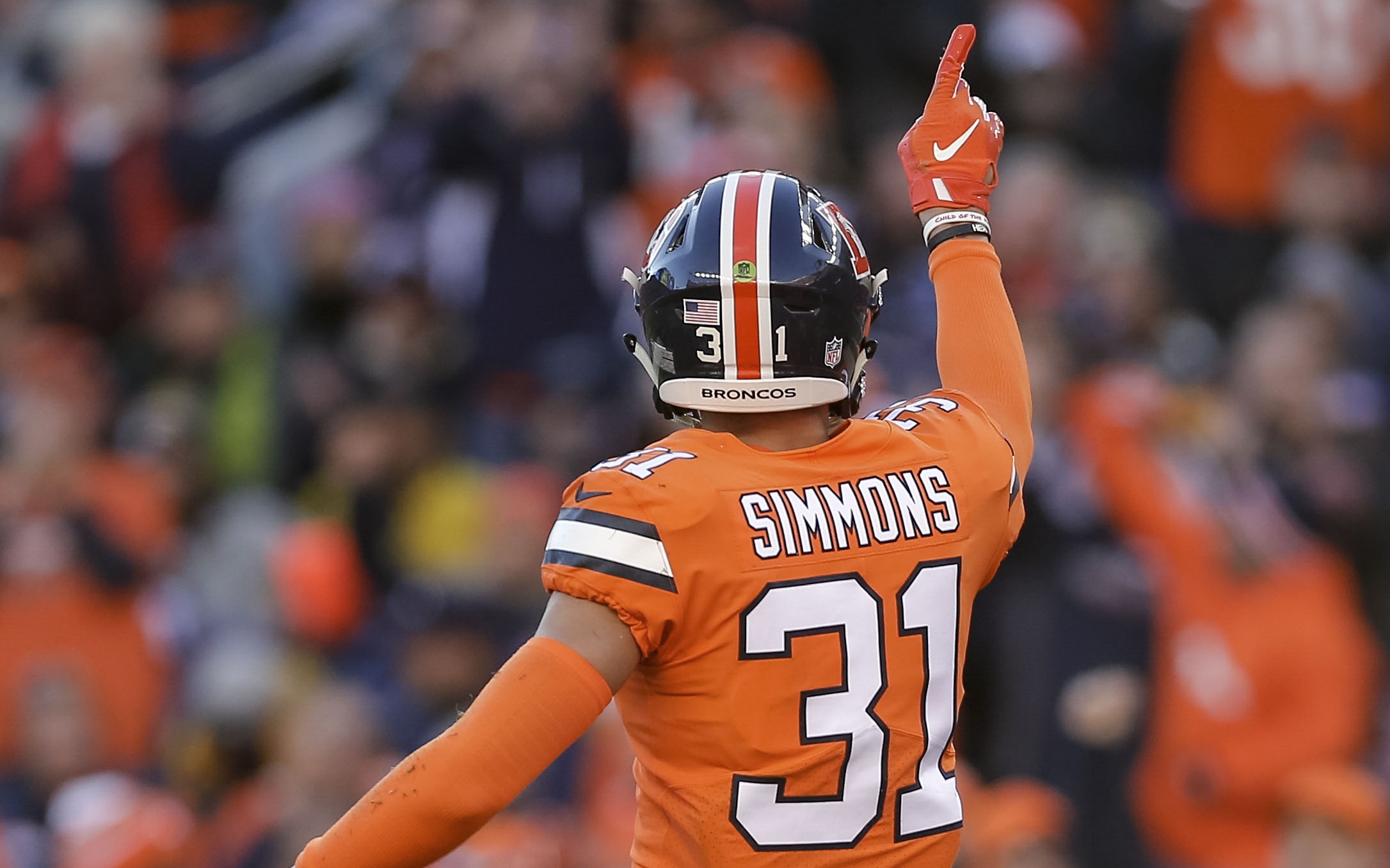 The quarterback position is the more frequently discussed topic, but new general manager George Paton's first order of business will be determining what to do with Justin Simmons and the rest of Denver's coveted in-house free agents.
In this article we'll look at the situations surrounding each of those important free agents and what the best course of action is for the Broncos and Paton.
Justin Simmons
Simmons has emerged as arguably the best all-around safety in the league under head coach Vic Fangio. He might not be as good as a pure cover-man as someone like Minkah Fitzpatrick — though even that is highly debatable — but he's clearly a much better tackler and much better against the run. He might not be as good of a pure run-defender or pass-rusher as Jamal Adams, but the difference between the two in coverage is night and day.
If the on-field superstardom wasn't enough to sell you on a long-term extension for Simmons, his remarkable off-field character and leadership skills in the locker room should. Forget about the athleticism, Simmons is still an exceptionally rare human being the Broncos should desperately want inside their building.
Hopefully Paton decides to bring Simmons back on a lengthy and well-deserved extension, and there's reason to believe Paton will do just that. The only argument you could make for not re-signing Simmons is if you don't value the safety position. Plenty of executives don't value the position, but it doesn't seem like Paton is one of those executives.
While Paton was in Minnesota, the Vikings selected Harrison Smith in the first round of the 2012 NFL Draft and re-signed him to a five-year deal worth $51 million, which made him one of the highest-paid safeties in NFL history. Last season the Vikings franchise-tagged star safety Anthony Harris and they're expected to sign him to a long-term deal this offseason.
Justin Simmons is just as good as those guys if not better, so one would think Paton would be doing everything in his power to bring Simmons back.
Shelby Harris
It was a miracle no one saw coming last off-season when the Broncos managed to re-sign Shelby Harris at a remarkable bargain. Harris returned and followed up his 2019 career year with another terrific showing in 2020. As a result, he should be more difficult and expensive to retain this off-season, so Denver will have to be creative in order to bring him back.
Currently it would be difficult to find the cap space to re-sign Harris, but that problem can be easily solved by cutting Jurrell Casey. That isn't an ideal scenario, but at this point Harris is two years younger and has demonstrated high-end play in Fangio's scheme. Meanwhile Casey is at the tail-end of his career and coming off a season-ending injury.
If the Broncos can only bring back one of those talented defensive linemen, and that seems to be the case, they should definitely stick with Harris.
Elijah Wilkinson
With Garett Bolles finally making the leap to stardom, Elijah Wilkinson might now be the most-reviled offensive lineman in the city of Denver. However, the Broncos should still try their best to bring him back.
With the new CBA, the Broncos should have eight offensive linemen dressing on game day (five starters, three backups) and they currently have no backups for Ja'wuan James under contract in 2021 that they feel they can rely on. That's where Wilkinson comes in.
It's clear the Broncos can't rely on James and without another viable option on the roster, Wilkinson could be a nice insurance policy. However, he has also struggled a lot in that backup tackle role in the past, and Denver doesn't need him as a backup guard with Netane Muti.
As a result, don't be surprised if the Broncos go with a backup option that will be cheaper in 2021 than Wilkinson and has more long-term upside.
For example, maybe someone like Oklahoma State tackle Teven Jenkins, who should go in the middle rounds but could quickly develop into a starter in the NFL with the right coaching.
Will Parks
Will Parks is the another one of the key unrestricted free agents Denver should focus on re-signing.
As previously stated, Justin Simmons is set to become an unrestricted free agent, and Kareem Jackson is set to be one after next season. That makes Parks an ideal backup plan for both Jackson and Simmons.
Parks has the ability to play either safety position in Fangio's scheme and would cost a small fraction of what Jackson or Simmons would cost. Also he's a starting-caliber talent, so having him as a cheap backup should be very enticing.
One aspect of re-signing Parks to watch is that incredible value. Jackson is a terrific player, but the drop off from him to Parks isn't terrible and the Broncos could save a money by keeping Parks and declining Jackson's option.