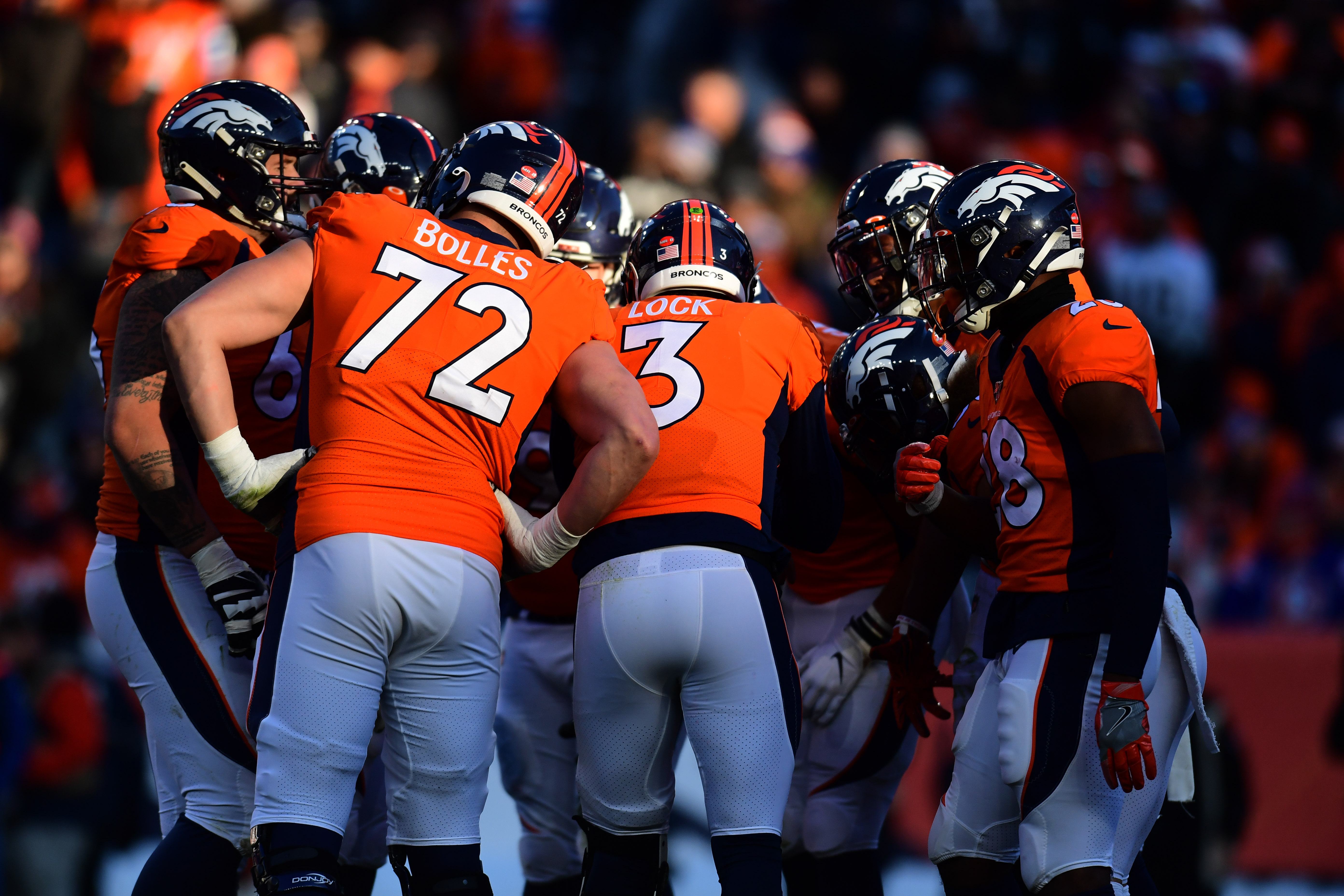 Organized team activities and minicamps are now behind us as we enter the dead period before training camp. That makes it a perfect time to release our first predictions of what the Denver Broncos' final roster will look like.
There's a lot to break down, so without further adieu, let's get into it.
Note: "*" denotes a player projected to be the Week 1 starter.
Offense
Quarterback (2): Drew Lock*, Teddy Bridgewater
Drew Lock and Teddy Bridgewater will undoubtedly make the final roster later this summer. The only questions remaining are, 'which one of them will be starting?' And 'can Brett Rypien sneak onto the back end of the roster?'
As for who starts, it feels like Drew Lock has to be the Week 1 starter. Bridgewater is nothing more than a bridge quarterback which you can use to temporarily patch the position with average-to-below play. There's no upside there. Lock still has upside and the only way he'll realize it will be through playing.
Rypien's situation is much tougher to decipher. He clearly has long-term upside as a solid backup quarterback, which is something the Broncos will likely need next season with Bridgewater probably playing elsewhere. However, it's not ideal to carry three quarterbacks on the roster and Rypien is likely too good to stash on the practice squad.
Ultimately, the Broncos will probably risk Rypien being poached from their practice squad as opposed to giving him a roster spot.
Running Back (3): Javonte Williams*, Melvin Gordon*, Mike Boone
The battle at running back should be a fascinating one for the Broncos, both at the top of the depth chart and at the bottom.
Javonte Williams and Melvin Gordon will be forced to battle for a starting job, and Williams should be expected to win that competition quickly. Gordon is an established starter who played ok last year, so people are hesitant to project a rookie stealing the starting spot quickly, but the hesitance is unnecessary.
Rookie running backs regularly outperform established veterans and Williams is a special rookie running back while Gordon has been on a steady decline ever since his third season in the league.
At the back end of the roster, Mike Boone and Royce Freeman will have to battle for a roster spot, and Boone should easily win. Not only is he a better player whom the Broncos have more invested in, but he can also be an asset on special teams which has been a point of emphasis this offseason.
Wide Receiver (7): Courtland Sutton*, Jerry Jeudy*, Tim Patrick*, K.J. Hamler, Tyrie Cleveland, Seth Williams, Kendall Hinton
The competition to see who will start between Tim Patrick and K.J. Hamler should be exciting, but with Lock ultimately projected to start Week 1, it makes the most sense for Patrick to start alongside him.
As Joey Richards looked at earlier, a receiver like Patrick will function better with an inaccurate quarterback like Lock than a smaller-framed receiver like Hamler would.
Outside that competition, the Broncos' top four wide receivers seem locked into a roster spot, with Tyrie Cleveland not trailing far behind. That should leave a battle for the sixth and seventh spots between Seth Williams, Diontae Spencer, and Kendall Hinton. And even then, that's assuming the Broncos carry seven receivers, which is far from a certainty.
To hold on to his roster spot, Spencer will have to prove he can be more than just a returner, which seems unlikely.
Williams and Hinton could find themselves battling it out for the sixth spot — and Williams could find himself at a disadvantage considering the number of similar players the Broncos have — but Denver's coaching staff seems so thrilled with the receiving talent, that we have them holding onto seven here.
Tight End (4): Noah Fant*, Albert Okwuegbunam, Andrew Beck (FB), Shaun Beyer
Noah Fant is the unquestioned starter, and outside of him, only Albert Okwuegbunam has a roster spot locked up.
One could argue the other tight ends presently on the roster aren't even worth a final roster spot, but are instead getting one out of necessity. Out of Eric Saubert, Andrew Beck, Austin Fort and Shaun Beyer, there's very little to be excited about, which is why the Broncos might opt to only roster three tight ends this season.
However, for this prediction, Beck's versatility leads to the Broncos keeping four. Beck made the roster each of the past two seasons as a tight end-fullback hybrid, though his snap count dropped off drastically from 2019 to 2020, as he averaged fewer than seven offensive snaps per game available.
That said if the Broncos do want to roster a fullback — which seems to be the case — Beck would be the most sensible option as he could also provide tight end depth.
Considering Fort's injury issues, Saubert and Beyer should be considered the favorites for the fourth tight end spots, with Beyer ultimately winning due to his impressive blocking and upside to develop as a receiving threat.
Offensive Line (9): Garett Bolles*, Dalton Risner*, Lloyd Cushenberry III*, Graham Glasgow*, Cameron Fleming*, Calvin Anderson, Netane Muti, Quinn Meinerz, Bobby Massie
The Broncos offensive line is the best it has been in a long time it seems, which leaves fewer points of intrigue.
First, the battle between Lloyd Cushenberry III and Quinn Meinerz for the starting center job should be one to watch in camp. It seems possible Meinerz could beat out the incumbent, but the safe bet is Cushenberry considering he has more NFL experience, a full offseason, and the incredible leap in competition Meinerz will have after playing at Wisconsin-Whitewater. That leap won't be made any easier by the fact that Meinerz didn't play at all last season outside the Senior Bowl.
The next point of interest is at right tackle where Calvin Anderson, Bobby Massie, and Cameron Fleming will compete to find Denver's new starter in the wake of another Ja'Wuan James injury. While it does feel like all three are destined to start at some point this season, Fleming is the proven asset coming off the best season and should be the favorite.
That said, don't sleep on Anderson, who Denver is clearly infatuated with.
Defense
Defensive Line (6): Shelby Harris*, Mike Purcell*, Dre'Mont Jones*, McTelvin Agim, DeShawn Williams, Shamar Stephen
Of all the positions on the Broncos' defense, the only one with depth concerns seems to be the defensive line.
Shelby Harris, Mike Purcell, and Dre'Mont Jones create a dominant starting front that should excel at both clogging up running lanes and pressuring the quarterback from inside.
Unfortunately, a single injury could cause havoc for the unit unless DeShawn Williams can maintain the level of play he showed last year — which shouldn't necessarily be expected given the rest of his career — or McTelvin Agim makes a large leap.
It should be noted that Agim has already been earning praise from Vic Fangio and Jones for his work at practice, but it's incredibly difficult to determine anything about either line before training camp.
The Broncos could choose to just roll with five on the defensive line, but considering Fangio's expressed desire to be able to go 'two lines deep' and the depth concerns, it would make sense to carry six. Shamar Stephen, who George Paton brought with him from Minnesota, should be the heavy favorite for that sixth spot.
Edge Rushers (4): Von Miller*, Bradley Chubb*, Malik Reed, Jonathan Cooper
The top of Denver's edge-rushing room is very well defined. Von Miller and Bradley Chubb are the obvious starters, and Malik Reed is undoubtedly the No. 3 man in the room after his performance the last two seasons.
After that, is where things get messy
Jonathan Cooper, Derrek Tuszka, Andre Mintze, and Pita Taumoepenu will battle it out for that fourth — and potentially fifth — spot.
Cooper is likely the most talented of the bunch, but the heart issues that led to him falling to the seventh are still somewhat of a concern. Taumoepenu is an intriguing one to watch from an athleticism standpoint, but he has struggled to stick with a team since being drafted in the sixth round of the 2017 NFL Draft. Mintze could win the job in camp, as could Tuszka despite disappointing last season.
The Broncos might want to keep a fifth edge rusher, but they don't really have anyone worth the roster spot, and Baron Browning could provide edge depth in a pinch.
Inside Linebacker (5): Alexander Johnson*, Josey Jewell*, Justin Strnad, Baron Browning, Josh Watson
Of all the positions on Denver's roster, linebacker has to be the hardest project, as you could make an argument for almost anyone starting or anyone being cut.
Alexander Johnson is probably the best linebacker Denver has, but he also saw his play decline last season, will be on the wrong side of 30 by season's end, is the most expensive inside linebacker on the roster and has none of his money guaranteed which means he could provide the Broncos with large cap savings.
Josey Jewell was a solid starter for the Broncos last season, but the team has long searched for an upgrade on him, he isn't the best fit with Johnson considering he's a liability in coverage, and he could also provide a lot of cap savings.
Justin Strnad was incredibly pro-ready last season and could help solve some of Denver's coverage woes, but the Broncos have invested very little in him and he's an injury risk.
Browning is an all-world athlete, but his processing ability led to him getting benched at times in college, and it's hard to imagine his processing improving so dramatically that he's ready to start at the NFL level.
Lastly, Josh Watson could be great as the team's special teams linebacker, but it's hard to imagine him getting on the field otherwise.
Cornerback (6): Kyle Fuller*, Bryce Callahan*, Ronald Darby*, Patrick Surtain II, Michael Ojemudia, Kary Vincent Jr.
While the term 'locks' might be strong, there are five cornerbacks that should feel very confident about their standing with the Broncos.
Barring a surprise cut of Bryce Callahan — who might be the most underrated player in football — or Michael Ojemudia, Denver's top five cornerbacks are fairly locked into a roster spot, though their ordering on the depth chart will be fluid.
The difficulty in the roster projection comes at the backend where Kary Vincent Jr., Essang Bassey, Parnell Motley, Mac McCain III, Nate Hairston and Duke Dawson will battle it out for any additional cornerback spots.
Both Bassey and Dawson made the roster last season, and should once again have a good shot this year, but it wouldn't be surprising if either fell short, as both are recovering from torn ACLs.
Motley is a name to watch who impressed down the stretch of last season as an emergency signing, but considering the lack of a true 'nickel' corner behind Callahan and the draft investment, Vincent gets the nod here instead.
Safety (4): Justin Simmons*, Kareem Jackson*, Jamar Johnson, Caden Sterns
After two difficult-to-forecast positions in inside linebacker and cornerback, we arrive at potentially the easiest position to project for the Broncos; safety.
Justin Simmons is the best player on the team and won't see his starting job challenged, and it would be almost as surprising to see Kareem Jackson's spot challenged.
Jamar Johnson, Caden Sterns, and Trey Marshall will have to compete for the two backup safety roles, but the two rookies should win the job off of talent and what the team has invested in them. The coaching staff does seem to love Marshall, so he shouldn't be discounted entirely, but one would think his odds of making the final roster are slim.
Special Teams
Specialists (3): Brandon McManus*, Sam Martin*, Jacob Bobenmoyer*
Brandon McManus is a lock to be the team's kicker, and there are no hot takes to be made about the long snapper position.
The only point of interest will be the battle between Max Duffy and Sam Martin. Considering how bad Denver's recent punters not named Martin have been, and the offseason emphasis on improving the special teams, it seems best to approach the punter battle with an, 'if it ain't broken, don't fix it' mindset.