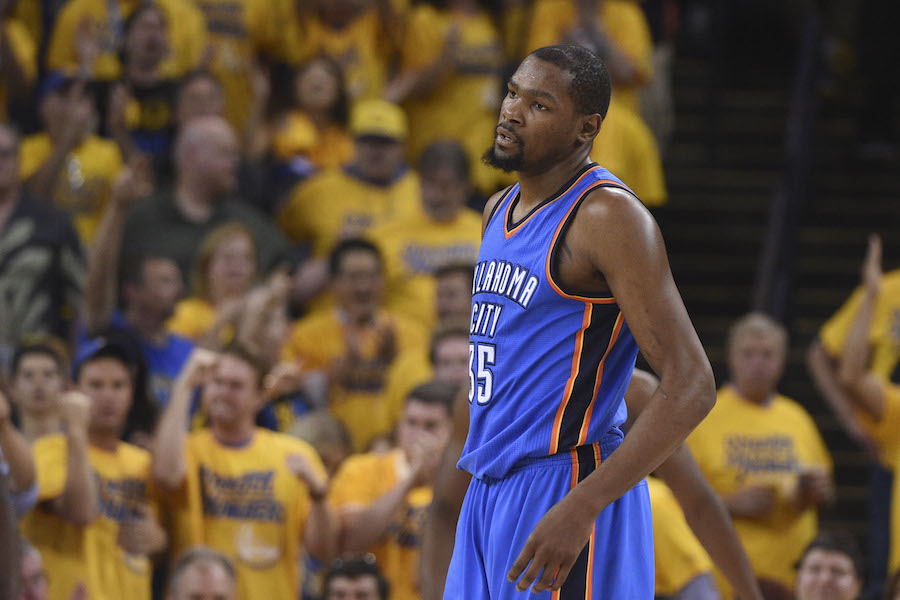 According to Adrian Wojnarowski, the Denver Nuggets are one of the many teams that have expressed interest in meeting with Kevin Durant this offseason. Wojnarowski claims that they are still on the outside looking in but that they could eventually find an audience with Durant down the line.
But how much is a meeting with Durant even worth?
"Well, it's a pointless interview if you think they are getting Kevin Durant. I think there are some ulterior motives here," said Adam Mares as he joined The Final Word with Joe Rico and Alex Ramirez on Mile High Sports AM 1340 | FM 104.7. "I think the Nuggets want to project to the rest of the league that they are a serious organization and that they want to win."
The Nuggests are unquestionably one of the lower-profile teams in the league — they were last in the NBA in attendance — so chasing after a guy like Durant could put the Nuggets in the lime light. Other teams will see that the Nuggets are taking themselves seriously and acting as if they are a championship-caliber team. Now, the Nuggets may not have any chance of signing Durant this year, but if he signs a one-year deal with the Thunder, so he can wait to explore free agency with his teammate Russell Westbrook next offseason, the Nuggets may have a fighting chance in 2017.
If the Nuggets first-round draft pick, Jamal Murray, has a Rookie of the Year-caliber season, and both Emmanuel Mudiay and Nikola Jokić turn into All-Star players, and the Nuggets make a deep run into the playoffs, the Nuggets might have a shot at signing Durant — a very, very long shot, but a better shot than we may have ever thought.
If all goes right, the Nuggets will have young stars just hitting their prime, and with the addition of Durant, the Nuggets could propel themselves towards championship contention, which is exactly what Durant is looking for.
"We are in an era right now where players have the power to build their team or influence their organization to build a contender for them," said Mares. "Players just want to win championships because they know that builds their legacy."
The writers at denverstiffs.com ran a poll asking Nuggets fans what they think the chances are that Durant wears the blue and gold.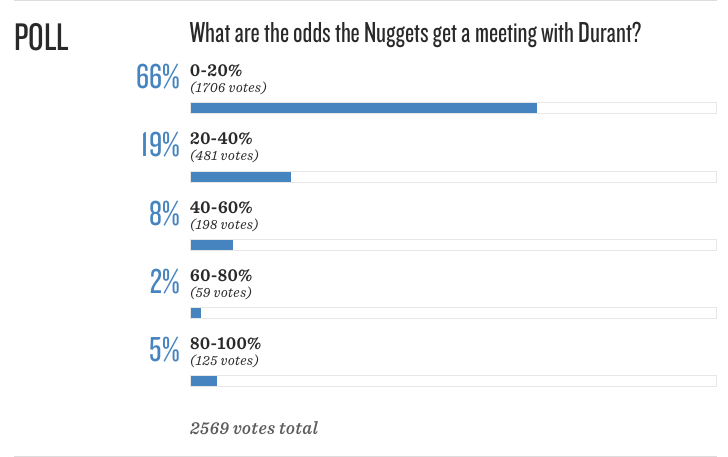 So you're saying their's a chance.
Catch the rest of the podcast below where Mares talks about NBA shoe deals and who the Nuggets could possibly get in free agency.
Catch The Final Word with Joe Rico and Alex Ramirez Sundays from 10a-12p on Mile High Sports AM 1340 | FM 104.7 or stream live any time for the best local coverage of Colorado sports from Denver's biggest sports talk lineup.