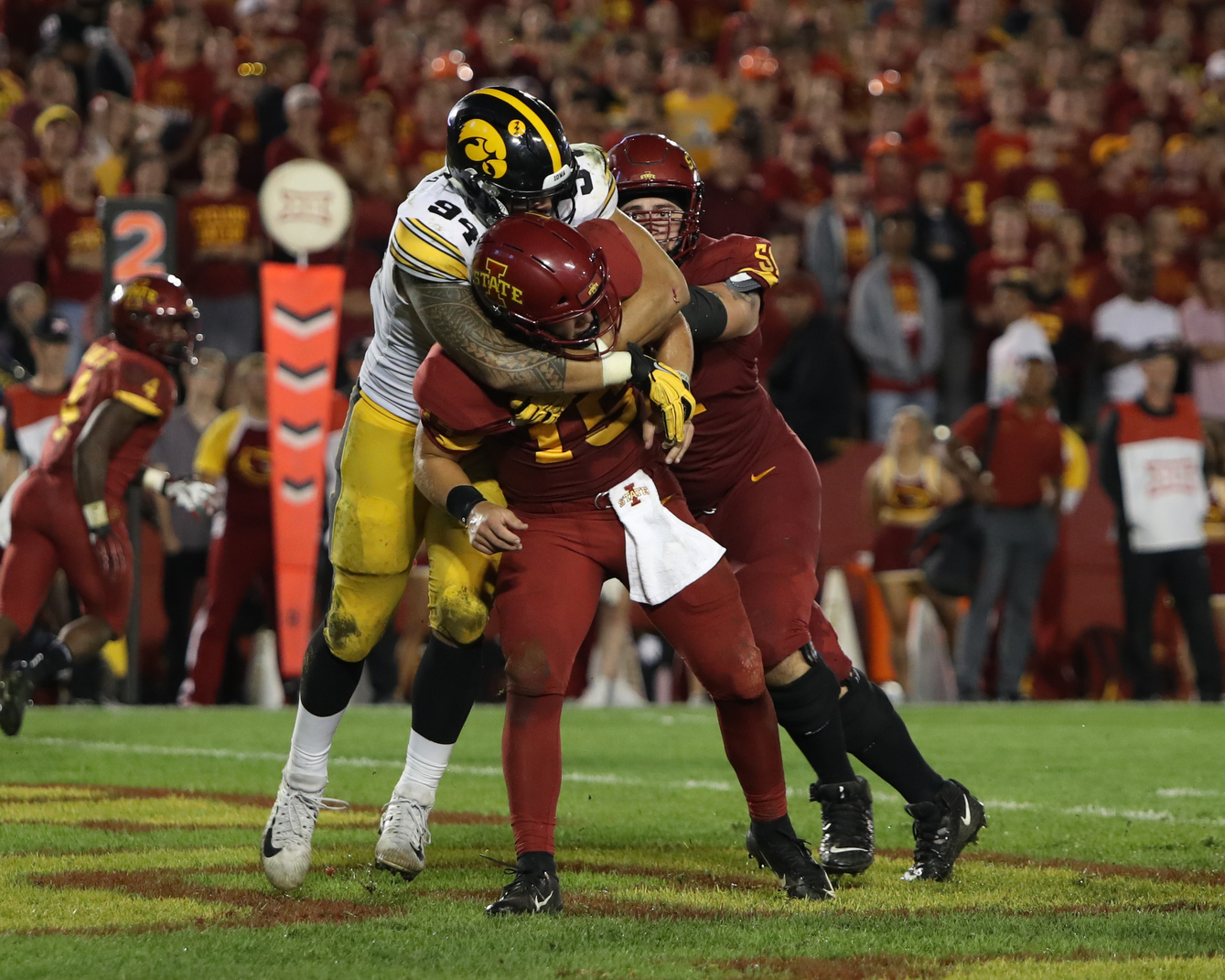 The Broncos defense hasn't been the destroyer-of-all-worlds juggernaught we were promised in the offseason when the team hired Vic Fangio as head coach. So, in this installment of What's On Draft, we'll be looking at some top college prospects at positions of need the Broncos could target to shore up the defense.
Special is a word you will — and should — hear often in conjunction with the 2020 NFL Draft. Few players fit that moniker better than Dylan Moses.
The Broncos missed out on Devin White and Devin Bush in this year's draft, and could rectify that decision by selecting Moses in 2020. He's a freakish athlete like White, though not to the same degree, but has the instincts that White struggled with at times in college.
Moses could finally be the Broncos' long-awaited answer at linebacker, as he can cover running backs and tight ends but has the physicality and instincts to make an impact in the run game. Clearly, he should be among Denver's top targets entering the draft, but he's not a perfect prospect.
The Crimson Tide linebacker is currently sitting the entire 2019 season out with a torn ACL, which raises injury concerns and means he only has 23 games of tape for evaluators to work with.
This could allow the Broncos to get the linebacker of their dreams for a bargain, as missing that much time usually leads to a drop of almost a round. However, the Broncos haven't had any luck signing or drafting injured or injury-prone players recent years, which could make them hesitant.
In this year's draft, Denver chose to ignore the cornerback position entirely. Instead, banking on Isaac Yiadom's development in year two.
We saw flashes of that development in the preseason, but as the regular season started, all signs of Yiadom ever being an NFL starter up-and-vanished. Now, with Bryce Callahan's nagging injury issues, and Chris Harris Jr. possibly out the door after the season, the Broncos need to add at least one cornerback before the start of the 2020 season.
Luckily for the Broncos, the cornerback depth in this year's draft is fantastic. Ohio State's Jeffrey Okudah, Virginia's Bryce Hall, Louisiana State's Kristian Fullton and Florida's Henderson all have an argument to be the top cover man in this year's class, and all should earn higher grades than any corner from last year.
C.J. Henderson wins that argument though, thanks to his size, speed, range, ball skills and — most importantly to Vic Fangio — physicality and ability to tackle.
Henderson compares very nicely to Greedy Williams from 2019. Both have ideal size, speed and ball skills, but where Williams struggled in regards to tackling and fluidity in his hips, his 2020 counterpart thrives.
He needs to work on how he uses his hands, as right now he'd draw too many pass interference calls, but with a little refinement Henderson should be one of the very best players in the draft.
Don't let the fact that 2019 is technically A.J. Epenesa's first year starting for the Hawkeyes fool you. The man is an absolute menace in the trenches.
Plus, that technicality comes with a large asterisk. Iowa is an old-fashioned college football program that strongly believes in seniority, meaning Epenesa was burried on the depth chart until now. However, even though his snaps were limited, he saw the field plenty and was highly productive.
His freshman season Epenesa recorded a forced fumble, 5.5 tackles for loss and 4.5 sacks on his way to being named to the Big 10 All-Freshman team. He followed that up in year two with four forced fumbles, 16.5 tackles for loss and 10.5 sacks as only a backup.
Epenesa will likely enter the draft as an edge prospect, but his elite size and strength could allow the Broncos to use him like a much-better version of Dre'Mont Jones. That being said, Epenesa is versatile enough to be rotated on the edge as well to help give Bradley Chubb or Von Miller a spell without having the pass rush drop off.