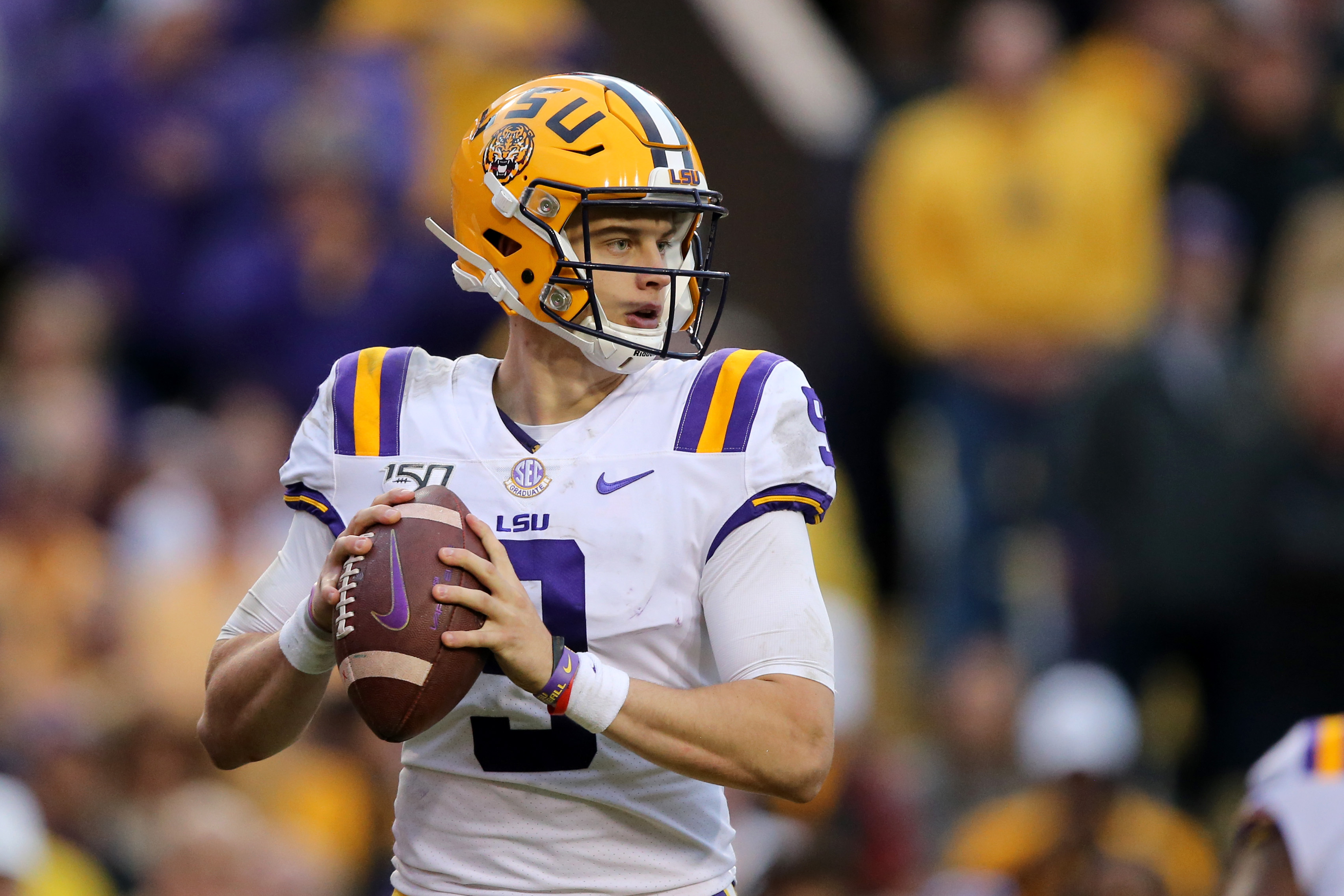 Joe Flacco has made it incredibly apparent throughout the season that he's not "in his prime" as John Elway had hoped he would be this offseason.
While he might be the best quarterback the Denver Broncos have had since Peyton Manning hung his cleats up, he is by no means a long-term solution or one to stick around long after this season.
That means the Broncos have a big decision to make: Is Drew Lock the quarterback of the future, or is it already time to draft another?
Drafting a new quarterback would likely mean a full-fledged teardown-and-rebuild for the Broncos, starting with Elway and the coaching staff, but following their worst three-year stretch since the 1960s that might be just what they need.
Who could they target if they do decide to select a quarterback? Let's take a look.
Joe Burrow, Lousiana State
With Tu'a Tagovailoa being the presumptive No. 1 pick overall to either the Cinncinati Bengals or Miami Dolphins, it would be stunning if he were available to the Broncos.
That means that when Denver is on the clock, the best quarterback prospect that could be on the board is Joe Burrow. Burrow has seen his stock skyrocket as he's led the Tigers to be ranked first in the nation.
Burrow is an excellent pocket-passer with the mobility to escape defenders if need be. His best traits are his decision making, ability to read defenses and his accuracy. He looks like a pro-ready, NFL-style quarterback of the Matt Ryan or Jimmy Garoppolo ilk.
The biggest knock on him is that he's a one-year wonder and he doesn't have the gaudy physical traits of a Patrick Mahomes or Justin Herbert.
Dwayne Haskins beat Burrow out for the starting job at Ohio State, forcing him to transfer to Baton Rouge where he was a solid starter last season. During the offseason, LSU hired Joe Brady from the Saints to be their passing game coordinator and it vastly improved the play of not only Burrow but the offense as a whole.
How much of this newfound success is the real Joe Burrow, and how much is scheme?
Justin Herbert, Oregon
Justin Herbert looks like he was built in a lab by John Elway.
Herbert stands 6'6″ and weighs 237 pounds. He has bazooka for a right arm and he can even run it. His physical traits are the type scouts drool over. Yet, for whatever reason, scouts seem unconvinced.
Although everyone is drawn in by the specatcular athlete Herbert is, every scout that seems to go through Oregon comes back with the same takeaways. That Herbert has serious bust potential, that he has awful intangibles and that he always seems to shrink away from the big moments.
The last time there was a prospect like Herbert in the draft, a hyper-athletic, freak of nature that had a big, bright-red, neon "buyer beware" sign hanging around his neck, the Broncos took him 26th overall only for him to flame out of the league two seasons later. That prospects name? Paxton Lynch.
Jalen Hurts, Oklahoma
Jalen Hurts may be the most interesting case of any of the quarterbacks available in this year's draft.
While at Alabama, he lost the job to Tagovailoa and many expected to see him make the move to running back or wide receiver. Instead, Hurts opted to transfer to Oklahoma and gain the tutelage of offensive mastermind Lincoln Riley.
This season we've seen an entirely new Jalen Hurts. He's become more refined and polished but the greatest strengths in his game remain his physical tools. He's got an NFL-caliber arm and a combination of size and speed we've rarely seen at the position. His biggest pro as a prospect, though, is his character and his intangibles.
Following his benching, he could've immediately entered the transfer portal but instead he stuck around a spent a year of his eligibility as Tagovailoa's backup, showing nothing but support the entire time. Then, after moving to Norman, he immediately became the leader of the team. Watching the Sooners on Saturdays, there is never any doubt that Hurts is the leader of that team and that each and every one of his teammates has his back.
However, as is the case with Burrow, the question is how much of Hurts' improvement is on him as a player/prospect, and how much of it is Lincoln Riley's offensive genius? He also needs a lot more polish before he can be viewed as a first round or top-ten pick.
If the Broncos decide to roll the dice on another second-round quarterback, Jalen Hurts might just be the guy.