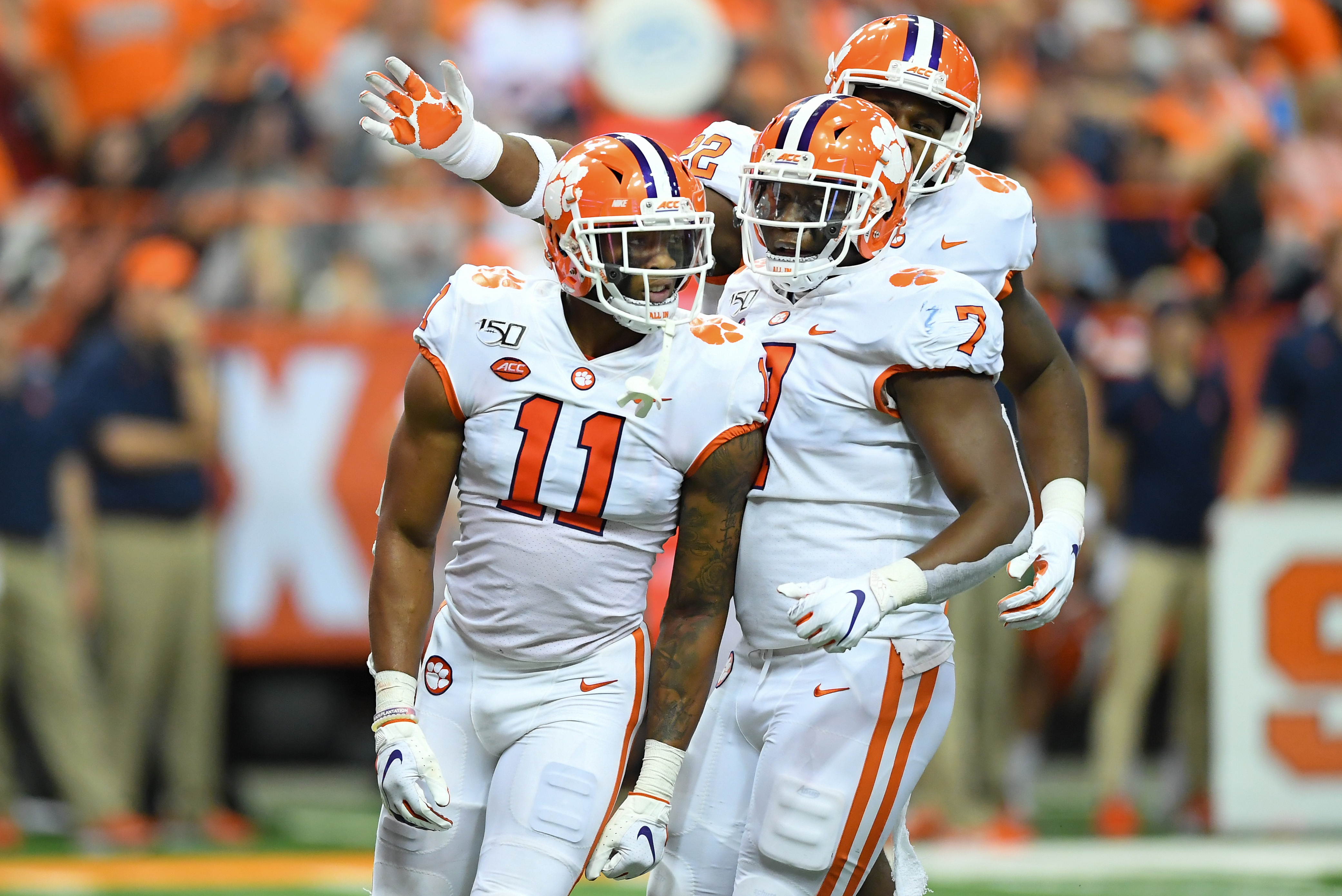 Left tackle, center, right guard, defensive tackle, defensive end, inside linebacker, safety and cornerback are all holes on the Denver Broncos' roster, but which is the most glaring and who could the Broncos target to help?
Inside Linebacker
A lot of Broncos Country believes the Broncos should have taken Devin Bush in last year's draft, and the lack of line-backing talent in 2020 further supports that claim.
Both of the top linebacker prospects in next year's class have serious questions surrounding them.
Alabama linebacker Dylan Moses, viewed as a prospect potentially even better than Bush or Devin White this offseason, tore his ACL, forcing him to miss the entire 2019 season.
While the amount and quality of film he has out already should be enough to warrant a first-round pick, but the torn ACL could force him out of the Broncos' range.
Instead, they may have to settle for Clemson's Isaiah Simmons, who is a special prospect in his own right.
Simmons is a freak athlete. He was originally recruited to Clemson as a safety, and while he still possesses that level of speed, range and explosiveness, they moved him to linebacker given his size.
He is the perfect kind of tweener. Where Su'a Cravens didn't have the size necessary to play one position or the abilities necessary to play another, Isaiah Simmons has the size and ability necessary for both, his body just fits more at linebacker.
No matter where he goes, Isaiah Simmons will become a fun linebacker and defensive gadget weapon for whatever wise defensive mind lands him.
Left Tackle
Many would say left tackle is the team's biggest hole, where Garett Bolles has mostly been a bust. Since being drafted 20th overall back in 2017, Bolles has allowed 91 pressures and has been called for a staggering 33 penalties, according to Pro Football Focus.
However, since his mind-numbingly awful performance against the Chicago Bears, in which he allowed four pressures and had four penalties called for him, Bolles has been much improved. In the last three games, Bolles has allowed just five pressures and hasn't been penalized once.
Perhaps Mike Munchak's coaching is finally getting Bolles to live up to his first round status?
If Bolles does revert back to his bust-level play though, the Broncos will have the strongest left tackle class in years to choose from.
Georgia's Andrew Thomas is a near-lock to go in the top 10 picks, and when it's all said and done, will likely go in the top five, but I've already written about him here. Instead, let's focus on Iowa's Tristan Wirfs, another tackle prospect that should be selected in the first 20 picks.
RT Tristan Wirfs is an absolute stud. All the talent/ability to be a top-10 pick, IMO

LT Alaric Jackson isn't on that same level, but he has NFL starting potential if he improves in a few areas. https://t.co/pZmZ7wBdYN

— Dane Brugler (@dpbrugler) June 28, 2019
Wirfs' 6'5" 315 pound frame is part of what makes him a great prospect, but what makes him worthy of a high-end pick are all the little things. He was incredibly light, swift feet and great technique. His denotion as a right tackle is probably the greatest concern around him as a prospect.
Cornerback
While the Broncos need reinforcements at linebacker for sure, and potentially left tackle if Bolles continues to struggle, cornerback is their most pressing need.
With Kareem Jackson at safety and Chris Harris Jr. almost definitely gone after the season, the Broncos' cornerback depth chart in a year could easily be Bryce Callahan, who still has yet to play a snap for the Broncos; De'Vante Bausby, whose medical condition and football future is unclear; and Isaac Yiadom, who has consistently been one of the Broncos' worst players.
The Broncos will have to target a cornerback in next year's draft. As with the left tackles and Andrew Thomas, I've already discussed my two favorite prospects at the position, in C.J. Henderson and Jeffery Okudah, but this year's class is home to three elite corners, with Louisiana State's Kristian Fulton.
Fulton is the next in a long line of impressive corners to come out of LSU. Fulton's NFL-ready size paired with his polished man and press coverage skills are very reminiscent of Buffalo Bills' cornerback Tre'Davious White, also of LSU.
His poor ball skills compared to Okudah and Henderson are why he's the third best corner in this year's class, but he may be the most polished and NFL-ready of the bunch.