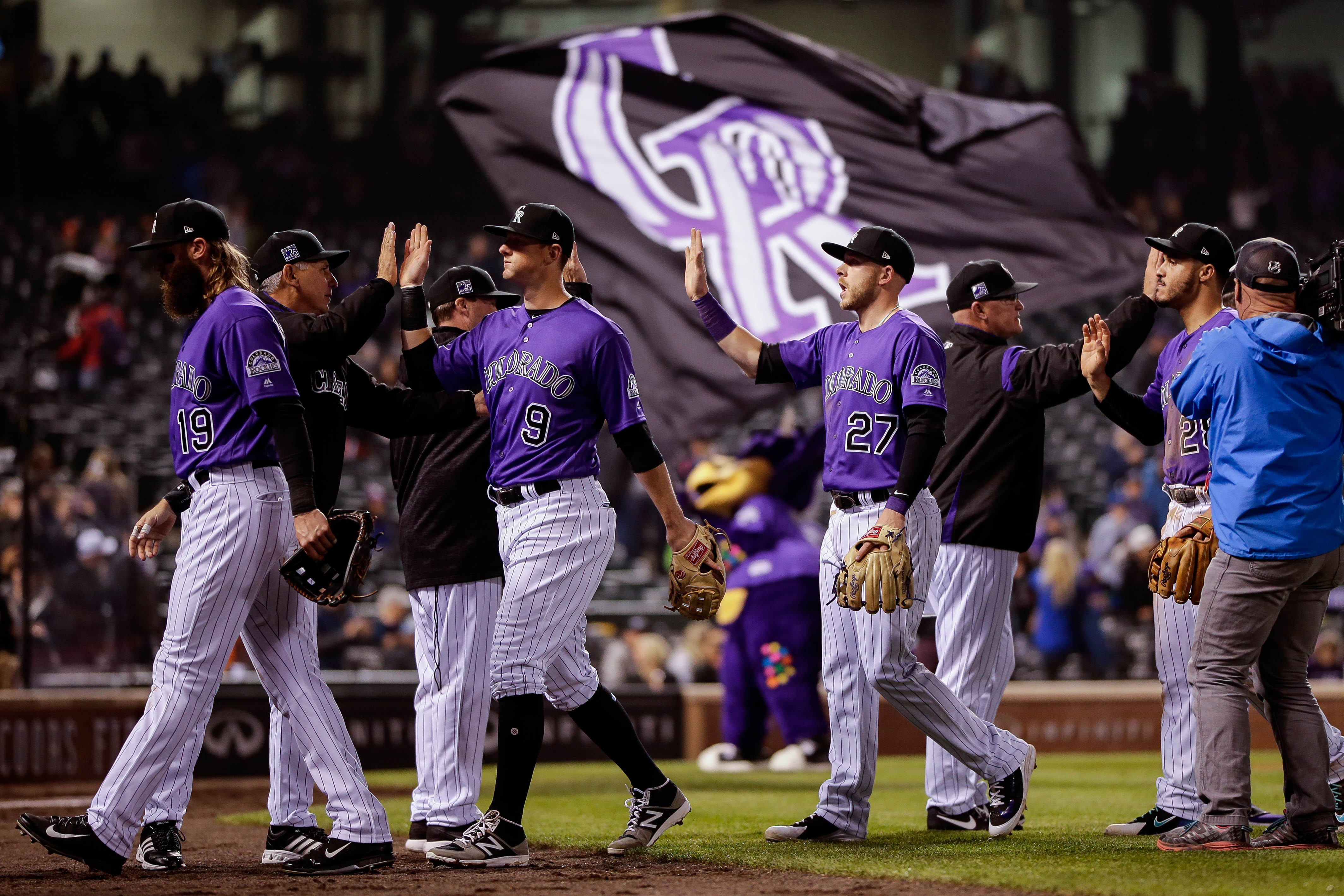 The Colorado Rockies season is flying past the plate at it's first quarter mark already and with the high expectations coming in, how have the Rockies stacked up next to them?
After signing big names in the bull pen and bringing back familiar faces at the dish — Colorado geared itself for what hopes to be a special run.
The Mile High Sports staff took a crack at where they thought the Rockies would finish the season in Spring Training. Now — after the first quarter of the season — they dish on if the Rockies are meeting those lofty expectations, if they're exceeding them, or if they're right where they thought they would be.
T.J. Carpenter – Co-Host of Morning's at 5280. Weekdays 7-9am
Record-wise, they're about where I thought they'd be, but the starting pitching and the newly revamped (to the tune of $106 million) bullpen have been inconsistent and unreliable at times. Although Ottavino, Davis and Bettis have all been bright spots.
MVP: Chad Bettis is my first quarter Rockies MVP.
Shawn Drotar – Co-Host of Morning's at 5280. Weekdays 7-9am
They're about where I thought they'd be — a bit over .500 — but the way they've gotten there isn't what I expected. The Rockies' offense is abysmal; in 12 plate appearances with runners in scoring position in Wednesday's blowout loss to the Angels, they struck out eight times. That's inexcusable; even sacrifice flies and even fielder's choice ground balls can still advance runners!
If the Rockies can't start putting their bats on the ball, it'll be impossible to take them seriously as a contender.
MVP: Chad Bettis. In truth, Nolan Arenado and Charlie Blackmon have been more valuable, but Bettis' Greg Maddux-like approach on the mound — including his underwhelming 89 MPH fastball — deserves a lot of credit. He's setting an example for his young teammates in the rotation.
Sean Walsh – Co-host of Walsh and Notaro. Weekdays 2-4pm
Colorado is playing better than I expected. I picked this team to be under .500 and I still expect that with the inconsistencies in pitching and their below average offense.
MVP: Adam Ottavino. Many fans had written him off after a poor 2017, but now that he's healthy, he's been better than he's ever been. I hope he's rewarded with an All-Star game appearance.
Eric Goodman – Co-Host of Afternoon Drive with Goodman and Shapiro. Weekdays 4-6pm
I'm not surprised by their overall record, but I am surprised that they're hitting has been so anemic.
MVP: Chad Bettis, because he has been the most stable pitcher in the starting rotation.
Les Shapiro – Co-Host of Afternoon Drive with Goodman and Shapiro. Weekdays 4-6pm
I was tempted to say, "Mr. Automatic," Adam Ottavino, but naming an 8th inning set-up guy doesn't feel right.  
MVP: Chad Bettis.  He's been the most stable force in an inconsistent starting rotation. Without him, this rotation is a roller coaster ride without a seat belt. Ironically, pitching –not hitting — has kept this team in contention and Bettis has been the best of the bunch.
Ronnie K – Producer of Afternoon Drive with Goodman and Shapiro. Weekdays 4-6pm
They're about where I thought they would be. Baseball is a marathon, not a sprint. It's easy to get caught up in four game losing streaks or stints where the team bats .400 in a series. Overall, they're a better team than how they're playing right now and they're floating 4-6 games over .500 at this point. This also is all done without success at home, which most would imagine, will turn around naturally as the season progresses.
MVP: Kyle Freeland.
Kyle Freeland has been the best starter for Colorado this year. I know many will point to the 4-1 record of Chad Bettis next to the 3-4 record of Freeland, but don't be fooled by the win/loss record.
Freeland has far more strike outs this year than Bettis (44 to 30) and in every other category, Freeland's statistics nearly mimic Bettis across the board. When it comes to run support, Bettis is getting run support at a 4.15 average, that's nearly one full run better than Freeland's 3.21. Freeland also has success at Coors Field as in 19.1 innings, he's allowed three runs, while striking out 19. Bettis has yet to collect a win at home, which is a glaring problem at the 25% mark on the season for Colorado. Colorado isn't where they're at without either — but if you want me to choose. I'm taking Freeland.
Darren Copeland – Co-Host of Home Grown Sports. Tuesday through Thursdays 10-12am
I thought the Rockies would be a good team, but with a lot of offense to cover for pitching. Instead it's the other way around currently.
MVP: It would be Bud Black, because of the way he has the pitchers going overall in the first quarter of the season.
Joe Rico – Co-Host of The Final Word. Sunday's 10a-Noon.
The Rockies are just about where I thought they would be.
MVP: Steve Foster, the pitching coach has to be the MVP. The pitching is the only reason the Rockies are not buried in the cellar in the standings. We'll see if the hitting — the supposed strength of the team — comes around soon, because it better, or it'll be a long summer in Colorado.
Logan Hesselius – Producer at Mile High Sports Radio.
The Rockies are where I expected them to be standings wise. As far as the team itself, worse than I thought. Bats haven't exactly impressed and the pitching is a roller coaster.
MVP: Nolan Arenado. Highlight reel plays at third base, batting average around .300 and him simply playing defense gives the Rockies an impact play daily.
Doug Ottewill – Managing Editor at Mile High Sports
It's less about the Rockies and more about the rest of the N.L. West. The Rockies are "about" where they should be, which is pacing toward having a very respectable record.
What's more important is the NL West looks less daunting than it has in the past. The Dodgers are a little banged up. The Giants are treading water and there's no way the Diamondbacks can keep this up (P.S – they're hitting worse than the Rockies). The pitching in Colorado hasn't "wowed" anyone, but it's definitely been solid. And the road wins? Who are these guys? That's a huge step in the right direction for a club that's still searching for that elusive first division title.
MVP: Charlie or Nolan. Both of these guys are just so consistent in everything they do. They're pros' pros, and any winning team has to have one or two of them to ride the ups and downs of a season.
Rich Kurtzman – Editor at Mile High Sports.
The Rockies are actually better this year than I thought they'd be, though, I can't figure this team out. Better pitching team than they've been maybe ever, and yet, their offense is historically bad. Plus, they're rock-solid on the road and bad at home; everything's flipped on its head! If they can figure out how to hit — especially with RISP — the Rockies could be very good. Until that happens, they'll likely hover around .500.
MVP: It has to be Nolan Arenado to this point. He's far and away the best hitter on the team this year, with a .315 average and a very good 1.008 OPS, and his hitting has been timely, too. But, of course, he's sensational on defense, too, consistently making the most difficult plays look routine.