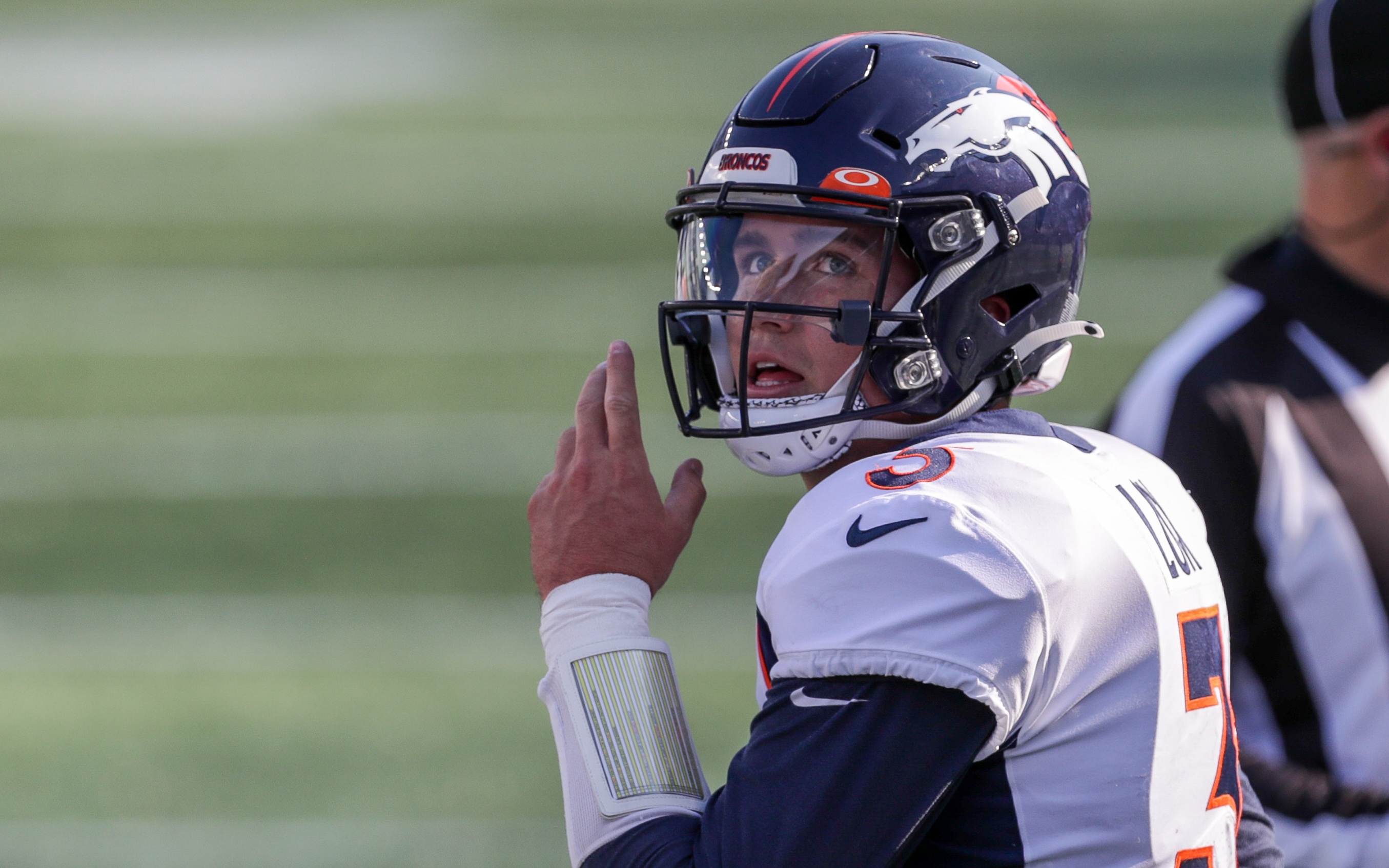 It's the halfway point of the 2020 season and the Denver Broncos aren't where fans hoped back in September.
At 3-5 on the season, Denver's third in the AFC West and staring up at the 5-3 Las Vegas Raiders on the schedule tomorrow (2:05 p.m. MT kickoff). Oh, and the 8-1 Kansas City Chiefs look primed to win a second straight Super Bowl.
Simply, the Broncos aren't anywhere close to making it back to the postseason, meaning they'll likely miss it for a fifth straight year. The last time that happened was 2006-2010, ending Mike Shanahan's superb run in the Mile High City and seeing the beginning and end of Josh McDaniels' tenure here.
What do the Chiefs and Raiders have in common?
Both have offensive-minded head coaches. Both rosters are chock full of high-end speed. And both teams have great gun-slingers.
Patrick Mahomes is otherworldly in his talent. He makes basically everything on the football field look effortless, which is usually an indicator of being elite.
But, lost in Mahomes' magic is the remarkable season Derek Carr is currently having. Carr has completed 69.2 percent of his passes and thrown for 16 touchdowns compared to a mere two interceptions. His 110.0 QB rating is fifth in the league, and he's ninth in QBR (77.2).
There have recently been comparisons between Carr's early career and the start of Drew Lock's floating around twitter. Well, the Broncos would be lucky if Lock became Carr, and it should be noted how far Carr has grown over the years to get to this point.
Likewise, Lock has a long way to grow, no matter how desperate fans are to have him become the quarterback of the future.
Let's take a look at his numbers through this first half of the season, in which he's started six games.
He's completed 56.5 percent of his passes for 1,240 yards, 6 TD and 6 INT with a 73.6 passer rating and a 42.9 QBR. How do those rank compared to the rest of the NFL, and more specifically, his AFC West counterparts?
Completion percentage: Completion percentage isn't necessarily the end-all, be-all of QB stats, but it is an incredibly important indicator of success at the NFL level. 66 percent, or completing roughly two-thirds of passes, is basically the bar for a good quarterback; Lock is 10 percentage points behind that.
Carr, 9th: 69.8
Herbert, 15th: 67.3
Mahomes, 19th: 66.9
Lock, 33rd: 56.5
Passer rating: This was the gold-standard for passing stats back in the late 90s and early 2000s, and while now it's used mainly as a measuring stick, it's still important to get a quick understanding of how well a QB plays. A perfect rating is 158.6.
Mahomes, 3rd: 115.9
Carr, 5th: 110.0
Herbert, 9th: 104.7
Lock, 31st: 73.6
QBR: QBR is ESPN's more advanced quarterback rating system. It not only includes completion percentage but adds in the team's position on the field, down and distance and other variables to assign a grade, from 0-100, to a quarterback.
Mahomes, 2nd: 87.0
Carr, 9th: 77.2
Herbert, 11th: 75.4
Lock, 30th: 42.9
---
Advanced Stats
Yards per attempt: Yards per attempt is a crucial stat in the passing game. In fact, some call it the most important stat in the entire game of football as 80-plus percent of winning teams have a higher net yards per attempt than do their opponents. (Passing yards – sack yards / times passed + times sacked). This doesn't account for sacks, but it's still a key indicator of success in the passing game.
Mahomes, 7th: 8.2 Y/A
Herbert, 9th: 8.0 Y/A
Carr, 12th: 7.8 Y/A
Lock, 29th: 6.5 Y/A
Bad throw percentage: Pro Football Reference says a bad throw is one in which the receiver doesn't have a chance at catching the ball. Unfortunately, Lock is the worst in the NFL in this stat.
Carr, 8th: 13.9%
Herbert, 22nd: 18%
Mahomes, 26th: 19.4%
Lock, 33rd: 25.7%
That means one-quarter of Locks throws are uncatchable balls. It also excludes throwaways. Yikes.
On target percentage: Almost the inverse of bad throw percentage is on target percentage. How many times the ball reaches its intended target compared to throws.
Carr, 6th: 80.5 %
Mahomes, 17th: 77.7%
Herbert, 21st: 77.0%
Lock, 33rd: 65.6%
Pro Football Focus grade: Every week, PFF grades every player in the NFL on every play. It's still not a perfect system, but it does give us a snapshot into another way to determine a quarterbacking hierarchy. Grades are 0-100.
Mahomes: 89.7
Herbert: 76.3
Carr: 70.5
Lock: 57.8
---
Conclusion
Drew Lock has played a mere 11 games in his career to this point, and it's really 10 considering he saw five plays before being injured against Pittsburgh earlier this season.
Simply, it's too soon to make a blanket judgement call on whether or not Lock can be "the guy" for the Broncos going forward.
On the positive side, he's enjoyed red-hot fourth quarters the last two weeks, including the improbable 21-point comeback victory against Herbert and the Chargers. On the negative side, he's wildly inaccurate at times, his decision/quick thinking abilities result in too many bad throws and passes to covered receivers. Plus, he needs to put together complete halves and games.
Excuses can be made — he's young, his best receiver is injured, new coordinator, offensive line injuries — but Herbert is a rookie with a ton of moving pieces and he's clearly better than Lock is right now.
When looking specifically at the AFC West, there's little doubt that Denver has the worst quarterback of the four teams. And, while it takes a complete team to win consistently (See: Kansas City), the QB is still the most important position in the game.
Let's see how far Drew Lock can grow over the last eight games of this season.