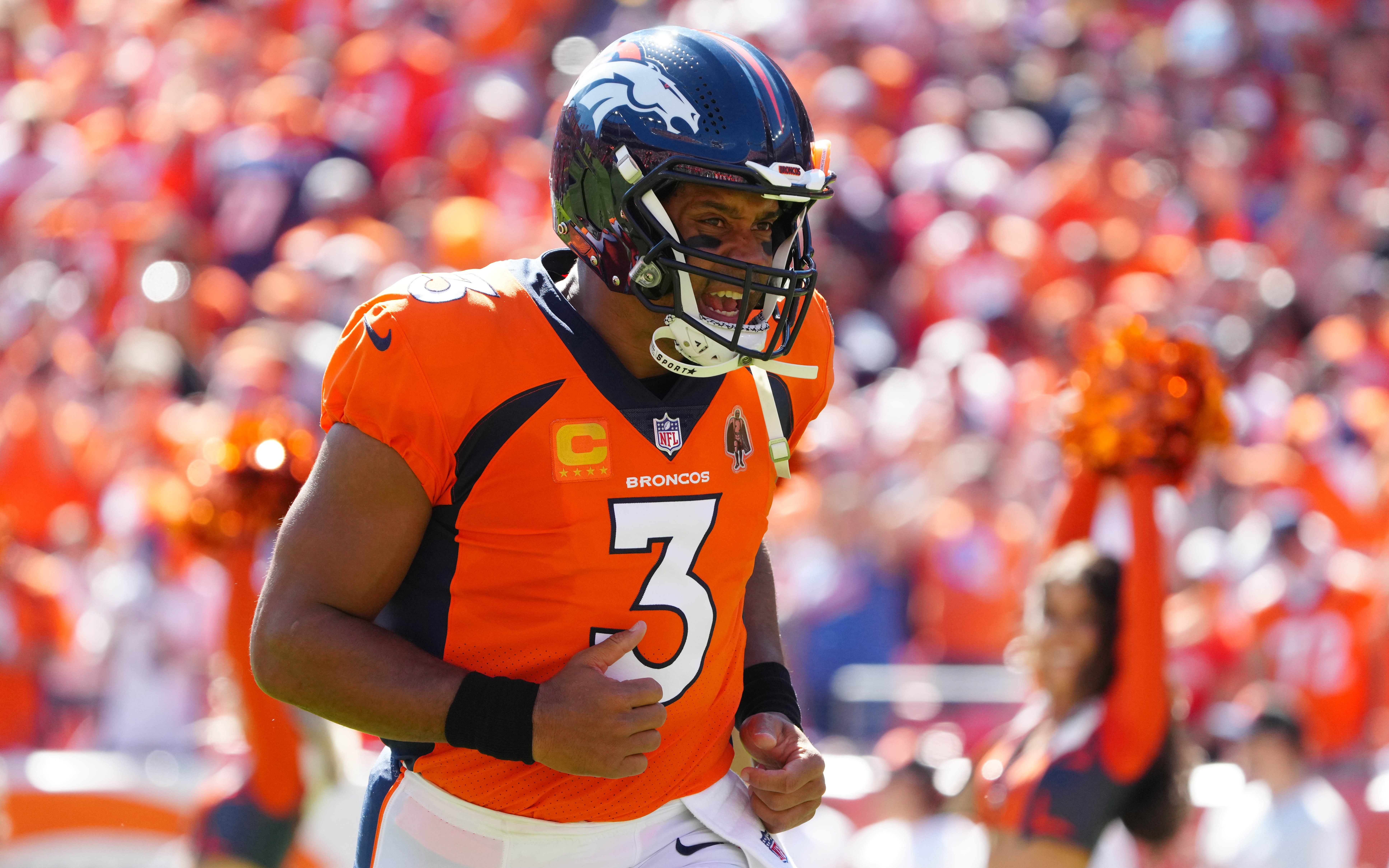 Hope and expectations were a mile high for the Denver Broncos before the 2022 season kicked off.
New coach, new offense, new quarterback.
And not just any new quarterback, but a surefire elite QB in Russell Wilson.
But, considering all the changes for the offense and for Wilson himself — playing in Nathaniel Hackett's offense, with new receivers — the expectations of Wilson were too high, just like they were for the team.
Two weeks into the NFL season and the Broncos are 1-1. It could be better — they likely should be 2-0 — but it could also be worse. An 0-2 start would have almost already eliminated the Broncos as teams who start 0-2 since 2007 make the playoffs only 9.6% of the time.
Similarly, Wilson has been so-so, with one great game followed by a mediocre outing in the Broncos win over the Houston Texans. In fact, Wilson's completion percentage last week (14-31, 45.16%) was one of his worst ever. The last time he was in the 40s for a game was Week 7 of 2019, a loss to the Baltimore Ravens.
Of course, a few of those incompletions were drops, like when Jerry Jeudy was injured. Or silly incompletions, like when Wilson went to Courtland Sutton on back-to-back fade passes which were defended last week.
Still, as it sits, his 58.9 completion percentage and his 86.5 passer rating would be the lowest of his career for a season. What does it mean? Wilson will almost certainly bounce back.
But, as it sits, let's look at where he sits compared to other quarterbacks:
Pro Football Focus Grade
Wilson's overall passing grade by PFF is a mere 57.7 (out of 100). That has him at 24th in the NFL behind Marcus Mariota of the Falcons (59.5) and just ahead of Mac Jones of the Patriots (56.4).
Again, it's incredibly unlikely Wilson will finish the season that low in the rankings. His injury-marred 2021 season resulted in his lowest PFF grade ever, at 73.9.
Passer Rating
Two weeks into the season and Wilson's passer rating is 86.5 (out of 158.3). That puts him in 15th place. Patrick Mahomes (127.9) leads in the category with Josh Allen (123.7) right behind him.
ESPN's QBR
QBR is like passer rating on steroids. They take all of the normal stats — like completion percentage, interceptions, touchdowns etc. — and then also account for the position on the field, down and distance, and more.
Unfortunately for "DangeRuss" the story remains the same: He has a 48.8 QBR (out of 100) which ranks in him 16th.
NFL Next Gen Stats Passing Score
OK, this is a relatively new passing metric which was brought onto the scene this year. And like all the others above, it's not a perfect indication of how well a quarterback is playing, but it can be used with the others to get a more complete view of how a QB is performing on the gridiron.
This is the one number which doesn't really match up with the others here. According to Next Gen Stats, Wilson is tied for second with passing score of 86 (Scale of 50-99).
A look at the top 10 passers by the NGS Passing Score through the first two weeks of the 2022 season 🚀

Which quarterback has impressed YOU the most through Week 2?

Passing Score Explained → https://t.co/WRGU0vZD1D pic.twitter.com/oGep0u88Ap

— Next Gen Stats (@NextGenStats) September 20, 2022
One reason he may be so high on this ranking is the passing score works to "isolate factors only the QB can control" per their site. So, those drops we mentioned, NFL Next Gen Stats is taking them out.
Conclusion
Still, even with the higher passing score, Wilson is basically a middle-of-the-road quarterback two games into this Denver Broncos career.
Even though that's the case, it's not time to press the panic button on the superstar QB.
Why? These are historically low numbers for Wilson. He's never had a completion percentage this low, nor a passer rating in the 80s — his lowest rating was in 2016, with a 92.6 on the year.
Outside of the drops, Wilson's been playing without two of the team's top-4 receivers in Jeudy — who was injured in the first quarter last week — and KJ Hamler, who's yet to play this year. Getting them back will help, but that's not coming this week for Jeudy. Hamler may play, but it's still up in the air if he gets to go this Sunday night against the 49ers.
Then there's the elephant in the room, Nathaniel Hackett's coaching.
Hackett made 7 deadly sins — er, mistakes — last week in the win over the Texans. His team already has four delay of game penalties, which is more than any of the last four seasons for the Broncos outside of 2019. And those were for entire seasons.
Hackett's play-calling has been head-scratching, too. Not only the fade in the end zone from the 1 yard line, which was a score to Sutton, erased due to review, and then he called the same exact play again. But continuing to force throws within the 2 yard line, getting plays in way too late as well as not going for it on 4th downs when he should.
There's not only hope Wilson, individually, will improve. But Hackett must improve as the season goes forward, too.
While expectations were high for this team to make the playoffs and start 2-0, it was also expected to see some bumps in the road early in the year.
So, we'll check back in on Wilson's progress mid-season as well as at the end of the year, to see if he does improve, which is likely.
This week the Broncos have their toughest test yet in the San Francisco 49ers (1-1) at home on Sunday Night Football under the lights.