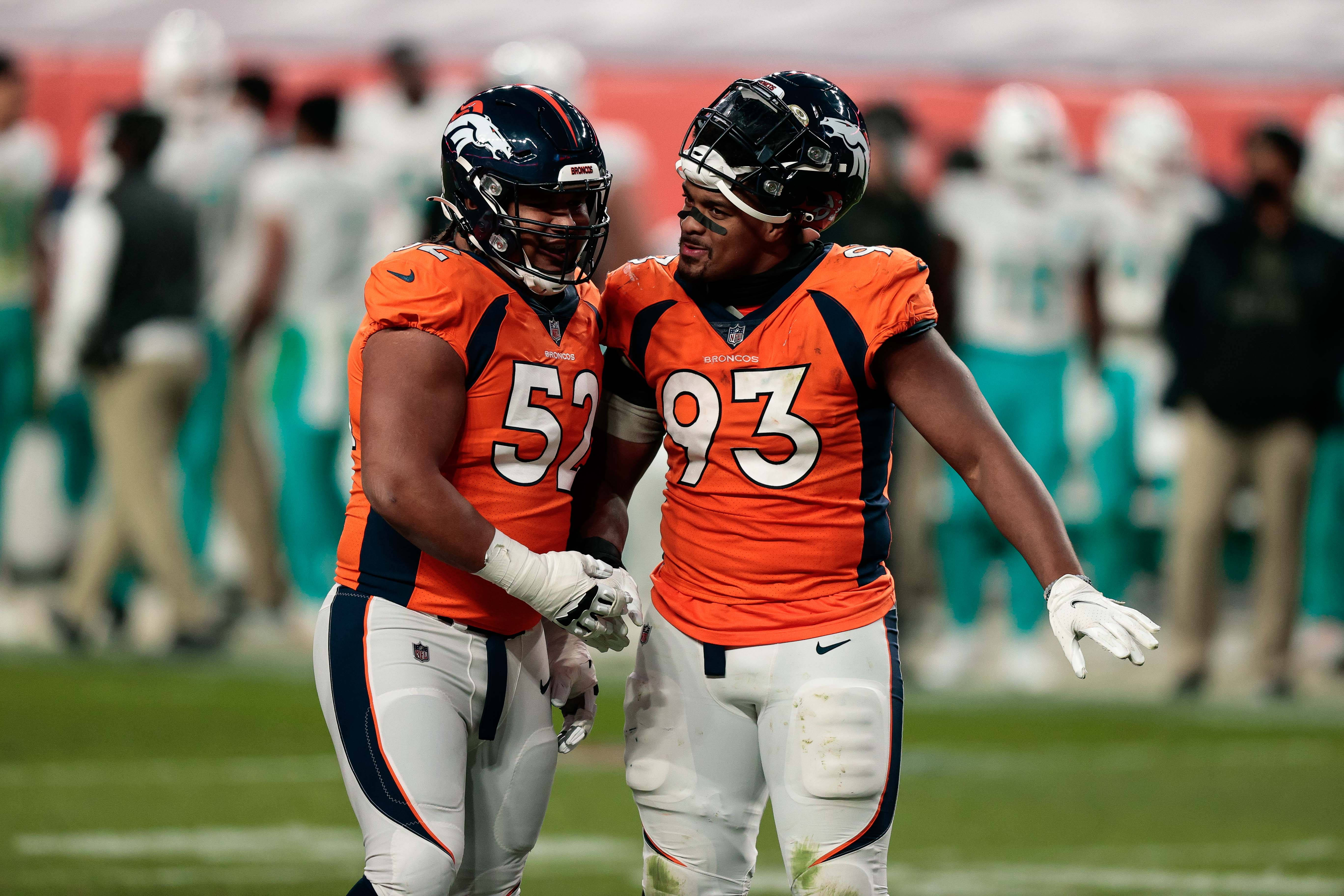 The Broncos have an excellent class of established star players, headlined by Von Miller, Justin Simmons, Courtland Sutton, and now, Garett Bolles.
Even players like Noah Fant, Kareem Jackson and Bryce Callahan — just to name a few — who might not immediately come to mind, have solidified their places in the hearts and minds of the fanbase.
Who will start a campaign in training camp to be the next player to elevate their status in Broncos Country, and see their jersey pepper the stands of Empower Field at Mile High Stadium? Let's take a look at the top candidates
Jerry Jeudy
Jerry Jeudy is such an easy choice for this top spot for a variety of reasons.
First, he was one of the stars of minicamp. He consistently managed to find holes in the defense and created separation with ease from those forced to cover him.
Courtland Sutton playing a larger and larger role as the season approaches, and his recovery progresses, could lead to Jeudy seeing a decreased role. However, it's hard to see him being minimized much considering how impressive he was in camp.
Second, his connection with Teddy Bridgewater was incredibly natural during that minicamp period and, one day into training camp, it looks like his relationship with Lock is progressing nicely as well.
Drew Lock hit Jerry Jeudy 30 yards down field to the 5 yard line. Drew connecting with Jeudy many times today

— Zac Stevens (@ZacStevensDNVR) July 28, 2021
Finally, his play style is built to pop eyes and turn heads all throughout the summer. He possesses highly-refined route-running technique, rare stop-start ability, and a creativity for getting open that makes him a joy to watch even when the ball isn't headed in his direction.
Dre'Mont Jones
In every year of his career so far, Dre'Mont Jones has outperformed expectations. Why stop now?
As a rookie, Jones impressed by tallying 3.5 sacks in a rotational role. Even more impressive though, was when he racked up 6.5 sacks and 16 pressures his second season, despite only starting eight games as he was hampered by injury throughout the first half of the season.
Not only did he have to deal with his own injuries, but he also had to suffer through the ramifications of losing Von Miller and Mike Purcell for large portions of the season.
Having those two return will make Jones' life much easier in 2021.
But why should we expect him to make such a big splash, specifically, in training camp? Because he's already wow-ing the Broncos coaching staff and front office, and it's not like those factions entered the summer with low expectations for him.
"Dre'Mont [Jones] is a breakout player," Paton said Monday. "You just watch the tape last year and how he's improved in the run game. I think he has good inline pass pressure. He has great hands in the run game and great quickness as a pass rusher. He plays hard and works hard. He's everything we want here. I thought he broke out last year to tell you the truth."
Justin Strnad
This last one is more of a long shot, though Justin Strnad definitely has a chance of becoming an impactful defender for the Broncos this season.
While in college he wowed his Wake Forest coaching staff, and just last season, he was earning rave reviews from Broncos coaches and veterans alike for his remarkable football IQ and work ethic.
He's also a great coverage linebacker, which is something the Broncos have been in need of for several seasons now. That's especially a need considering the currently projected starting tandem of Josey Jewell and Alexander Johnson, who are somewhat redundant stylistically.
Strnad could rise throughout camp as the Broncos best coverage linebacker, and could eventually steal a starting job if he gets lucky. Plus, his instinctive, ball-hawking nature is sure to create a few highlight-reel-worthy plays in camp.