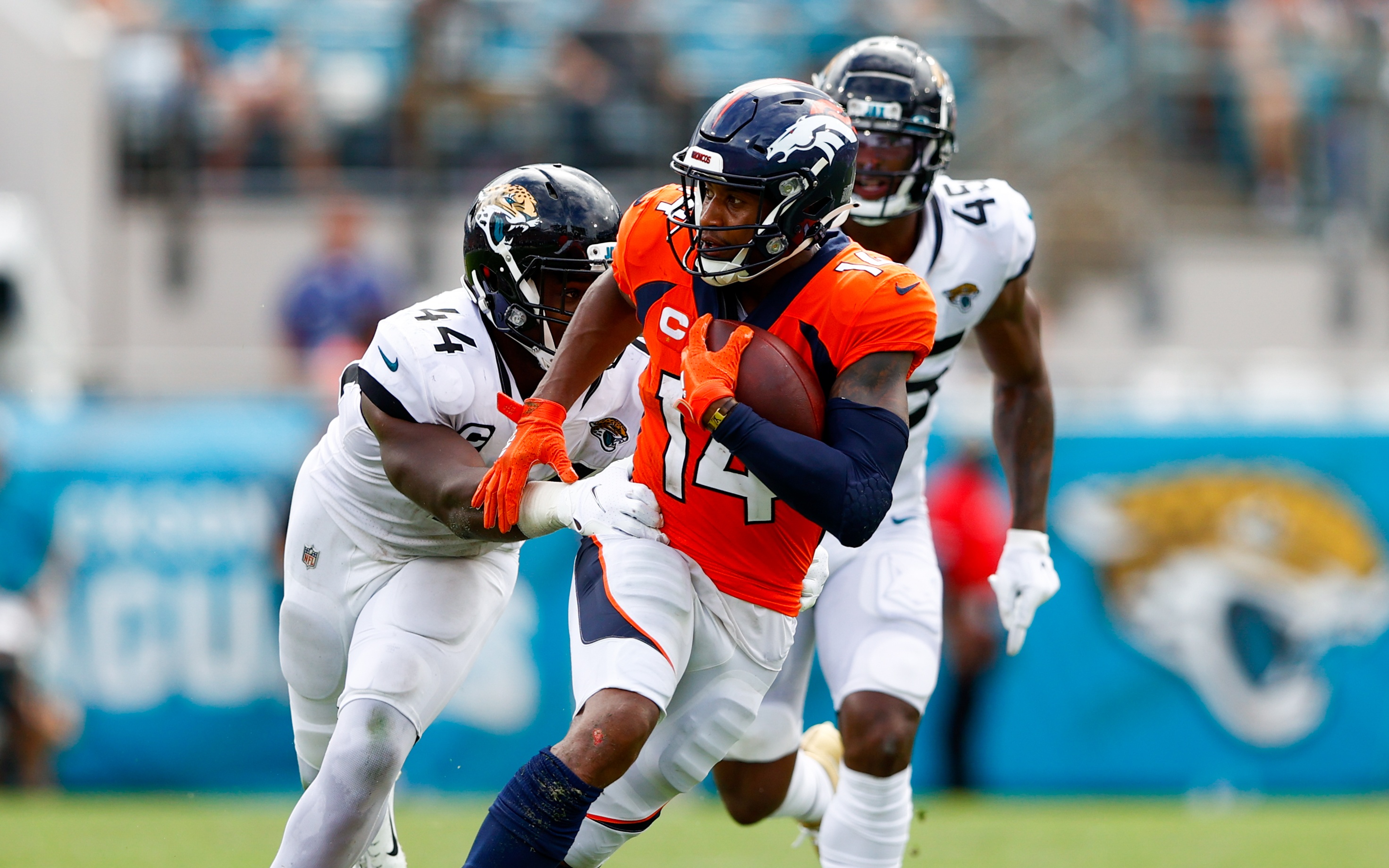 The discussion all offseason long, and rightfully so, has been about how Russell Wilson's arrival dramatically transforms the Denver Broncos and their outlook for the future.
But who will be affected the most by this transformation? That's what we'll attempt to answer with this column.
Now, to clarify, this piece will not be a ranking of the six players who will play the best alongside Wilson, but rather those that stand the most to gain.
For example, despite being in a much better position now, thanks to Wilson's presence, Tim Patrick didn't make the list, as he seemed to be the only receiver who was able to thrive with Drew Lock and Teddy Bridgewater, and the other pass-catchers seem likely to gain more from the offseason transaction. Albert Okwuegbunam should also benefit from better quarterback play, but considering Wilson's history of not targeting tight ends, he also missed the cut.
With that cleared up, let's now take a look at the players that stand to gain the most from playing alongside Mr. Unlimited.
6. Jerry Jeudy
Through his first two seasons in the NFL, Jerry Jeudy has failed to live up to pre-draft expectations. CeeDee Lamb, Justin Jefferson, Brandon Aiyuk, Tee Higgins, and Michael Pittman Jr. were five of the next six receivers off the board, and all of them have been more impressive than Jeudy so far in their careers.
Now some of that has to be the result of the awful situation Jeudy found himself in — with bottom-feeding quarterbacks and one of the milk-toast, mind-numbing offensive play-callers in the sport. The only one of the aforementioned receivers with lower-level quarterbacking is Pittman, but he gets the benefit of having Frank Reich, one of the best offensive minds in the sport.
The arrivals of Hackett and Wilson go a long way towards solving that problem, though Jeudy will of course have to improve his own shortcomings.
The main reason Jeudy doesn't find himself higher on this list — as the baseline has been set pretty low and the ceiling is pretty high — is because Wilson is a semi-awkward quarterbacking fit.
Jeudy should feast in the middle of the field and on quick game concepts, which are notoriously aspects of offense Wilson has never really utilized or been good at utilizing.
Wilson to Jeudy.
Rain or Shine.
Morning or Night.@JerryJeudy 🏈 pic.twitter.com/yt8BoNFKoQ

— Russell Wilson (@DangeRussWilson) March 29, 2022
Also, while reviewing Jeudy's tape from last season, it appears his utilization and the offensive coaching might've been a greater detriment for Jeudy than the quarterback play, limiting Wilson's impact and dropping Jeudy down the list.
5. Dre'Mont Jones
He's long been one of the league's most underrated stars, but now that Wilson is in the building, Dre'Mont Jones will finally have the spotlight on him and, as a result, should finally get his well-overdue praise.
Broncos #93 Dre'Mont Jones has been a force so far in 2021. pic.twitter.com/QJXmasixoq

— Nate Tice (@Nate_Tice) September 30, 2021
In 2022, Jones will get to play on primetime five times, which is the maximum any team can play on primetime in a given season. They'll also have seven nationally televised games this season. Throughout the first three years of Jones' career, the Broncos had seven such games, and some of those came in his rookie season when he wasn't starting.
Not only that, but the Broncos should have much more widely televised games with CBS or FOX's 'A team' rather than being buried with the network's respective 'Z teams'. No more Stink-called games is a blessing we can all get behind.
Considering all this, Jones will finally have eyeballs on him, and his greatness isn't difficult to spot if you're watching him play.
Prepping for a big Dre'Mont Jones year. pic.twitter.com/CAV41J6ye2

— Joey Richards (@JRDrafts) May 12, 2021
Jones will also be in an excellent position to take advantage of this grand stage, thanks to the offensive improvement Wilson will bring. Jones is used to constantly playing catch-up on defense and hasn't had many games where he could pin his ears back and tee off on the quarterback. Now that the Broncos should be playing with more leads, forcing the opponents to pass, Jones is primed to have the most productive season of his young career.
4. Nathaniel Hackett
This one is fairly cut and dry. You need a quarterback to be a successful coach in this league, and Hackett undeniably has one, thanks to the addition of Wilson.
Not only that, but he'll be the first Broncos coach to have one since Gary Kubiak or John Fox (depending on how you want to view Peyton Manning's 2015 campaign).
Hindsight being 20/20, it seems fairly clear now that Vic Fangio and Vance Joseph were never going to work out, but having to work with Joe Flacco, Drew Lock, Teddy Bridgewater, Brock Osweiler, Paxton Lynch and Trevor Siemian removed all doubt.
Thanks to Wilson, and the stability his quarterback play is likely to bring to the rest of the team, Hackett is going to have a real opportunity to have players buy into the culture he wants to instill in the locker room, and he should also have time as the team should win a good number of games.
It's hard to do much better as a first-time NFL head coach.
3. K.J. Hamler
Few quarterbacks in the sport throw a prettier deep ball than Wilson does, and that should compliment K.J. Hamler's style beautifully.
Small, shifty burners like Paul Richardson Jr. and David Moore, or even larger ones like D.K. Metcalf consistently thrived with Wilson, and now Hamler is in a perfect position to do exactly that. Except, Hamler projects to be a much better deep threat than either Richardson or Moore ever were if he can be anything close to resembling the athlete he was pre-injury.
Broncos' KJ Hamler TORCHES Cameron Dantzler (and the entire Vikings secondary) for an 80-yard TD. pic.twitter.com/S8N5mPqhfD

— Austin Gayle (@austingayle_) August 14, 2021
There aren't many NFL athletes who can move like Hamler, and Wilson can take advantage of the separation Hamler creates better than almost anyone, thanks to his pinpoint deep accuracy and rainbow-arching long bombs.
Compare that to what Hamler has had otherwise in his career — an accurate quarterback that didn't have the power or guts to target Hamler downfield, and a strong-armed gun-slinger who could seldom hit the broad side of a barn, let alone Hamler's tiny 5-foot-9 frame.
Had Denver not traded for Wilson, there'd be serious concern about the future of Hamler's career. Now, with Wilson, Hamler seems primed for a role as a key offensive cog and could potentially become one of the most exciting players in the sport.
2. Courtland Sutton
Towards the end of the 2019 season, it felt like Courtland Sutton could do no wrong. No matter what impossible situation Brandon Allen or Lock threw the ball into, Sutton would make a remarkable acrobatic effort and come down with the reception, solidifying a big play.
The first deep completion of Drew Lock's career. The #Broncos come out in a 3X1 set on 3rd and 8.

Chargers in C1 shell & sending heat on right. 45 is the rat.

Lock's primary read is Courtland Sutton and he throws it with anticipation while facing down a rush.

Touchdown. pic.twitter.com/CAMNfisAtx

— Joe Rowles (@JoRo_NFL) February 12, 2020
Then, injuries robbed us of Sutton's 2020 season entirely, and he just didn't look like himself in 2021 as he returned from the torn ACL he suffered the prior season.
Now, he's two years removed from that grisly injury, and should hopefully return to 2019 form, or at least be a lot closer to that 2019 version.
Having Wilson at the helm of the offense makes that bounceback campaign even more likely, as Sutton — unlike Jeudy — feels like the perfect receiver pairing for Wilson. He's also the only one of Denver's pass catchers that feels like he has star receiver upside at this point.
Courtland Sutton TOUCHDOWN! #Broncos 14- #Chargers 0 #DENvsLAC pic.twitter.com/votoQ7tbyP

— Joe Rowles (@JoRo_NFL) October 6, 2019
If Sutton is fully healthy, his vertical style, ability to secure contested catches, and ability to thrive in the redzone should make him Wilson's go-to target, and that could easily lead to him re-emerging as the top-15 receiver he seemed to be blossoming into back in 2019.
1. Javonte Williams
Not having a pass-catcher atop this list is sure to surprise some, but the symbiotic relationship that has consistently existed between Wilson and the run game, plus Denver's prior quarterbacking situation, sets Javonte Williams up as the top beneficiary.
Last season, Williams took the NFL by storm and became one of a very small number of Broncos that got national attention during the 2021 season as a result. However, his season ended with a whimper as a result of defenses catching on to the Broncos' inability to attack through the air.
Upon Lock entering the lineup, Williams was facing 8-plus man boxes on more than 50 percent snaps, and the run game was completely smothered as a result.
From Week 9 to Week 15 — when the Broncos began favoring Williams over Gordon — Williams averaged 76.7 rushing yards per game and 5.0 yards per carry. From Week 16 to Week 18, however, Williams averaged just 29.3 yards per game and 2.7 yards per carry.
Fortunately for Broncos Country, opposing defenses will have to respect Wilson more than they ever respected Lock, leaving to light boxes which Williams should feast on with how hard he is to bring down.
In Williams, Wilson has a weapon he hasn't had since Marshawn Lynch left the Seahawks, and that should benefit him greatly, as he was experiencing the inverse of Williams' problem each of the last two seasons, which he struggled in, relatively speaking. Wilson didn't have a run game that opposing defenses respected, and as a result, saw nothing but light boxes and conservative coverages that took away Wilson's bread-and-butter plays and forced him into uncomfortable situations.
Name the player

(from PFF's QB Annual) pic.twitter.com/57SEYsRqJd

— Josh Norris (@JoshNorris) June 16, 2022
Wilson has always struggled to attack the short-to-intermediate middle of the field, so having a downhill rushing game to supplement the offense's attack of that portion of the field is fairly valuable to his game and something he's been without the last few seasons in Seattle.
Down the stretch of 2021, when Rashaad Penny caught fire — due in large part to the hyper-light boxes Wilson created — we finally saw Wilson return to the elite quarterbacking we had grown so accustomed to. In 2022, Wilson should have the benefit of a great rushing attack all season long, rather than for a few weeks in December and January.
Wilson returning to elite form and dicing up opposing defenses will force defenses into conservative, split-safety coverages and dime packages that pile defensive backs onto the field. That will lead to Williams running roughshod over lighter-bodied defenses that are left gasping for air as Denver's balanced offensive pulverizes them into an indistinguishable liquid mush.