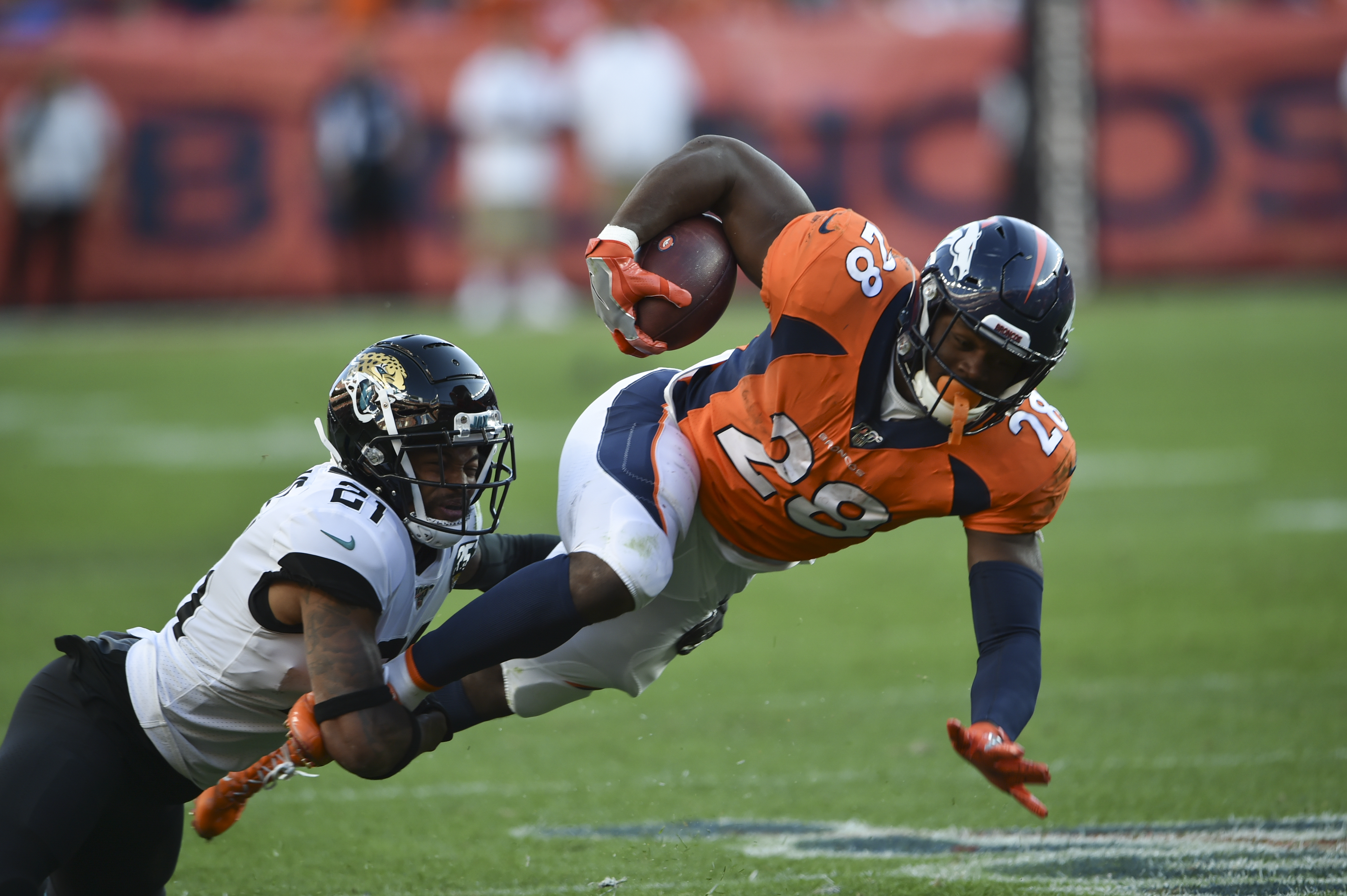 The Denver Broncos added a lot of talent via the 2021 NFL Draft, which is always great news, but it does mean some veterans will now find themselves on the hot seat as rookies compete for their roster spots.
Most of the damage will be done to insignificant, but let's take a look at some of the more noteworthy Broncos who are in danger.
Royce Freeman, RB
Royce Freeman was already on the hot seat when the off-season started, and the signing of Mike Boone and drafting of Javonte Williams has only cranked up the temperature.
Considering the team's investments in Boone, Williams, and Melvin Gordon, it's hard to see any of them being the odd man out in a crowded running back room. Meanwhile, with Freeman entering the final year of his rookie deal, the Broncos stand to save nearly $1 million against the cap by releasing him.
Outside of him being the running back that makes the most financial sense to move on from, he's also likely the least talented of those top four backs in the room. It goes without saying that Gordon and Williams are far more talented but even Boone has showcased more impressive flashes in his early career than Freeman.
To make matters even worse, last year's undrafted free agent running back, LeVante Bellamy, can likely perform a lot of the same things Freeman would've done for the team, though he can do it at a minuscule fraction of Freeman's price.
Trey Marshall, S
Trey Marshall has never offered much in the way of safety play behind Justin Simmons and Kareem Jackson and has provided most of his value via special teams.
He was an adequate run defender from the safety position, but he was always a liability in coverage. That wasn't a major problem for his roster security in past years, as the Broncos had so little at the position behind their starting stars. However, now that Jamar Johnson and Caden Sterns are on the roster, Marshall has a steep uphill path to a roster spot.
While the Broncos are looking to improve on special teams, many of their draft picks and free-agent signings double as special teamers, so Marshall is less needed there as well.
At the end of the day, whether or not Marshall is on the final roster likely comes down to if he can make a big enough impact on special teams to justify taking up a roster spot.
Duke Dawson and Michael Ojemudia, CB
Michael Ojemudia being released or cut is more of a long shot, but Duke Dawson's roster spot is very much in jeopardy.
The Broncos' top four cornerbacks on the depth chart can be etched in stone as Bryce Callahan, Kyle Fuller, Ronald Darby and Patrick Surtain, though that order is subject to change. Now, factor in that the Broncos are likely to only carry two additional cornerbacks on to their final roster, as last season they had just six cornerbacks on their Week 1 roster.
So, who claims those final two spots?
In all likelihood, one of them will be snagged by someone who can serve as insurance for Bryce Callahan in the slot and as an eventual replacement in 2022. The leading candidates for that job being Essang Bassey and seventh-round selection Kary Vincent Jr.
That leaves Dawson, Ojemudia, and probably someone like Parnell Motley — who was promising in his own right last year — battling for the final cornerback spot. Ojemudia should be the heavy favorite to win that battle, but if he lost and was cut from the final roster, it wouldn't be surprising.
Josey Jewell, LB
Last but not least, is last year's starting linebacker alongside Alexander Johnson, Josey Jewell.
Jewell is coming off the best year of his career, but his athletic limitations are always going to be a concern and he has continued to be a liability in coverage. Adding Baron Browning through the draft and getting Justin Strnad back from his wrist injury gives Denver two exciting coverage linebackers with more upside than Jewell.
Jewell could still hang on to the back of the linebacker rotation as a key special teamer, but his athleticism could be a serious impediment there as well, and the Broncos could save $2.1 million against the cap by moving on from Jewell. Compare that to the $1.6 million combined they'd save by cutting the other two most-expensive competitors for the job, Austin Calitro and Josh Watson.
The Broncos also added two undrafted free agent linebackers who could compete to fill Jewell's shoes.
Now, Jewell will likely be better than the undrafted free agents, David Curry and Curtis Robinson, and better than Calitro or Watson, but he's not better enough to justify being more than twice as expensive in an unimportant role; linebacker No. 4.