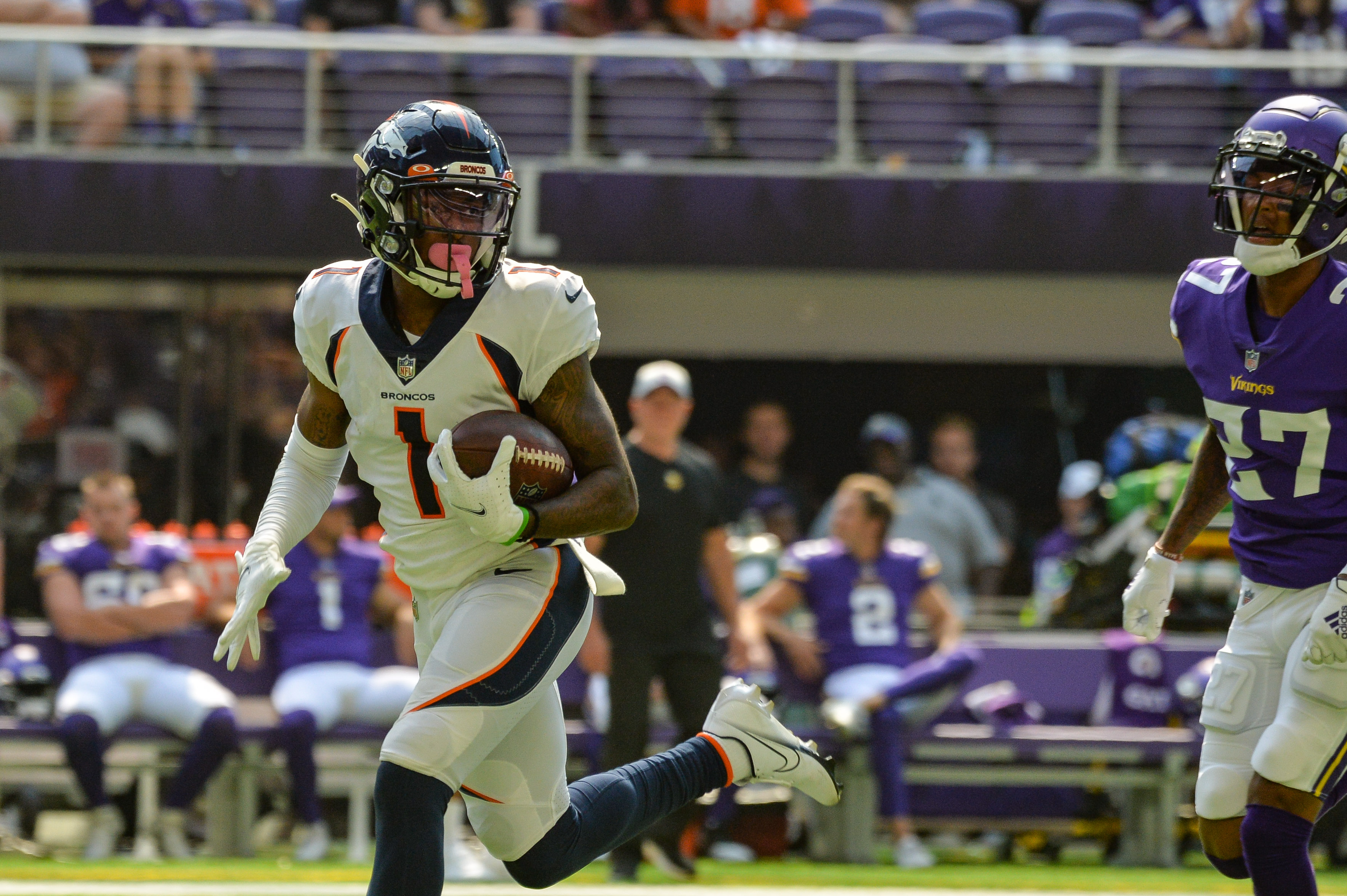 Denver Broncos football is back everybody, and it returned in the best way imaginable.
Now with that game in the rearview mirror, let's reflect on which players had the best and worst performances and who impacted their chances of making the final roster or earning a starting role the most.
Stock Up
Drew Lock
No one on the Broncos improved their stock more than third-year quarterback Drew Lock.
With Justin Fields' sizzling debut serving as the lead-in for Denver's preseason game, there was a potential for the Lock narrative to get truly ugly quickly if he struggled against Minnesota's second unit. Fortunately, the former Missouri Tiger responded to the moment flawlessly.
Denver's first drive was primarily powered by the ground game, but it was Lock's perfectly placed shot to K.J. Hamler that got the team in scoring range. On the very next drive, Lock went right back to Hamler for a beautiful 80-yard scoring strike.
You absolutely love to see it. 💣@DrewLock23 x @Kj_hamler

📺: @nflnetwork pic.twitter.com/syovmzeXfy

— Denver Broncos (@Broncos) August 14, 2021
On Lock's third and final drive of the game, he once again marched the Broncos downfield for a score. This time, he connected with Jeudy for a large gain before threading the needle to find Trinity Benson in the endzone.
Drew Lock finds Trinity Benson for his second touchdown pic.twitter.com/D7fReI9qXe

— Joe Rowles (@JoRo_NFL) August 14, 2021
After this performance from Lock, it'll take a ton from Teddy Bridgewater next week to earn the regular season starting job.
Justin Strnad
Injuries robbed Justin Strnad of his rookie season, but in his first NFL action, he was already playing like a polished veteran.
Strnad's football IQ is off the charts, and when combined with his above-average quickness at the position, it allows him to constantly be around the ball.
During the first half Strnad was impossble to miss as it seemed like he was in on nearly every single defensive stop. He exited the game with a strong hold on the team lead in tackles with four, though he was eventually caught.
That might not sound like much, but it was important to see from Strnad.
His ability to cover has never been in question. The concern in his game was his slighter frame, and whether or not it would be able to hold up in run defense at the NFL level. After one game of preseason action, those worries have been somewhat eased.
Patrick Surtain II
We saw it in training camp, now we're seeing it in the games, Patrick Surtain II is on his way to superstardom.
Surtain got his day started by making a great play on the ball to break up a pass intended for Ihmir Smith-Marsette, which was nearly intercepted by linebacker Peter Kalambayi.
Surtain wouldn't have to wait long to get his first career interception though. On the Vikings' very next possession, Surtain jumped another pass intended for Smith-Marsette, this time securing the interception and bringing it in for six.
PS2 with the PICK-6 🎮

Not a bad debut, @PatSurtainll!

📺: @nflnetwork pic.twitter.com/fg5QBr7jKD

— Denver Broncos (@Broncos) August 14, 2021
It's only a couple of plays, but this feels like just the start of a very very special career for the Alabama product.
Trinity Benson
Guess what? Trinity Benson will make the Denver Broncos' final roster, no doubt about it.
Things were already trending that direction as Benson consistently performed like Denver's best wide receiver not in the top-quartet of Courtland Sutton, Jerry Jeudy, Tim Patrick and K.J. Hamler, but Saturday's performance against Minnesota might have solidified it.
Benson made his first big play of the day by hauling in that aforementioned touchdown from Lock, but he wasn't done yet. He would haul in a second touchdown later on, this time from Bridgewater, and had another big reception earlier on that same drive.
Nearly as important, though it's likely to slip under the radar, is that Benson opened the game as Denver's returner. That's a role he'd likely carry into the regular season if he made the final roster, and the fact he handled both kicks well, only improves his odds.
Honorable Mentions
As you all know, this game went phenomenally well for the Broncos, so here's an assortment of honorable mentions who also performed well, but didn't quite make the same impact as the previous four.
These players earned some praise.
KJ Hamler and Jerry Jeudy: Hamler's first two big receptions from Lock set a tone for the game that the Broncos carried throughout, leading to a blowout. His speed and short-area quickness jumps off the screen as he's the definition of a 'jitter-bug.'
Jeudy had a rough start with a missed opportunity in the endzone and an offensive holding penalty that offset a touchdown, but quickly rebounded with a 33-yard gain that showcased his greatly underrated run-after-catch ability.
P.J. Locke and Caden Sterns: Another impressive young tandem, those this one doesn't quite have the name recognition of Hamler and Jeudy. Locke had two really nice pass breakups, including one in the back of the endzone to save a touchdown.
Meanwhile, Caden Sterns continued his training camp of always being around the football, assisting on Locke's breakup in the endzone and securing a team-leading six solo tackles.
Javonte Williams: Trading up for a second round running back might not be the best idea, but no matter how he was acquired, Javonte Williams looks to be real deal. He didn't have any highlight-reel-worthy plays, but he had numerous solid gains in which he leaned on his superior talent to gain far more yards than he deserved.
Stock Down
Trey Marshall
It was such a good day across the board for the Broncos, that very few players truly hurt their stock.
One the few that did see their stock take a major hit, was Trey Marshall, and it happened through no fault of his own. Marshall made a solid tackle on the opening kickoff, but was forced to leave the game with an ankle injury immediately after.
If Marshall misses practice or the next preseason game, that will be a major hurdle for his chances of making the final roster. The Broncos have five other safeties that have already showcased a lot of talent and are seemingly worthy of a final roster spot, and there's a zero percent chance Denver keeps six safeties.
Cameron Fleming
Veteran addition Cameron Fleming was already getting boatraced in the competition at right tackle, but his poor performance today might have been the nail in the coffin for his hopes of starting.
Fleming wasn't too bad today, but he was noticeably worse than both Calvin Anderson and Bobby Massie. However, his low point came when he was penalized late in the first half, erasing a nice Bridgewater touchdown.