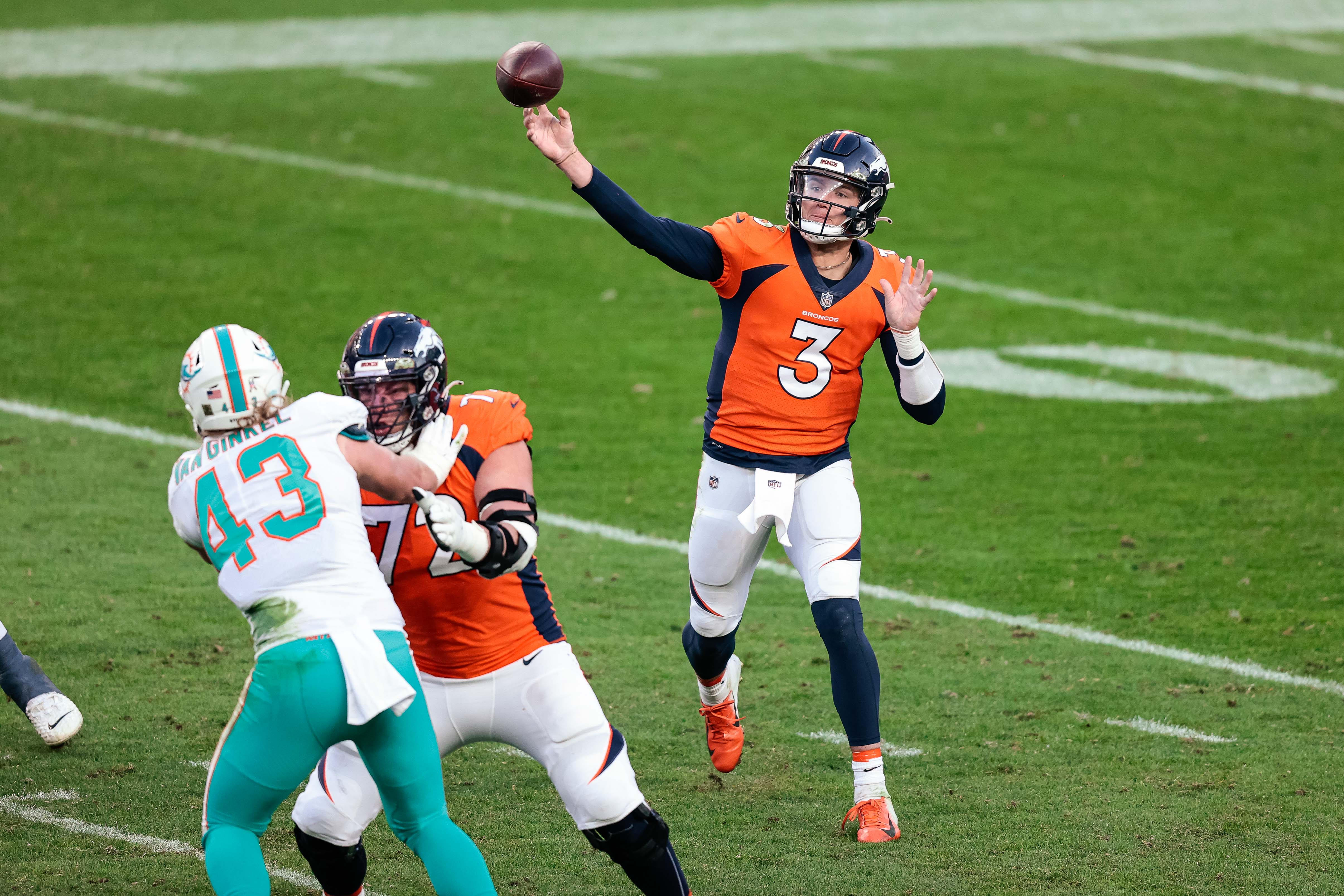 The 2020 season was a disappointing one for a Broncos fan base that was hoping to finally find excitement and relevance. However, despite the countless injuries and rocky quarterback play, there was a lot of growth on the roster. In this article, we'll take a look at those players that grew into starring roles, and a player that took a step back as well.
Stock Up
Garett Bolles
This one should be a no-brainer. Last off-season, the Broncos turned down his fifth-year option, which practically translates to, "There is no way you are on our roster next season."
Garett Bolles responded by turning in a borderline All-Pro-caliber season.  Among offensive tackles with at least 600 total snaps, he ranks third in both overall grade and pass-blocking grade, and fourth in run-blocking grade. He also is one of five offensive tackles with 600 snaps that hasn't allowed a sack, and he ranks third in pressures allowed.
If Bolles can continue to play like that, the four-year extension he just signed will be a bargain.
Will Parks
This might seem like a weird one, but few players in the entire league have boosted their stock as much as Will Parks has over the second half of this year.
At mid-season he was released by the Eagles and searching for a new team. Now that the season is over, it would be incredibly disappointing if the Broncos didn't give him an extension.
Forget the box scores, stats, and grades for a second, the Denver defense is clearly better with him on the field. He infuses the defense with an energy and attitude they just don't have without Parks.
Through 12 weeks with the Eagles, Parks registered 13 combined tackles (1.1 per game). In just four weeks with the Broncos, Parks racked up 18 combined tackles (4.5 per game).
What makes that even more impressive is that he made that impact from the nickel cornerback position, when his more comfortable position is safety.
Parks also has a pretty good shot of returning to Denver. Demand for him was low last off-season, and now that he's struggled away from the Broncos, it could be even lower. If Denver can bring Parks back comparable to the one-year, $1.5 million deal we saw him sign in 2020, it should be a no-brainer.
Tim Patrick
Following the Broncos flurry of additions at wide receiver this off-season, and considering the existence of Courtland Sutton, who would have predicted that Tim Patrick would have led the team in receiving touchdowns this season?
With Sutton out for the season, Patrick became Lock's security blanket and made himself a boatload of money in the process. His 111.4 passer rating is the highest of any Bronco wide receiver and his 33 first downs converted ranks third on the team through the air.
It will be tough for the Broncos to keep Patrick around past 2021, as they will have to sign Sutton, Jerry Jeudy, and K.J. Hamler in the coming years, but the should be able to bring him back for one more year on a high-priced tender.
Stock Down
Drew Lock
Whether or not you believe in his development or his trajectory, you can't deny that the general opinion surrounding Drew Lock is much lower now than it was 12 months ago.
And with good reason. Lock ranks among the 10 worst qualifying starters in almost every important metric for quarterback play you can think of.
In more archaic metrics like completion percentage, passer rating and QBR; Lock ranks worst, fourth-worst, and ninth-worst in the league, respectively. He struggles in the trendier analytics too, ranking seventh-worst in DYAR (defense-adjusted yards above replacement), ninth-worst in DVOA (defense-adjusted value over average), and 10th-worst in EPA.
However, the turnaround over the final month or so of the season has been noticeable. Before the Broncos' matchup with the Dolphins, Lock was a bottom-three quarterback in those statistical categories.
Unfortunately, it might end up being too little too late for Lock, as a new general manager severely impacts his security as the starting quarterback.