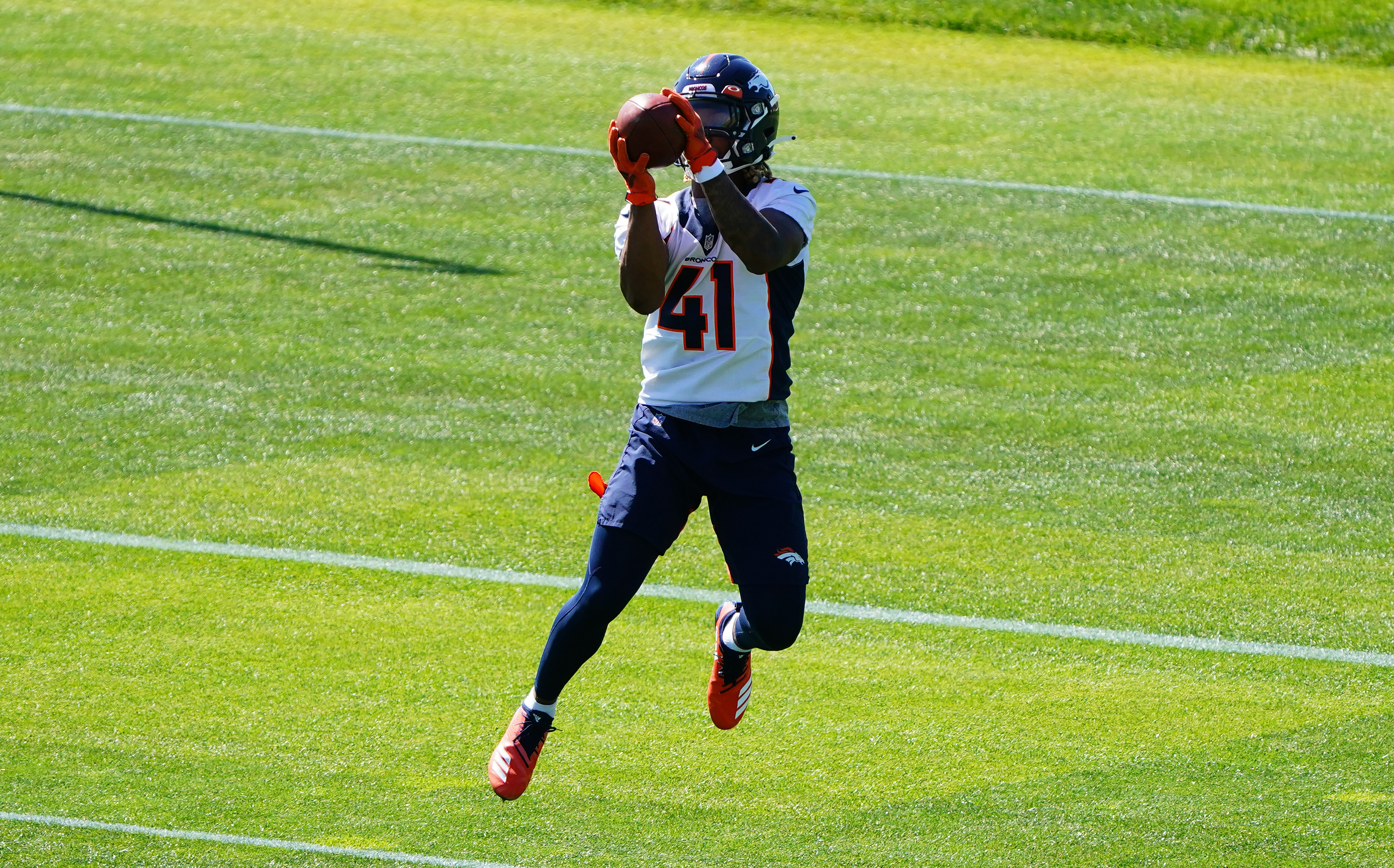 Outside of the obvious criticisms related to the quarterback position, the Denver Broncos' 2021 draft class earned rave reviews from the media, and now Denver's veterans are echoing that praise.
Von Miller kicked things off by giving Patrick Surtain II some love during a media session.
"This Patrick Surtain II, this 'PS2' guy, he's the real deal," Miller said last Monday. "There are a couple times where I look over my shoulder just to see who's out there at receiver, left and right checking out the formation, and I see this guy standing out there. I'm like, 'Bro, this guy is taller than me. Is he supposed to be inside? He's supposed to be rushing. This guy is supposed to be rushing.'
"He's the real deal and he's a specimen. He has great feet. I've seen [CB] Kyle Fuller throughout the years. Playing football, I know what type of player he is, but this Patrick Surtain II up close and personal, he's the real deal. I'm excited to see what he can be able to do versus all these receivers that we have in our division and all these receivers throughout the league that we've got to play [and] have to match up with. The more DBs that we have, the better we'll be. Definitely stacked in this room."
Fangio worded his positive feelings surrounding Surtain during that very same media session, though he is never as effusive with his praise as Miller.
"I've been pleased with his work so far, although it's very early," Fangio said. "We thought highly of him to pick him where we picked him. He's got all the measurables you're looking for. The thing I like most about him up to this point—I like his demeanor. I think he's got an NFL demeanor, especially the type of demeanor you need to play corner in this league. I think he has some versatility which we're going to need to take advantage of. Everything has been good so far with Patrick, but we were expecting that."
The very next day, Justin Simmons doubled down on Miller and Fangio's love of Surtain.
"He's great. He's about as tall as me," Simmons said in regard to Miller coining the nickname 'The Specimen' for Surtain. "I was out there talking with him and was like, 'You're kind of tall man.' [We're] built very similarly. He's a big guy and moves really well. Just really fluid movement. It just seems like there is no wasted movement in his game, which obviously you all know how important that is in the secondary position. I'm really excited for him. I was excited that we got him. I'm excited for him and excited for us to do something special this year."
Even Ronald Darby had praise for Surtain, despite the fact the two will likely be in competition with one another this summer.
Surtain impressing isn't a surprise though, as Fangio alluded to. He was incredibly polished considering his NFL pedigree and after learning from Nick Saban. He's also a remarkable athlete as the 'Specimen' nickname indicates.
The first Broncos rookie to get some love outside of Surtain, was fan favorite Quinn Meinerz. During his media session, it became clear that Garett Bolles is a big fan of Meinerz as well.
His joke about 'rubbing Meinerz's belly if the Broncos start winning' grabbed most of the eyeballs, for obvious reasons, but Bolles offered up serious extolment for the Wisconsin-Whitewater product as well.
"Man, Meinerz is a stud," Bolles said. "I know he's from that small little town in [Wisconsin]. I know it's close to Canada. That funny video of him throwing the boards and doing his wacky workouts up there. The little caveman that he is. [He has] a great personality. I've watched film of his and done my homework on him, and I'm excited to see what he can do. He's a tough kid that will punch you right in the mouth. The way he demands out there, the way he moves and the ways he moves his hands, I know he has that special talent to be great. I know that he wants to be great."
Finally, the last rookies earning pats on the back during media sessions are the two rookie safeties, Caden Sterns and Jamar Johnson.
"Just from the first couple days of practice, those guys have great ball skills," Simmons said of the two new secondary members. "That's something that just pops out. In practice we're doing the drills—just simple things that you pick up on. They have great ball skills and are really quick learners. It's not always easy to take full command of a defense in Day 1. They're asked to get in there and make adjustments. There are definitely nuances in [Head Coach] Vic [Fangio's] defense. They're quick learners, and it's really fun just being able to kind of work through things together. Not necessarily like a hierarchy, but let's work through this together because even in coaching up and seeing a play that I might see a little bit different than they do, it helps me broaden my own horizon. It helps me learn the playbook a little bit more. I know it's only been two days at least on the field, but we've been meeting for a while. It's been a lot of fun getting to know those guys."
It's wise to avoid taking away much from this point in the off-season, but it's still great to see so many of the rookie class already impressing so many of the team's most trusted veterans.