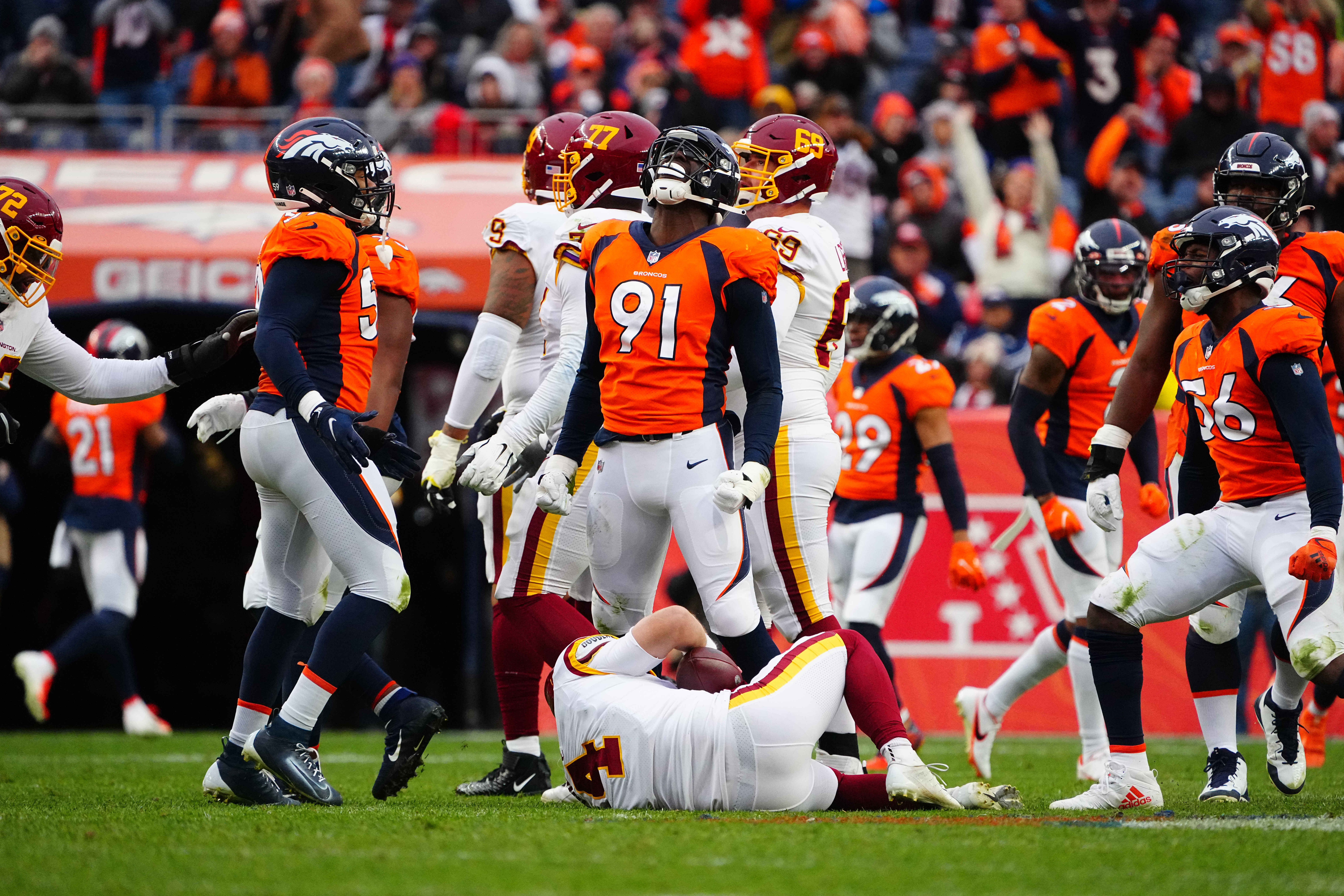 After a depressing four-game slide, the Broncos finally got back on track against the Washington Football Team, but who deserves the most praise for lifting the Broncos to .500? Let's take a look.
Stock Up
Shelby Harris
Through his entire tenure with the Denver Broncos up until this season, Shelby Harris was a game-wrecking force, and one of the team's most impactful players and leaders on the defensive side of the ball.
Unfortunately, that hasn't been the case for much of the 2021 season.
However, the tide appears to be turning as Harris gets into the swing of the season.
For the second time in as many weeks, Harris blocked a field goal to keep points off the scoreboard and snuff out any offensive spark that Washington was attempting to foment.
On top of the block, he was also a large part of the Broncos' much-improved run defense and recorded 0.5 sack in a pivotal moment that nearly forced Washington out of field goal range.
He even made an impact as a leader. During the Broncos' first drive of the fourth quarter, Melvin Gordon had a nice run to get Denver inside Washington's 30-yard line. A particularly observational viewer might have caught a Bronco on the sideline, hyping up the downfield blockers and Gordon for such an impressive in eye-catching fashion. That Bronco was Harris.
Dre'Mont Jones
With Von Miller and Bradley Chubb both sidelined, the responsibility of creating pressure on the quarterback fell squarely on Denver's interior tandem of pass rushers — Dre'Mont Jones and Harris.
As we've already discussed, Harris made his presence felt, but so did Jones. In fact, he was even more productive as a pass-rusher and had a blocked field goal of his own.
For his first sack, he met Harris at the quarterback to end a Washington possession and force a long field goal. His second sack came with Washington backed up deep against their own endzone, and ended Washington's first possession of the second half with a punt.
With Washington setting up for a field goal to give them their first lead of the game,
Justin Simmons
With a beat-up defense that has been playing horribly in recent weeks, the Broncos needed their defensive leaders to step up, and step up they did.
The leaders up front in Harris and Jones stepped up, and the defense's overall leader — Justin Simmons — stepped up as well.
With Washington deep inside Denver territory on their first drive of the game, they attempted to go for it on fourth-and-short. They got the look they wanted, as the tight end was able to uncover in the flat for what should've been an easy conversion, only for Simmons to drop the hammer and force an incompletion via a crackling hit.
That play sent a bend-don't-break tone for the defense that carried throughout the game. The defense didn't allow the back-breaking big play, something Simmons played a large role in and something the Broncos have done all too frequently throughout their four-game skid.
Simmons then added a pair of interceptions to his stat line. His first one was fairly inconsequential, as it came on an end-of-half Hail Mary, but the second one couldn't have come on a bigger moment. With Washington needing to reach the goalline on fourth down, the Broncos defense sat back in the endzone, and Simmons perfectly lept in front of Heinicke's pass on a play that should've sealed the victory for the Denver Broncos.
Stephen Weatherly
Earlier this week, the writer of this article made an idiotic remark making fun of the team's trade to acquire Stephen Weatherly to improve the pass rush.
Phew! Good thing they made that Stephen Weatherly deal!

Talk about moving the needle

— Zach Segars (@Zach_Segars) October 23, 2021
Clearly, the trade did in fact move the needle, as Stephen Weatherly almost won the game for the Denver Broncos. Weatherly came up with two massive sacks, the second of which forced a fumble and forced Washington into fourth-and-a-mile with the game on the line.
His fellow veteran addition, Kenny Young, also made a nice impact in his first game in orange and blue
Stock Down
Teddy Bridgewater & Pat Shurmur
Although the defense has been allowing yards and a lot of long drives over the past two weeks, they have re-adopted the Fangio motto of 'bend, don't break.' Allowing very little in the way of points over the past two weeks.
Unfortunately for them, the offense is unable to generate anything whatsoever, whether that be points or yards.
Over the past two games, the Broncos have generated 1.6 points per drive, which is entirely unacceptable.
Something has to change now.
Ideally, that something would be relieving Pat Shurmur of his responsibilities as play-caller. This team has been a joke offensively since he's taken over, and with each passing week he is beginning to look much worse than the laughably bad Rich Scangarello.
Before each game offensive play-callers will develop what's known as a 'script' that outlines the first handful of offensive plays. The offensive coordinator spends all week trying to come up with the best script he can to get his offense off to hot start.
So far, Shurmur has been laughably unsuccessful. In 24 tries, the Broncos have scored a touchdown on their first offensive drive only once.
One could also demand the head of Teddy Bridgewater, who hasn't wowed in his own right.
Although this columnist believes Bridgewater is far from being the Broncos' greatest problem offensively, there's very little reason at this point to not give Lock a shot. Winning games to preserve a coaching staff that appears entirely out over their skis — though whether or not Bridgewater gives the team the best chance to win could also be debated — is the only real reason it seems.
Javonte Williams and Melvin Gordon's ability to close a game
This will be brief, but it has to be mentioned.
After a pretty solid game from both backs, they almost gave it away due their inability to close out the game. On the Broncos' final three offensive plays, Williams fumbled the ball (though he was ruled down), while Gordon fumbled the ball and gave Washington another opportunity to win. Those two fumbles sandwiched an odd pass call, which Bridgewater and Shurmur should also be maligned for.
This near-choke-job should be a fluke, but it was also unacceptable to happen even once.
Von Miller's chances of being traded
What's this? Good news in the stock down section?
That's right folks, we have our first ever instance of a positive stock down.
Von Miller's future in Denver felt spotty at best entering Sunday. It felt likely that this matchup with Washington could end up as his last in orange and blue. While that is still the case, it feels much less likely now that the Broncos stand at .500, and are mathematically still in the playoff picture.