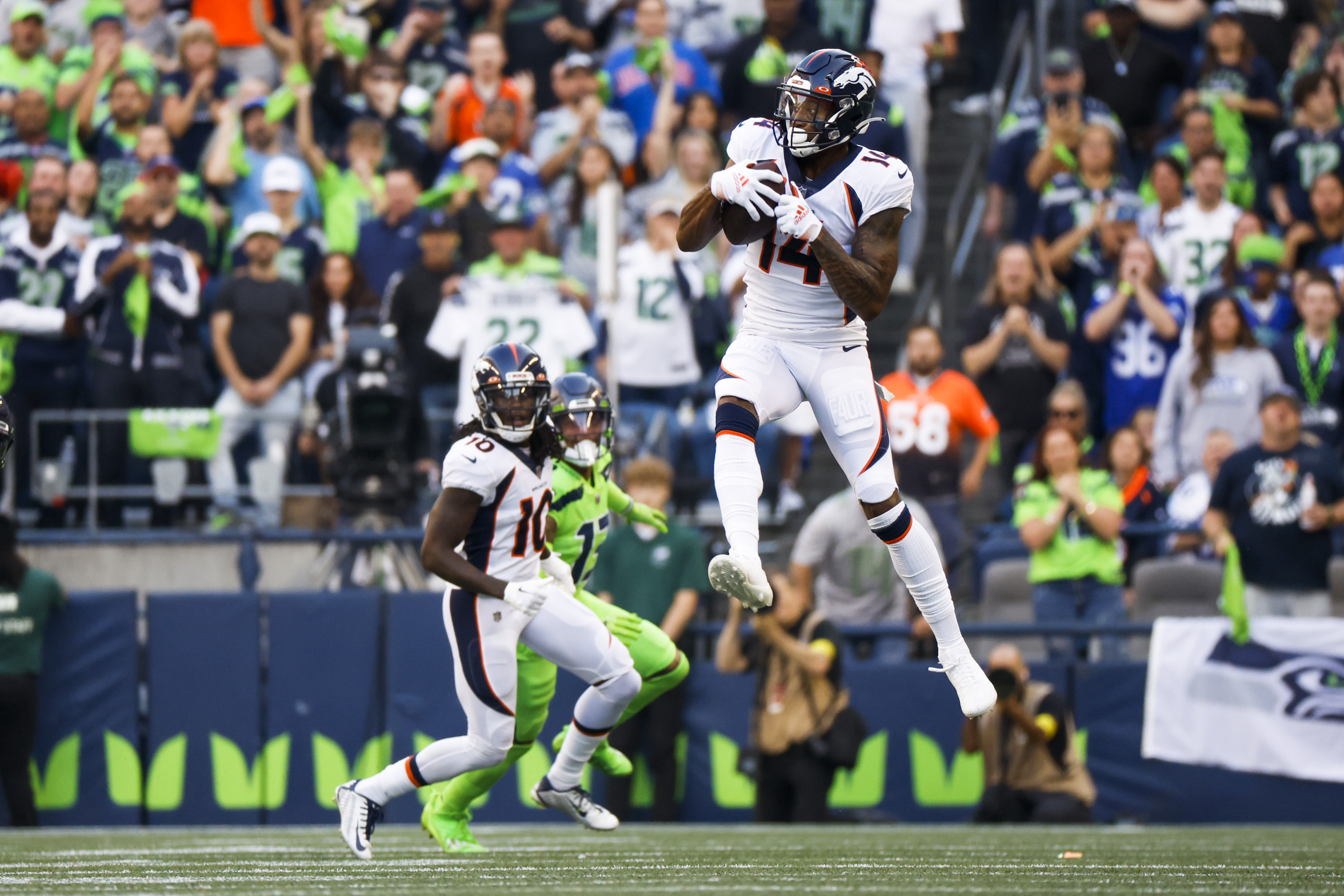 After losing one of the few easy matchups on their schedule in Week 1, this week's matchup with the Houston Texans suddenly feels like a must-win for the Denver Broncos.
Which matchups will determine whether or not the Broncos are victorious? Let's take a look.
Denver Broncos WRs vs. Houston Texans CBs
As they're still in the midst of a pretty intense roster renovation, there aren't many elements of the Houston Texans' roster that are glimmering with promise, but one of those few spots is the defensive backfield.
Derek Stingley Jr. arguably had the highest ceiling of any player in April's draft and he looked terrific in his debut performance against the Indianapolis Colts. Another highly drafted Houston rookie, Jalen Pitre, is also operating on the team's defense, as a do-it-all safety that frequently plays around the line of scrimmage and in the slot.
But therein lies why this matchup should be so pivotal.
The Texans have played with a lot of heavy boxes under Lovie Smith, and that could limit the effectiveness of the Denver Broncos' running game. Fortunately, the style of defense asks a lot of its cornerbacks, and one would hope that Courtland Sutton and Jerry Jeudy would be able to exploit their matchups, considering they'll either be matched up with a rookie making his second career start, or one of either Steven Nelson, Desmond King, or Isaac Yiadom. That's right, Isaac Yiadom.
Stingley is a very talented cornerback, but we regularly see first-year cornerbacks get baptized by the extreme talent of NFL wide receivers, and this week sets up perfectly for such a baptism.
Advantage: Denver Broncos
Denver Broncos' ability to cover the Houston Texans' athletic TEs
The Denver Broncos only allowed two touchdowns in Week 1, and tight ends were on the receiving end of both.
First, Kareem Jackson got sucked up towards the line by the threat of Geno Smith's scramble, opening up Will Dissly for a walk-in touchdown. Jonas Griffith lost Colby Parkinson up the seam and appeared to believe he had help behind him, leading to another all-too-easy Seahawk touchdown.
Unfortunately for Broncos Country, the tight end matchups won't get any easier this week as Brevin Jordan and O.J. Howard are both athletic mismatches that can victimize linebackers and safeties in coverage. To make matters worse, the Broncos will be without their best safety (Justin Simmons) and could be without their best linebacker (Josey Jewell) for this game, putting them in a dicey spot.
It's hard to see Brandin Cooks and Nico Collins feasting too much on the boundary, so a lot of pressure will fall to the spine of Denver's defense to ensure they're completely suffocating the Texans' passing attack.
Advantage: Toss-up
Dre'Mont Jones & D.J. Jones vs. Scott Quessenberry, A.J. Cann & Kenyon Green
The Houston Texans will be down their starting center for their matchup against the Denver Broncos, and highly touted first-round guard Kenyon Green is expected to make the first start of his career, after outplaying starter Justin McCray a week ago.
Well, Welcome to the NFL, rook.
You get to try and block D.J. and Dre'Mont Jones — who had sneaky-dominant performances against the Seattle Seahawks.
A.J. Cann and Green should both be solid guards, but Green is obviously very inexperienced and Quessenberry immediately becomes a glaring hole on the offensive line. You can be sure that Ejiro Evero is gonna target that gap in the armor, and he's got the weaponry to do so effectively.
Advantage: Denver Broncos