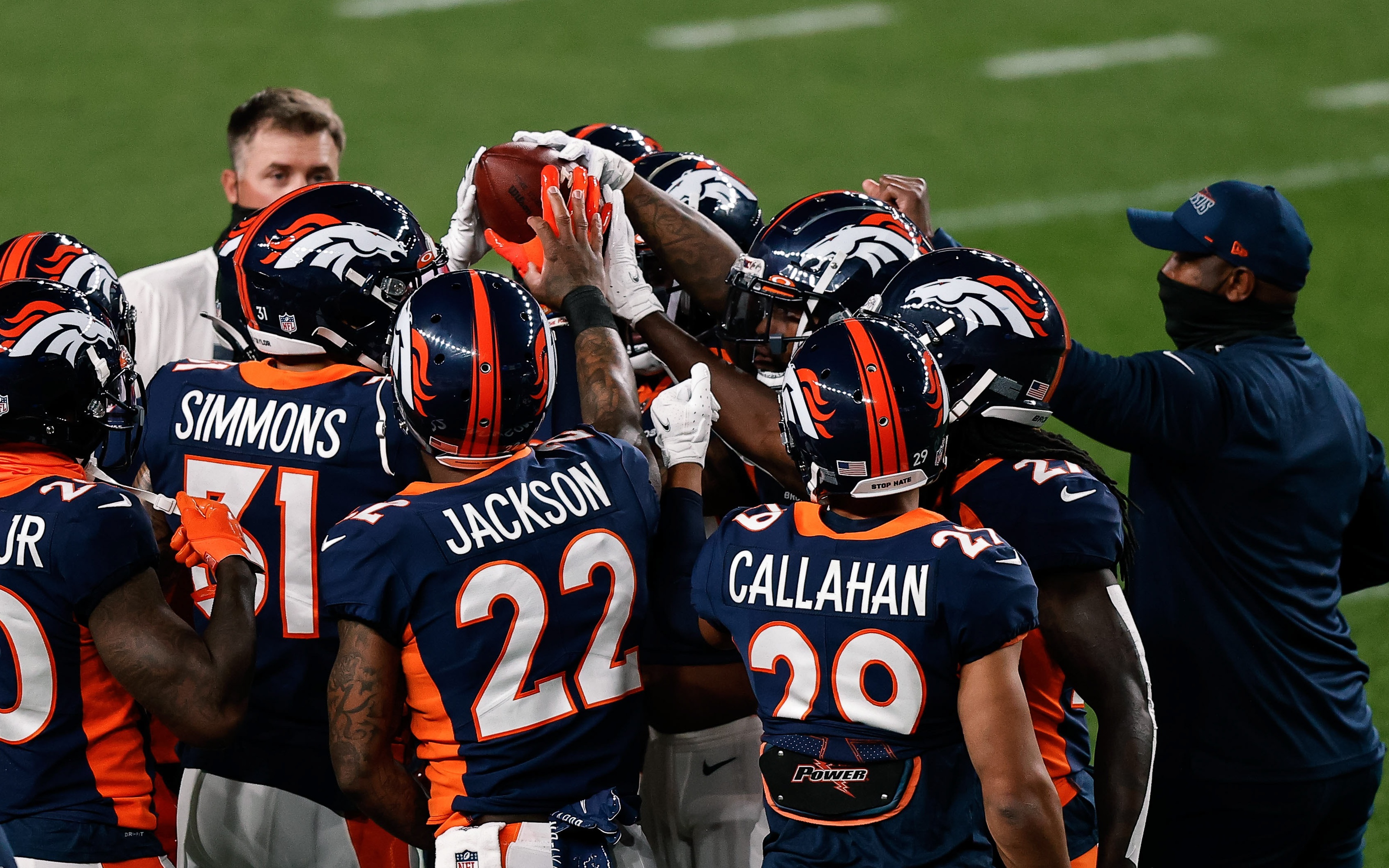 The Denver Broncos improved themselves more than just about any other team in the NFL this offseason, as Daniel Jeremiah and Bucky Brooks noted last week.
That's always great news, but it also ultimately leads to some key contriutors getting squeezed out of the roles they once occupied. Here are several such players who risk missing the roster entirely later this summer:
Melvin Gordon & Royce Freeman
Following the signing of Mike Boone and the draft selection of Javonte Williams, the Broncos have a very crowded running back room and one of either Melvin Gordon or Royce Freeman are likely to lose their roster spot as a result.
Freeman should be viewed as the much more likely cut candidate. He's been a pretty big disappointment since the Broncos drafted him, and it's hard to envision what exactly he would bring to the running back room outside of youth.
With that said, don't discount the notion of Gordon being cut entirely. During Gordon's DUI hearing, it seemed like George Paton — who wasn't a member of the team when the Broncos decided to acquire Gordon — was at least somewhat interested in releasing him had he been found guilty, as a guilty verdict would have voided the guaranteed money in his contract.
Now the case was dismissed, so Gordon will keep his guarantees, but cutting him would still make financial sense for the Broncos. They stand to gain more than $2.4 million by releasing Gordon, well over twice the amount they would free up by moving on from Freeman.
Diontae Spencer
Diontae Spencer finds himself on the roster bubble through no fault of his own.
As a result of investing heavily in the position over recent years, the Broncos now have more NFL-caliber receivers than they could possibly carry onto the final roster, meaning someone talented is getting cut.
Spencer is the most likely candidate at the back end of the room to draw the short straw as he doesn't bring much to the roster outside of the return game. If someone can prove in training camp that they can handle those return game responsibilities while also being an asset on either offense or defense, it could spell doom for Spencer's time in Denver.
Bobby Massie & Cameron Fleming
With Ja'Wuan James once again done for the season, and now off the roster, the Broncos scrambled to find insurance at the right tackle position by signing both Bobby Massie and Cameron Fleming to join their already-rostered right tackle, Calvin Anderson.
Make no mistake, the Broncos clearly like Anderson and believe he could start at right tackle, so it's hard to see him being cut. The over-the-hill veterans the Broncos just signed to contracts with next-to-no guarantees as an emergency parachute on the other hand…
Training camp will likely serve as the battleground to determine who gets a roster spot at tackle, though it's possible both veterans could join Anderson on the roster. For what it's worth, it currently appears that Fleming has the lead in the competition.
Netane Muti and Lloyd Cushenberry III were also considered for this spot considering how crowded the interior offensive line is following the addition of Quinn Meinerz, but that would've been too much line talk.
Josey Jewell & Alexander Johnson
Neither Josey Jewell nor Alexander Johnson are particularly likely to be cut, but if Justin Strnad and Baron Browning light it up in training camp, it's a real possibility.
For evidence of that possibility, one only has to look back 10 months to when the Broncos surprisingly cut Todd Davis. Davis was an acceptable starter with a low ceiling who had consistently been a liability in coverage, and as a bonus, the Broncos stood to gain over $4 million by cutting him. That's eerily similar to the position Jewell — and to a lesser extent — Johnson find themselves in now.
Now, they would stand to save only $2.18 million by moving on from Jewell and Johnson has already proven to be much better than Davis was, so those moves would be somewhat less desirable, though still realistic. Another aspect that would make cutting Jewell or Johnson less ideal than cutting Davis was is the fact the Broncos had a proven linebacker waiting in the wings behind Davis in Jewell. All they presently have behind Jewell now is Strnad and Browning — who while talented are wholly unproven assets.
Bryce Callahan
Let's get this out of the way right off the bat: Cutting Callahan would be an awful idea. It doesn't matter what the finances are or that he has a checkered injury history, Callahan is much closer to being the team's best cornerback (in fact, I would argue that he is the team's best corner) than he is to being someone you should even consider cutting.
However, the Broncos now have an absurdly loaded cornerback room that goes four — maybe even five — players deep, and of those top four players, Callahan makes the most sense to cut by far.
It doesn't make any financial sense whatsoever to cut Ronald Darby, Kyle Fuller, or Patrick Surtain, and the optics would also be horrendous. Meanwhile, the team can save over $7 million by cutting Callahan, who has never made it through a 16-game season healthy and is now on the wrong side of 30.
Hopefully the Broncos don't choose this path, and it's unlikely they do, but it is a real possibility that shouldn't be ignored.