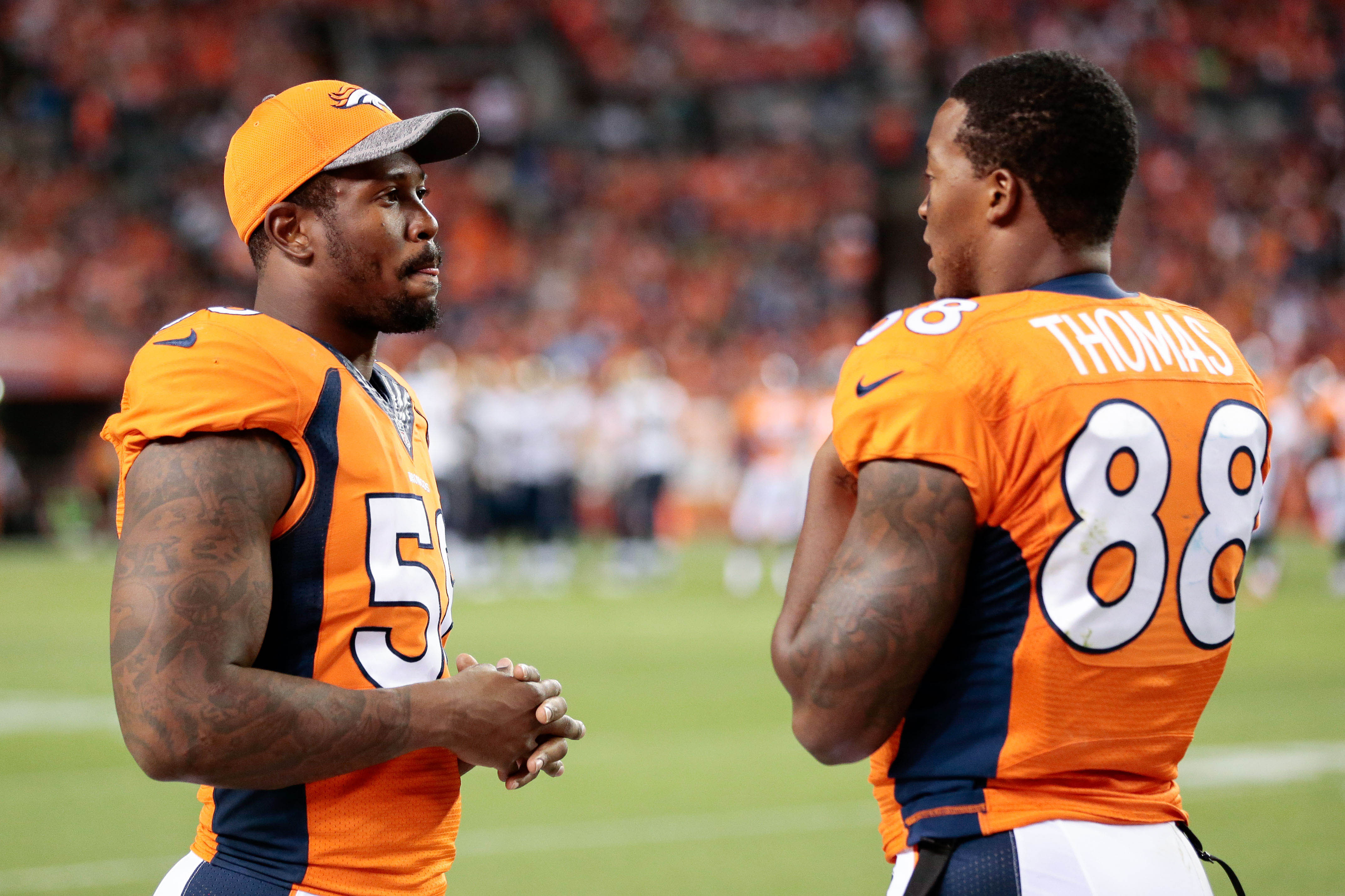 There has been a lot more jersey retirement talk than normal swirling around Broncos Country as of late, following a Twitter miscommunication with former Bronco Shelby Harris, and Tim Patrick tweeting earlier this week that Rod Smith should have his jersey retired.
This got us thinking, which jersey numbers should the Denver Broncos retire?
After gathering Broncos Country's top candidates on social media, we have sorted through the nine most popular responses and have ordered them in terms of how deserving of jersey retirement we believe they are.
Now, it should be noted that this is all fairly subjective, and that sorting through these nine was like splitting hairs. The difference in accomplishments between Tier IV and Tier I is practically zero, but ultimately, hairs had to be split.
Lastly, considering the nature of NFL rosters, you can't remove too many numbers from circulation, so this has to be an exclusive club. In this writer's opinion, no number from Tier III or later should be retired.
With all that in mind, let's dive in.
Tier IV: Never gonna happen
No. 77 (Karl Mecklenburg) & No. 53 (Randy Gradishar)
Both Karl Mecklenburg and Randy Gradishar deserve to be mentioned as some of the very best Denver Broncos ever, players that spent their entire careers with the franchise, and players that were likely snubbed from the Hall of Fame.
However, at the end of the day, they aren't even Hall of Famers, and jersey retirement is an honor even more esteemed than being enshrined in Canton.
Also, so much time has passed, and so many player have worn both numbers, that it would feel weird to retire the numbers now.
Tier III: Legendary longshots
No. 80 (Rod Smith)
No Denver Bronco has ever caught more passes, more touchdowns, or gained more receiving yards throughout their tenure than Rod Smith. Plus, he did it all as an undrafted free agent. That warrants consideration.
Smith spent his entire career in Denver, which should also help, but he never reached the elite peaks one might expect from a Hall-of-Fame player or a player that gets their jersey retired. He was named to just three Pro Bowls and was named a Second Team All-Pro twice.
No. 84 (Shannon Sharpe)
Shannon Sharpe has a similar case to Rod Smith, as a key figure of Denver's late-90s dynasty, one of the franchise's most productive pass-catchers ever and someone who is undisputed as the franchise's best at a particular position. Sharpe also reached peaks that Smith never did, earning Offensive Player of the Year votes in 1996, four First Team All-Pro spots, eight Pro Bowl nods, and he was a First Team member of the Hall of Fame's All-1990s team.
With that said, Sharpe wasn't a lifelong Bronco, unlike Smith.
Tier II: Memorialized greats
No. 27 (Steve Atwater & Darrent Williams)
The No. 27 has a very strong case to be retired, as it could serve as a way to immortalize two special faces in Broncos history.
Steve Atwater was a superstar safety, eight-time Pro-Bowler and two-time First Team All-Pro for Denver in the 1990s. He also was the lynchpin of two Super Bowl-winning defenses. He was also a member of the Pro Football Hall of Fame's All-1990s First Team defense.
Darrent Williams was a burgeoning young star at cornerback for the Broncos, who was named to the 2005 All-Rookie team and tallied an absurd six interceptions and two pick-sixes in the first 23 starts of his career. He was universally beloved by teammates, coaches, media and fans, and now the local media's "Good Guy Award" bears his name. Williams was tragically killed on New Year's Day in 2007, which is one of the most heart-breaking moments in the franchise's history.
No. 88 (Demaryius Thomas)
Demaryius Thomas was one of the best pass-catchers in the history of the Broncos franchise, and an iconic face of the 2010's NFL. Thomas retired second among all Broncos wide receivers in yards, receptions and touchdowns, trailing only Smith, and actually exceeded Smith's production from a per-game and per-reception perspective.
Thomas was also an integral part of the franchise's successful Super Bowl run in 2015 and the NFL's most prolific offense ever in 2013, where he also helped the team emerge as conference champions.
The recent, tragic death of Thomas helps bolster his positioning on his list, as it would feel incredibly uncomfortable to see any other Bronco player wear the number 88 anytime soon.
Tier I: Foundational figures
No. 24 (Champ Bailey)
Anytime a player is in the conversation to have been the best player in the history of their position, they deserve consideration to have their jersey numbers retired. Champ Bailey might be on the periphery of that conversation at cornerback, but he's in the conversation.
Bailey was voted to the 1st Team of the Hall of Fame's All-2000's team and was a first-ballot Hall-of-Fame inductee. He was also First Team All-Pro three times, and finished second in the Defensive Player of the Year vote in 2006. Bailey also holds the NFL record for having the most passes deflected (203) over the course of an NFL career, per ProFootballReference.
The knocks on Bailey will be that the franchise failed to win a Super Bowl during his tenure — he's the only player in the top seven where that's the case — and the fact that he spent one-third of his career in Washington, which is also where he started his career.
These dings are fair to mention, but considering the Broncos have more-or-less unofficially retired the No. 24 (Adam Jones being the embarrassingly lone exception), it appears the franchise believe Bailey transcended those warts.
No. 58 (Von Miller)
The Broncos can't officially retire Von Miller's No. 58 until he himself officially retires, but it feels safe to assume that no one will be wearing No. 58 anytime soon.
Miller is one of the franchise's most legendary figures, and — alongside Bailey — arguably the best player one side of the ball in the franchise's history.
The fact he won Super Bowl MVP as a defensive player and was the best player on a Super-Bowl-winning team as a defensive player has to improve his odds of receiving the honor. The same could be said for being the most iconic face on one of the league's most legendary defensive units ever.
The biggest knock on Miller's résumé is the fact he didn't play for the franchise for his entire career, but considering he was traded, that wasn't exactly his fault.
No. 30 (Terrell Davis)
This question is incredibly subjective, but Terrell Davis checks every single box you would want a player to check, in order to retire their jersey, outside of career longevity.
Davis is the only player on this list to have won an MVP and the only player on this list to have won multiple Super Bowls and a Super Bowl MVP. The only other player in franchise history to have accomplished those feats are John Elway and Peyton Manning, and Elway is the only one to have accomplished both for the Broncos.
On top of being one of the most accomplished players in franchise history and helping to bring more success to the franchise than almost anyone, Davis had a peak comparable to the best running backs in the history of the sport.
He was the best running back in football, as demonstrated in part by the MVP award, at a time when Barry Sanders and Emmitt Smith were still playing excellent football. In terms of rushing yards per game, the all-time leaderboard goes: Jim Brown, Barry Sanders, Terrell Davis.
Longevity and failure to be a first-ballot Hall-of-Fame player will hold Davis back, but it seems wrong as a fanbase to punish a player for a freak injury he suffered, which is what truly prevented him from achieving those feats.