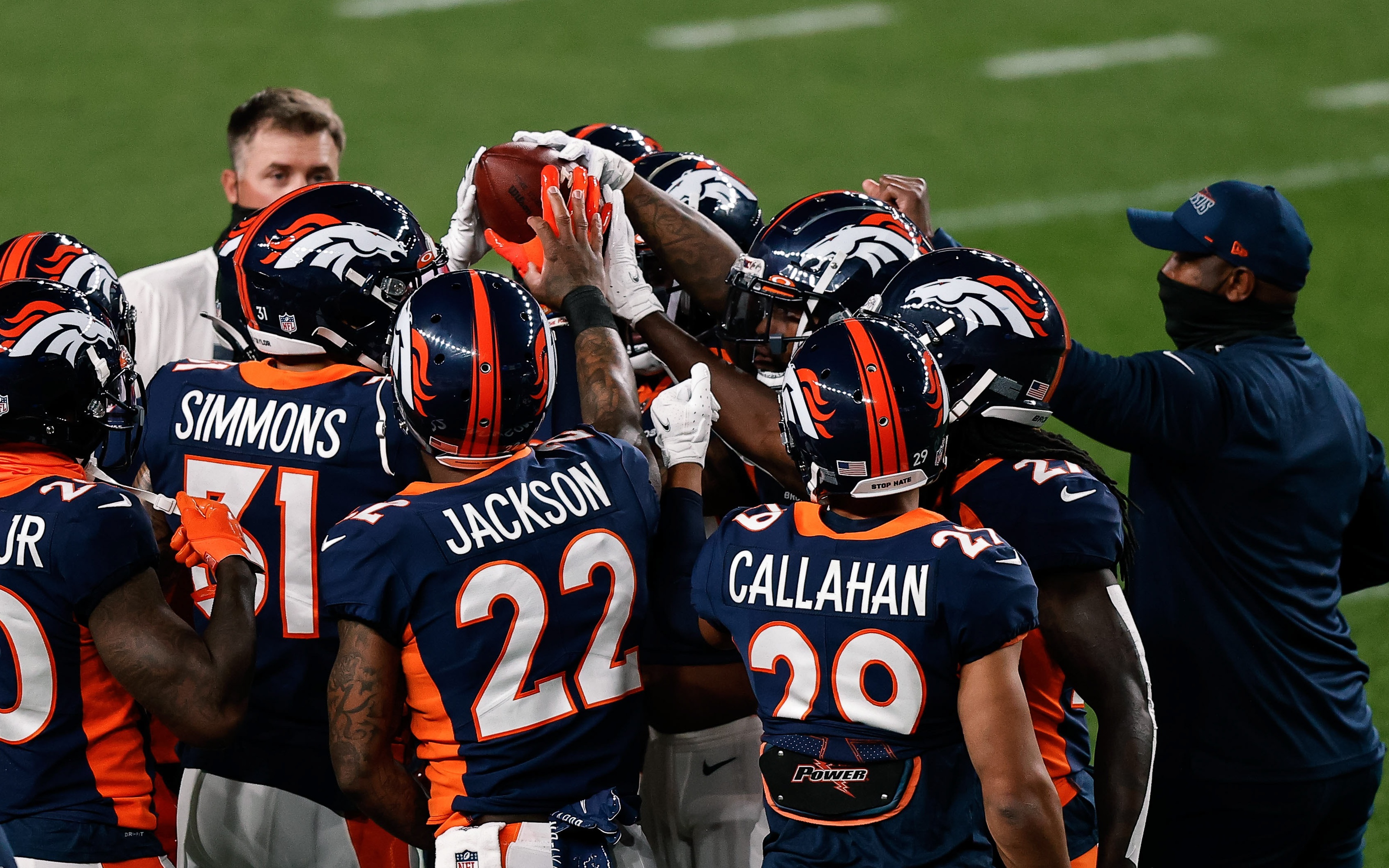 Today is Election Day, and an especially important one at that. To celebrate this incredibly American holiday, we selected 16 Broncos players (seven on offense, eight on defense and one member of the special teams unit) and are having the Mile High Sports audience vote for the winner on Twitter.
In the spirit of voting today, we want to hear from YOU Broncos Country in awarding MHS' Mid-Season MVP award.

We have picked 16 players and will have you vote on Twitter polls throughout the day to help us determine a champion. To vote, check out @Zach_Segars or follow us here pic.twitter.com/aZL4mIUdKi

— milehighsports (@MileHighSports) November 3, 2020
If you're interested in voting, you can find the latest polls on Twitter on the feeds of @MileHighSports or @Zach_Segars.
Now, with the first three rounds of voting in the books, let's see who advanced and who was eliminated.
First Round
Here's how the tournament stands after the first round of voting:
After the first round, here's what our Mid-Season MVP Bracket looks like.

The second round is underway now, so in the spirit of Election Day, get out and vote on either our feed or at @Zach_Segars pic.twitter.com/JBSfpyhrl8

— milehighsports (@MileHighSports) November 3, 2020
As you can see, Garett Bolles, Phillip Lindsay and Noah Fant coasted by Albert Okwuegbunam, Drew Lock and Melvin Gordon respectively. Those results make sense considering the struggles of Lock and Gordon and just how dominant Bolles has been early this season.
The one surprise of the first round on offense was Brandon McManus' resounding victory over leading wide receiver Tim Patrick. It's surprising, because it's rare to see a kicker stomp out a receiver in a fan vote, but it is certainly the right call.
Meanwhile, on defense, the results were less surprising. Bryce Callahan, Bradley Chubb and Shelby Harris all won their matchups, and rightfully so, as they've arguably been the three best players on the team, let alone defenders.
The closest matchup of the first round came in the battle of the safeties, between Kareem Jackson and Justin Simmons. Simmons nearly beat out Jackson, due to his slight drop-off following his lights-out 2019 campaign.
Second Round
The second round was full of a lot more surprises than the first round of voting. Here's how it went:
We're down to our final four in our Broncos Mid-Season MVP Bracket to celebrate Election Day. If you want to vote in the finals or semifinals you can follow the bracket here or @Zach_Segars

Here's how the first two rounds went: pic.twitter.com/ag4FPOjw4J

— milehighsports (@MileHighSports) November 4, 2020
As you can see, McManus narrowly slipped by Bolles, which is surprising considering that Bolles plays a much more important position and has arguably been playing it at a higher level. In the other offensive matchup, Phillip Lindsay blew out Noah Fant, which might be the biggest surprise of the tournament so far, considering how much of the season Lindsay has missed so far and how good Fant has been.
On defense, both front-seven defenders emerged victorious in a battle between the secondary and the front-seven. Harris beat Simmons, which isn't too surprising considering Harris' surge this season and Simmons' slight slip. Lastly, Chubb won against Callahan thanks to racking up 5.5 sacks over the past 4 games.
Third Round
The results are in, so let's take a look at how the third round of voting went.
We are now down to the finals in our Broncos Mid-Season MVP bracket.

We are down to our final two players, Phillip Lindsay and Shelby Harris. You can vote @Zach_Segars or on our feed, so make your voice heard Broncos Country.

Here's what has happened so far in our bracket: pic.twitter.com/AY8nrViRev

— milehighsports (@MileHighSports) November 4, 2020
The third round saw Brandon McManus square off against Phillip Lindsay to see who the most valuable offensive player has been so far this season. Lindsay put an end to McManus' Cinderella story in the bracket, earning more than three-fifths of the vote.
On defense, the final matchup was between two front-line defenders, Shelby Harris and Bradley Chubb. Chubb has been unstoppable the past quarter of the season, but he got off to a slow start and that seemed to win the day for Harris.
Finals
The final round of voting is underway right now on Twitter, so make sure to check out @MileHighSports and @Zach_Segars on Twitter to cast your vote and make your voice heard!
The finals will see Shelby Harris, who Broncos Country voted to be the defensive MVP, match up against Phillip Lindsay, who was voted as the offensive MVP.