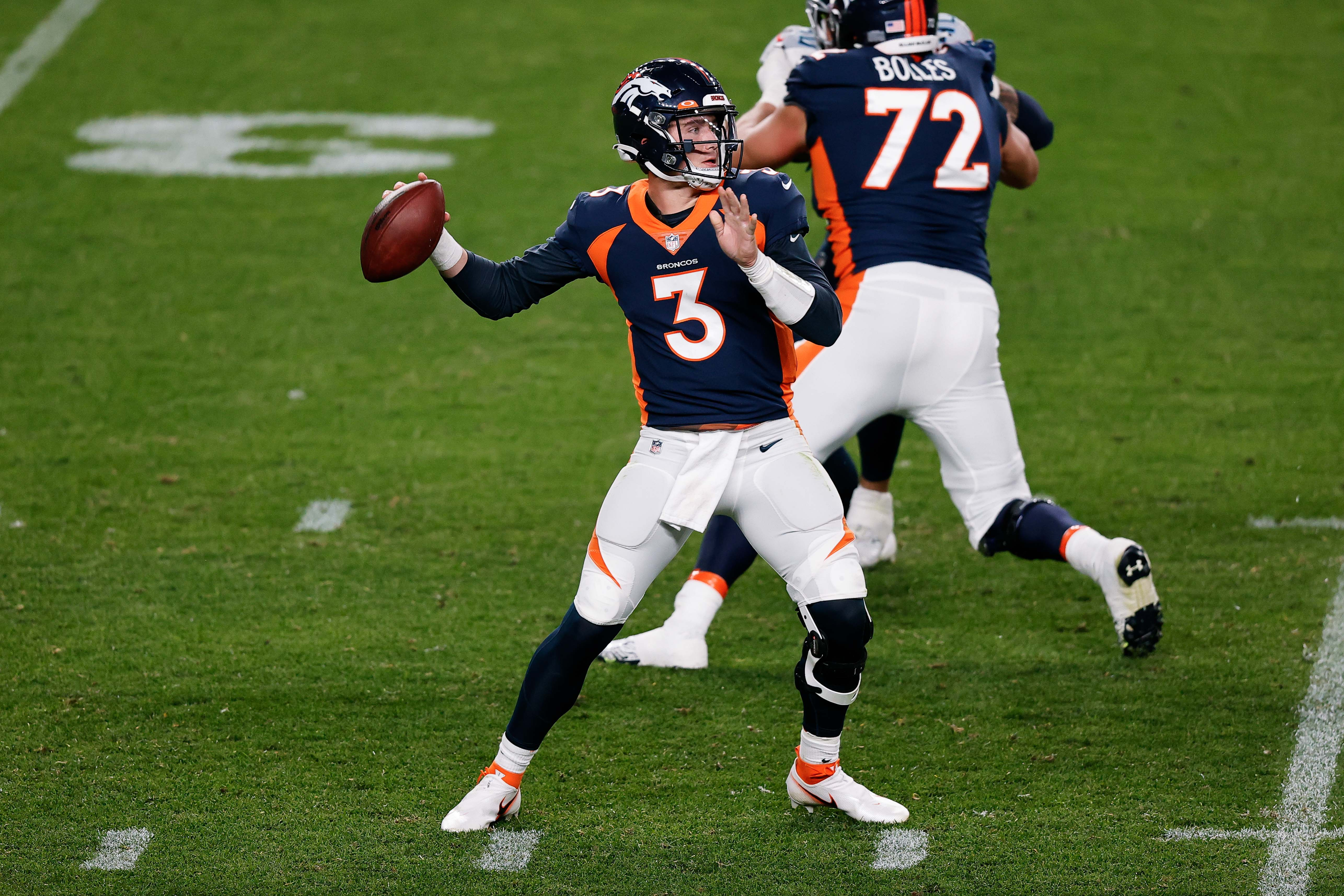 With the Broncos a quarter of the way into their season, the MHS Broncos crew breaks down the first four games of the season, before predicting how the final 12 will turn out. Without further ado, let's take a look.
Which player has been the most pleasant surprise so far this season?
Doug Ottewill (@Dottewill): I'm going to give you three (because I'm not someone who likes to follow the rules). First, Garret Bolles. I almost think this goes without saying because he's been such a "non-story" in the best way possible. You've got to give huge credit to Bolles for simply tuning out the noise and becoming a very respectable left tackle this season. And then the second and third are similar; both Mike Purcell and Shelby Harris will never be considered the stars of what's really a fairly star-studded defense. Yet, they've both been incredibly consistent, and have even picked up a lot of slack from injuries and setbacks.
Rich Kurtzman (@RichKurtzman): Considering Courtland Sutton's injury, Tim Patrick has played very well. Add in the fact he's been playing with three different QBs and Patrick is excelling beyond expectations. He's on pace for nearly a 1,000-yard season (836) and 8 touchdowns. If it weren't for Patrick playing so well, Jerry Jeudy would be struggling because defenses would zero in on him.
Ronnie Kohrt (@RonnieKRadio): Michael Ojemudia. The draft pick that most found a bit questionable has had his down moments, but overall the season has been a strong one for Ojemudia who is very much cementing his spot on the team as a reliable CB.
Zach Segars (@Zach_Segars): I know recent legal situations complicate this one, but Melvin Gordon. No running backs that are getting paid big money have panned out recently, but Gordon looks great. He hasn't lost a step and, now with Lindsay back, the Broncos have a dangerous 1-2 punch.
Which player has been the biggest disappointment so far this season?
Doug Ottewill: Again, in the spirit of not following the rules, I'm going to offer up a coach instead. To me, Pat Shurmur has been the biggest disappointment this season. Yes, I get it, he's not playing with a full deck – injuries have no doubt derailed some of his plans. That said, where is the creativity? Why can't Noah Fant get the ball for two consecutive halves? Where is this "better fit" offense we heard so much about? To be fair, we should take a wait and see approach once the team is "close" to healthy, but thus far, he's been the biggest disappointment.
Rich Kurtzman: Bradley Chubb has been far from being as good as the Broncos need him to be. Of course, teams can focus more on him with Miller injured, but that's also exactly why Denver needs him to shine off the edge. We finally saw glimpses of his star-level play against the Jets, let's hope it continues. He has 2.5 sacks through four games, meaning 10-plus isn't out of the question. Let's see him reach that milestone.
Ronnie Kohrt: Surprisingly there hasn't been anyone that stands out as a major disappointment. I suppose if we're including units as a whole, the special teams coverage and tackling has been bad at best. But overall, Denver doesn't have a single standout who has been extremely disappointing.
Zach Segars: I'll take a page out of Doug's book here and give you two. Both Dalton Risner and Justin Simmons were supposed to take the next step towards being superstars at their position and foundational building blocks for the franchise after breaking out in 2019. Unfortunately, they seem to have taken a step back if anything.
As more and more players begin to test positive, how do you think the NFL will tackle COVID for the rest of the season?
Doug Ottewill:  I'm kind of with Vic Fangio on this one – roll with the punches and accept that things aren't normal. If the league office wants to send a message, then the show much go on. I'm not saying sick players should play or that games have to be played on time, but at some point, a sick team needs to be a losing team. Sorry, that's just 2020, and the NFL shouldn't be immune (pun intended) to that either.
Rich Kurtzman:  The league is ignoring COVID and barreling full steam ahead. Honestly, I'm surprised they've gone this far without more interruptions. However, if they don't make it to 16 games, which seems most likely due to their stubbornness, I could see them cutting it to 10-12 games.
Ronnie Kohrt: Assuming the NFL can just make it to week 17, a playoff bubble seems very plausible.
Zach Segars: I think there's a great chance we see some form of a playoff bubble, and I wouldn't be surprised if we see some teams forced to forfeit games.
What is the number one issue that needs to be fixed if the Broncos want to make a late-season run?
Doug Ottewill: If Drew Lock is good (and healthy), then they have a shot. If he's not, they don't. Realistically, and with all the injuries, they're just not a great football team. A lot of their best assets – see Von Miller, Courtland Sutton, Ja'Wuan James – are gone. Those are the guys who might have taken a good – when healthy – team toward great. But, there or not, if Drew Lock isn't the guy, none of it matters.
Rich Kurtzman: Denver has to protect Drew Lock better than they have protected all three QBs combined this season. Lock cannot get injured again. Also, he's been very good with a clean pocket while struggling mightily when pressured. So, keeping him off the ground will help the entire offense flourish.
Ronnie Kohrt: The quarterback position. Simply put. They need Lock healthy and then playing well. Either of those two not being at Denver's disposal and they're toast.
Zach Segars: The offensive line. This offense has the talent necessary to put up a lot of points, but just like last year's Browns team, the offensive line isn't giving the quarterback any time to find the open man.
What do you think the Broncos' record will be at the end of the season?
Doug Ottewill: I am being forced, so this time I'll play along. Put me down for 5-11.
Rich Kurtzman: Before the season I said 7-9. That seems hopeful at this point. I'll go 5-11. 
Ronnie Kohrt: 5-11
Zach Segars: The Broncos' first 3 games was a brutal stretch to open the season, but they nearly won two of those games, before waxing the Jets with Brett Rypien. They're in quite a hole, but once again, this will be a team that thrives in the second half of the season. I've got them finishing 8-8