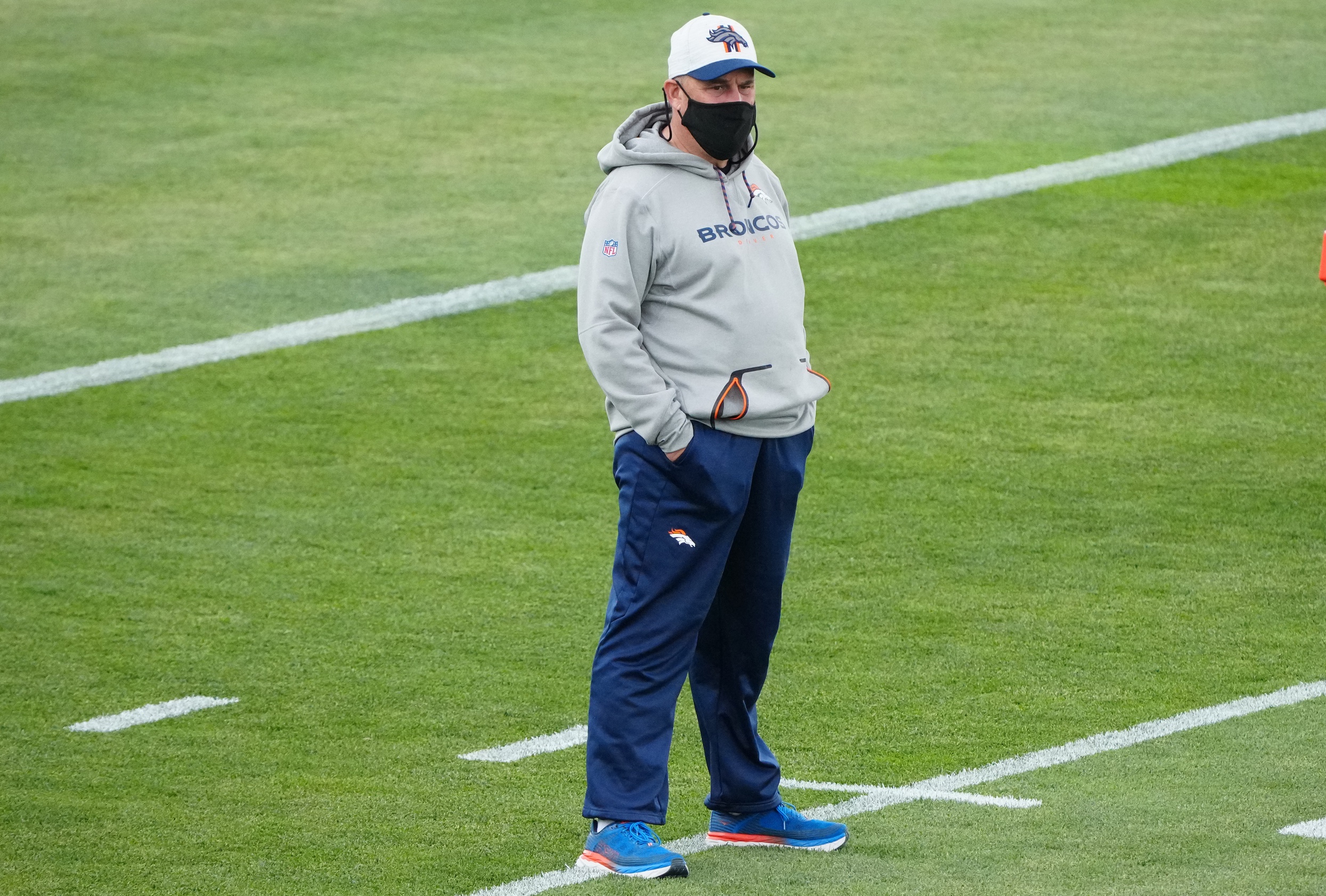 It's "even Steven" and this thing looks to be dragging on for at least one more week.
We can believe, not believe or debate the first assertion, a direct quote from Broncos head coach Vic Fangio, but it would appear that the second is a fact. The "50-50" competition for the position of Broncos starting quarterback will go on at least one more week.
Perhaps "even Steven" is accurate; neither Drew Lock nor Teddy Bridgewater did anything in Saturday's preseason game against the Vikings to lose the job. Or, more than likely, the Broncos – at least internally – have a front runner in mind and just aren't talking about it. Fangio may not have mastered the job of head coach just yet, but he's certainly become very good at talking like one – he says a lot without saying anything. Following Lock's near-perfect, 5-for-7, 151-yard, two-touchdown, zero-turnover day (all while posting a QB rating of 153.3) plenty of Broncos fans were up in arms, feeling that Lock had obviously surged forward in the race for the starting position without any sort of acknowledgment from his crusty head coach.
"I don't think any separation happened today in this game," Fangio said stubbornly.
Discuss and debate amongst yourselves, pick your guy if you'd like, but this bizarre competition is going to last until someone names a starter in Denver.
But who should that someone be?
Conventional wisdom says it is, and should be, the head coach.
But in Denver, Colorado, where the man holding the clipboard undeniably knows defense but is questionable at best on most other accounts, should he be the one making this call? Perhaps more importantly, should he be the one not making any sort of call whatsoever, allowing this competition to drag on until, as he once said jokingly, has to essentially "flip a coin."
Perhaps it's time that new general manager George Paton pulls rank and flexes the muscle that landed him the job in Denver.
Paton has already made a handful of decisions that stand to greatly impact the future of the Denver Broncos. Why should this one be any different? It was Paton who eased through free agency without inking a name free-agent quarterback. It was Paton who passed on Justin Fields when the Ohio State quarterback landed in the Broncos lap at No. 9 in the NFL Draft. It was Paton who – more or less – created this "50-50 competition" by bringing in Teddy Bridgewater once the dust had settled elsewhere.
Besides, it's Paton who currently has concrete plans as the team's general manager. It's Fangio who does not. It's Fangio who, at least on the surface, might make decisions that are better for him, better for the short-term, better for the wrong reasons. Paton has time and patience on his side.
Perhaps none of Paton's moves – or lack of movement – were wrong. Maybe they've all been brilliant. Nobody can accurately judge Paton's first year on the job until the results play out over time.
But you don't have to be a paid football professional to understand an undeniable, ageless truth: Practice makes perfect.
The longer ol' Uncle Fangio hems and haws about the decision at hand, the less practice his starter – whoever it might be – is getting. If neither quarterback is truly separating himself, as Fangio has suggested, then the decision becomes tougher and tougher.
"I want it to be a hard decision, not an easy one," Fangio said, following the script to perfection.
But does he really? The harder it gets, the longer it lasts – at least in theory.
There's little argument that Lock has a better arm, better big-play capability and a longer (potentially) future. The only knock on the third-year quarterback is his untimely knack for turnovers. On Saturday, he seemingly addressed that concern with flying colors. Many saw that as a major step toward winning the job.
There's also little argument about Bridgewater. He's safe, stable and – to some extent – boring. Like Lock, he lived up to his reputation. Unlike Lock, Bridgewater did nothing to change his own position or perception; he didn't make uncharacteristically big plays, nor did he make bad decisions. All fine and well, but we've known that for some time now.
It's a great – yet terrible – problem to have: Two quarterbacks doing exactly what they're supposed to do. Teddy is steady, while Drew is improving.
Or so it would seem. And if the same pattern holds true, there are no factors that assist Fangio in making his big decision.
On Monday, when asked if he might name a starting quarterback after preseason game No. 2, he only said, "It's possible."
It's possible that Paton and Fangio have this all mapped out already, and that this act is simply something that's being played out in the headlines. Perhaps it's a way to accomplish something else altogether – keeping the pressure on Lock to continue his progress, not letting either player get too comfortable, who knows.
Or, it's possible that they really and truly still don't know, that they're sincerely looking for that telltale thing – a monster game, a key stat, a crippling mistake, an undeniable play – that separates the two. But if that happens now, after all this time, wouldn't it – shouldn't it – be viewed more as an aberration rather than a dependable characteristic?
Enough is enough. The Broncos are wasting valuable reps and stalling the development of chemistry with an entire cast of capable offensive weapons.
Make the call. Pick one.
And if Vic Fangio, a head coach who's fired and "Oh-fer" in the month of September, won't do it, his general manager should step in and do it for him.
You choose, General Paton. Because once you do, your Broncos can move on for the better.