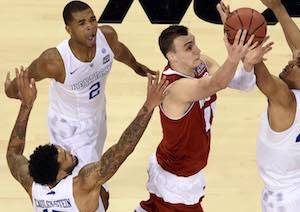 The Nuggets have their highest draft pick since selecting Carmelo Anthony with the third overall pick in 2003. Seven is notorious for being a lucky number. Current NBA MVP Steph Curry was drafted No. 7. The Nuggets have a great opportunity to begin the rebuilding process with this pick, but they have to be smart about it. They can't take Raef LaFrentz when Paul Pierce, Vince Carter and Dirk Nowitzki are left on the board.
There are five players that could conceivably still be on the board when the Nuggets go on the clock – one that would be a steal, two that are sensible and two that fill a need, but might be a reach.
Here's how things could play out on draft night:
Holy Cow! This guy is still on the board? We are running to the podium…
Emmanuel Mudiay PG, China
The chances Mudiay is still available at No. 7 are slim, but year after year there is a name that falls down the board that is unexpected (the 76ers are reportedly very high on D' Angelo Russell so we are assuming he will be gone). The Nuggets need to find a legitimate replacement to Ty Lawson. Mudiay is still a bit raw in his point guard skills, but he has great size and athleticism. He has great leaping ability and excels getting to the basket and could be the perfect replacement if and when Lawson departs town.
Smart picks fans may not get too excited about…
Mario Hezonja SG, Croatia
The Croatian 2-3 swing-man could be a great fit for the Nuggets with their looming transition back to a fast-paced offense. Hezonja is a good shooter with 3-point range and possesses a high basketball IQ. He looks like a smaller version of Danilo Gallinari, but with more athleticism. Taking European players is always a bit of a risk, but with many players only staying in college for one year, Hezonja won't require as much development as some of the college shooting guards.
Willie Cauley-Stein C, Kentucky
Unlike most of his college teammates at Kentucky, Cauley-Stein is entering this draft as a Junior. He is extremely athletic for a seven-footer which would fit well with running the floor at altitude. Cauley-Stein has the potential to be an elite defender and is already a great shot blocker. His offense will take some time to develop, but he can score points off rebounds without having any plays drawn up for him.
Fills a need, but might be a stretch…
Devin Booker SG, Kentucky
Booker is not the most athletic shooting guard, and he is still very raw handling the ball as he enters the draft after only one season at Kentucky. The one thing he has going for him is that he is an elite shooter. Klay Thompson fell in the draft because teams thought the only thing he could do was shoot. Turns out, if that is your skill set, you can still be an All-Star caliber player in the NBA. As a team, the Nuggets shot 32.5% from beyond the arc last year. Booker would be an instant improvement.
Cameron Payne PG, Murray State
Payne is quickly becoming the name de jour of this draft. The knock on him is his athleticism, which is a valid concern for a point guard. He does possess a very high basketball IQ; he makes the smart plays and his court vision is incredible. He has the potential to be an Andre Miller-type point guard, but his shooting ability is a little bit better. He will need a couple seasons to develop, but could be a solid replacement if Lawson can't be moved right away.