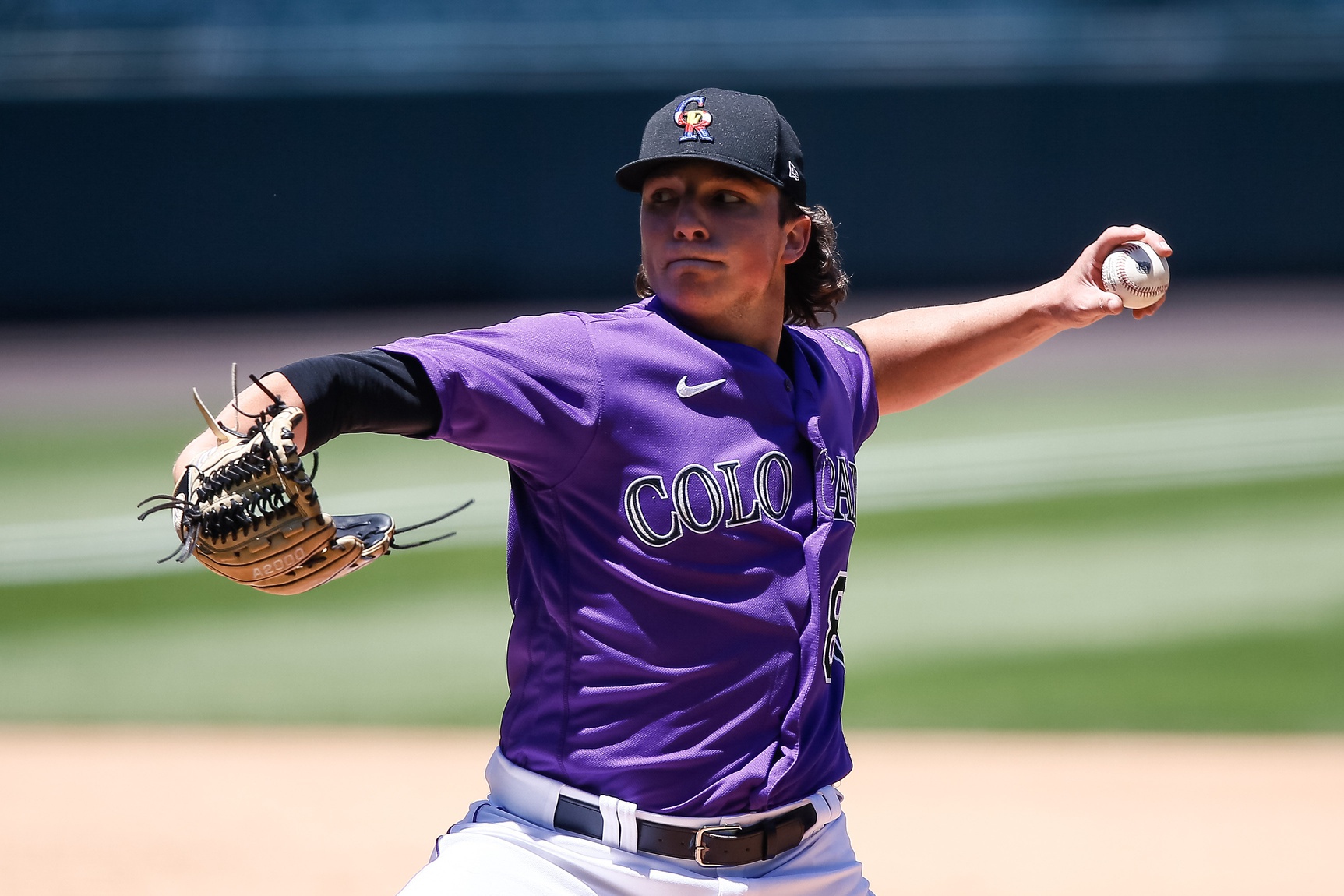 The wait is over.
After 20 grueling months, minor league baseball returned this week. Each of the Colorado Rockies' four full-season minor league affiliates are back in action, though things look a little different now than at this time in 2019. The Triple-A Albuquerque Isotopes and Double-A Hartford Yard Goats remain part of the Rockies organization, but new affiliates at High-A (Spokane Indians) and Low-A (Fresno Grizzlies) have joined the ranks.
The Rockies also, for the first time since 2000, will field an Arizona League team; that short-season league will begin play on June 22. They'll also have clubs in the Dominican Summer League as well as another instructional team operating out of the team's spring training facility.
Most of the Rockies' top prospects will be dispersed among the four full-season teams, and some are already off to blistering starts. Here are the players to keep an eye on when checking in on each of Colorado's minor league affiliates
Triple-A Albuquerque
Ryan Vilade (No. 4 on MLB Pipeilne's Rockies Top 30) and Antonio Santos (No. 27) are the only notable prospects assigned to the Isotopes to start the season, but there are several other intriguing names. Connor Joe, who had a great spring after nearly cracking the Los Angeles Dodgers' roster down the stretch in 2019 as a result of some tremendous play at Triple-A Oklahoma City, will see plenty of action. One-time big league relievers Jairo Diaz and Chris Rusin will have a chance to return to the promised land, as will offseason acquisition Greg Bird.
Sam Hilliard homered on Thursday, which was Opening Day for the 'Topes. That's a good start for a potential impact bat looking to make his way back to the Rockies after he looked lost at the plate and found himself optioned.
Colton Welker was assigned to Albuquerque initially, but the talented infielder—ranked No. 11 in the Rockies system but only two years removed from receiving top 100 overall prospect honors—tested positive for a performance-enhancing substance and was slapped with an 80-game suspension on Thursday.
Double-A Hartford
A whole host of big-name Rockies minor leaguers—including Colorado's top pitching prospect, Ryan Rolison (No. 2 overall in the system)—will call Hartford home to start the season. Rolison was terrific in his 2021 debut, striking out seven batters while allowing a run on three hits in five innings on Tuesday. No. 9 prospect Elehuris Montero, who was part of the Rockies' return in the Nolan Arenado trade, has two homers in his first three games this year. Outfielder Jameson Hannah (No. 13) and reliever Tommy Doyle (No. 22) are the other top 30 prospects assigned to the Yard Goats.
High-A Spokane
A whopping nine of the Rockies' top 30 prospects will start their season in Spokane, a first-year affiliate of Colorado. The highest ranked among them is first baseman Michael Toglia (No. 3), who has already homered twice. The fifth through eighth-ranked minor leaguers in the system—Aaron Schunk, Brenton Doyle, Helcris Olivarez, and Chris McMahon—will also hone their craft for the Indians this summer. Olivarez surrendered three homers in the season opener, but McMahon pitched well on Thursday, striking out six in five innings.
Pitchers Karl Kauffman (No. 18) and Ryan Feltner (No. 23), as well as middle infielder Eddy Diaz (No. 21) and outfielder Niko Decolati (No. 25), round out the top prospects assigned to Spokane. There's another intriguing name there, and it's 2016 first rounder Riley Pint. The No. 4 overall pick that year struggled to the tune of a 5.71 ERA with 8.4 K/9 and 7.2 BB/9 prior to this season. But in two appearances out of the bullpen, it's been so far, so good for Pint in 2021; he's struck out four batters, walked just one, and hasn't allowed a hit in two innings. It's a start.
Low-A Fresno
Zac Veen, the Rockies' first-round pick in 2020 and their No. 1 overall prospect, is one of seven top 30 minor leaguers in the organization who will be spending their summer playing for the Fresno Grizzlies. Veen has just one hit in three games, and fellow highly ranked position player prospects Grant Lavigne (No. 12) and Mateo Gil (No. 24) have experienced similar struggles in the early going. Catcher Drew Romo (No. 10) and middle infielder Ezequiel Tovar (No. 20) are both hitting well in limited action thus far.
Pitchers Sam Weatherly (No. 17) and Tony Locey (No. 19) round out the top 30 MLB Pipeline prospects on the Grizzlies' roster.