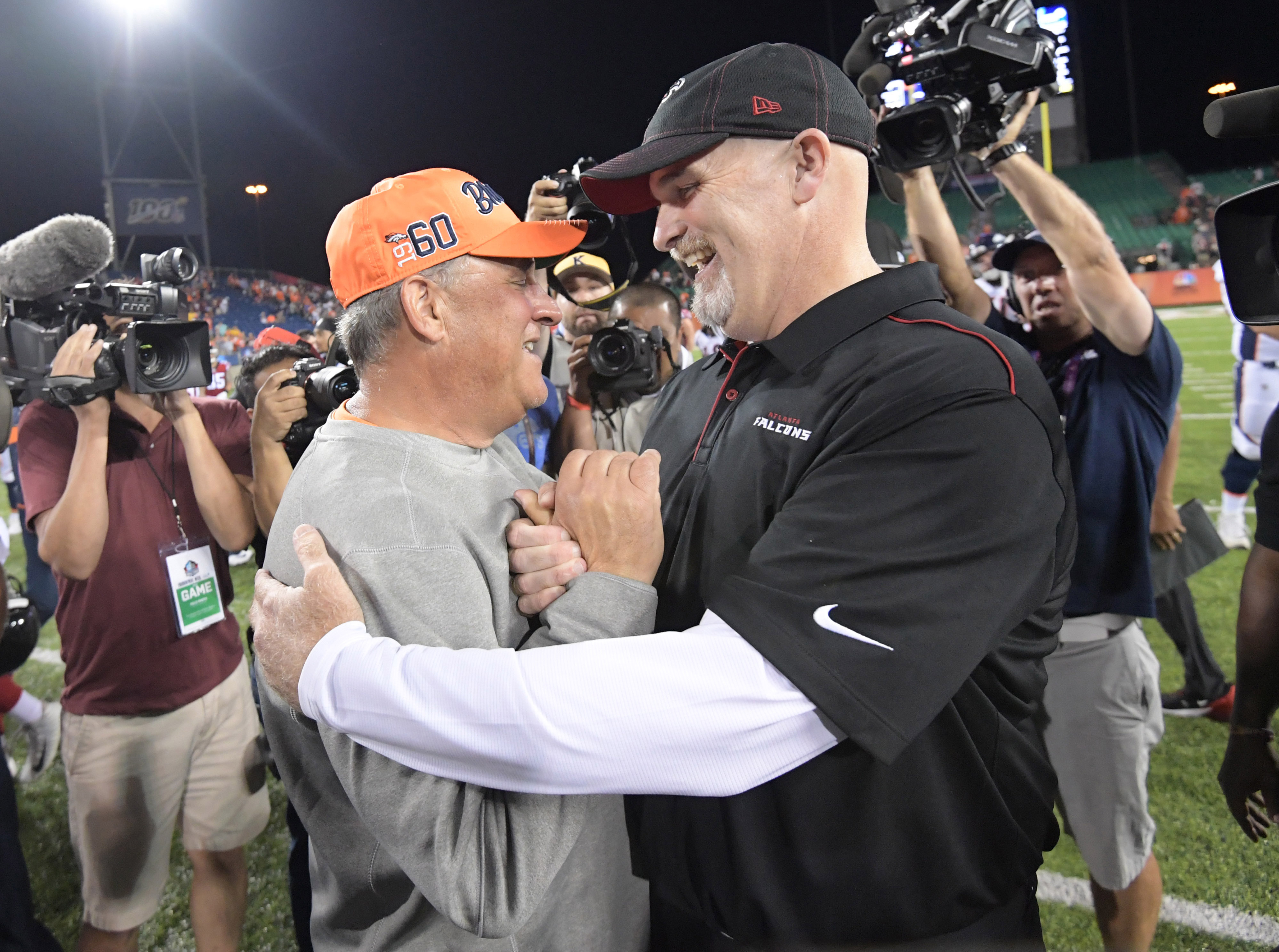 Our long-enduring regional nightmare is over folks. Vic Fangio is no longer the head coach of the Denver Broncos, and Pat Shurmur is no longer the team's offensive coordinator.
The rest of the staff remains in limbo as the Broncos prepare to interview potential candidates, but it's clear that we're at the dawn of a new chapter in Broncos Country.
With that new chapter set to begin shortly, let's take a look at some of the candidates that are already being tied to the Mile High City. NFL Network's Tom Pelissero has already reported on the team's infatuation with Dan Quinn, Nathaniel Hackett, and Jerod Mayo, while the Colorado Springs Gazette's Woody Paige has reported that the team is planning to interview Quinn and Doug Pederson.
What are the resumes of these head coaches and what might they bring to the Broncos as a head coach? Let's take a look.
Dan Quinn, DC, Dallas Cowboys
We're very early in the Broncos' hiring process right now, so a lot could change and anything could happen, but presently, Dan Quinn appears to be the heavy favorite in the clubhouse.
Quinn's rise to prominence in the eyes of most NFL fans began in 2013 when he became the defensive coordinator of Seattle's legendary "Legion of Boom" defense. The defense played its best under Quinn's tutelage, leading the Seahawks to two Super Bowl appearances and one Super Bowl victory.
In 2015, he was hired to be the head coach of the Atlanta Falcons, and in 2016, took the franchise to its first Super Bowl since 1998. Unfortunately, he then suffered one of the worst losses in NFL history, blowing Atlanta's 28-3 lead, and falling short. The Falcons could never re-capture that magic under his watch, and the defense continued to decline.
He was fired partway through the 2020 season, soon became a defensive coordinator for the Dallas Cowboys, and has been instrumental in their defensive turnaround this season, as he's shown willingness to adapt his scheme to the times.
In Quinn, the Broncos would be getting an experienced defensive head coach who could potentially help the franchise woo Russell Wilson, and who is raved about and beloved by his former players. Considering how much the Broncos' players disliked playing for Fangio, replacing him with a player-friendly coach might be nice. The concerns are his struggles from the last time he was a head coach and the fact that when his defenses have been successful, it's required owning multiple special talents.
Nathaniel Hackett, OC, Green Bay Packers
If the Broncos are looking to woo a superstar veteran quarterback, Nathaniel Hackett is a name Denver should definitely keep an eye on.
Hackett came to Green Bay along with Matt LaFleur, following a disappointing stint in Jacksonville, has quickly become one of the trendier names on the head coaching market.
Hackett is a creative play-caller and play-designer who knows how to manipulate defenses into creating open field and open receivers. Look no further than the production of Davante Adams to find proof of this. Green Bay has a very shallow receiving core, and as a result, every defense enters a matchup against the Packers with the same mindset; 'how do we stop Adams?'
Despite throwing everything and the kitchen sink at locking Adams down, and removing Aaron Rodgers' safety blanket from the equation, Adams feasts week-in and week-out. Why is this? Because Hackett (and LaFleur) are masterful at designing these unique and inventive plays that are able to create situations that manage to uncover Adams.
If you want to see the Broncos go the 'innovative offensive mind' route, much like the Rams did with Sean McVay, Nathaniel Hackett should be atop your wish list.
Jerod Mayo, DC, New England Patriots
Broncos Country has to be familiar with the name Jerod Mayo, after years of battling the Patriots for AFC supremacy.
Mayo had a remarkable eight-year career for New England at linebacker, where he served as a fiery leader and the on-field brain of Bill Belichick's remarkable defenses. Following his retirement, Mayo transitioned into coaching and has quickly garnered a name for himself.
One major concern with Mayo would be that he hasn't even ascended to the point of being a coordinator yet, as he's spent the last three seasons as New England's inside linebackers coach.
Promoting him all the way to being a team's head coach might be too much too fast, and he doesn't have the added advantage of helping the Broncos land a superstar quarterback either (unlike Quinn or Hackett). On top of all that, the track record of Belichick disciples becoming head coaches elsewhere is remarkably poor, and it would be disconcerting to see the Broncos hire their head coach from that seemingly poisoned well.
Doug Pederson, former HC, Philadelphia Eagles
One of the candidates the Broncos could look at it who isn't presently in the NFL is former Eagles head coach and Super Bowl champion, Doug Pederson.
Pederson is a branch off the Andy Reid tree that quickly found success in Philadelphia alongside young superstar quarterback Carson Wentz. He is another innovative offensive mind that helped bring the RPO game to the NFL and make it as popular as it was. He's another excellent play designer who knows how to create opportunities for his skill position players, something that was lacking under the watch of Fangio and Shurmur.
He's also shown the ability to adapt his offense to his quarterback and surrounding offensive talent. Never was this exemplified better than when the Eagles' offense took on a different look overnight following Wentz's ACL tear and the insertion of Nick Foles into the starting lineup.
The pitch for Pederson is an appealing one. He brings that offensive innovation that so many in Broncos Country are desperately clamoring for, and he also boasts an impressive head coaching resume, meaning he knows how to operate in that role — something that Vance Joseph and Vic Fangio struggled mightily with.
The concerns are that it feels unfair to put all of the disaster that was the 2020 Philadelphia Eagles on the players. Pederson also deserves some blame for that tire fire. On top of that, it should be noted that the Eagles offense wasn't as inventive once Frank Reich left the staff.