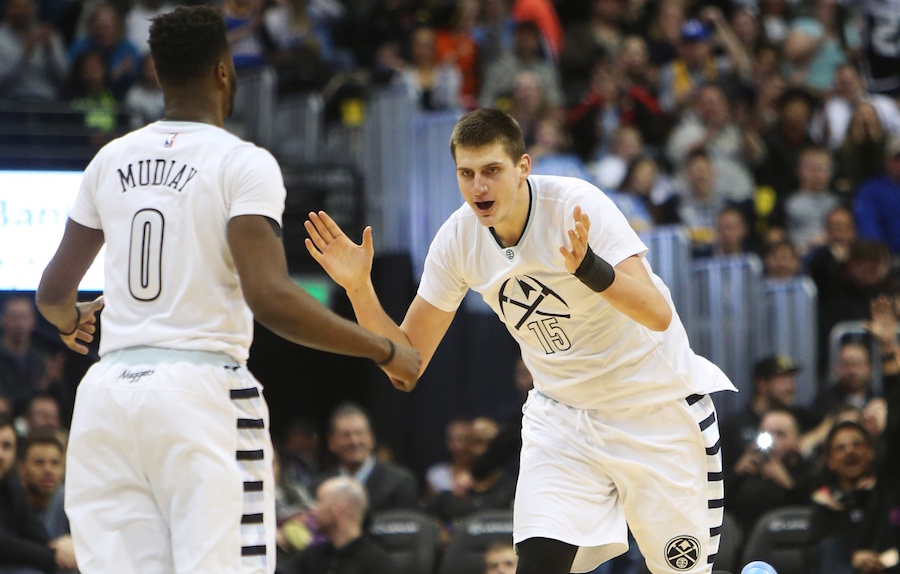 Who stays and who goes? Who's essential and who's expendable?
Even with their recent success, the Nuggets will need to make some moves, whether it be before the trade deadline or in the offseason; they have too many assets not to. But who does Tim Connelly send out and who does he build around?
That's the question this franchise will have to answer in the next six months, and if they choose wrong, it could be the death of them — well, the rebuild, at least.
So let me give my two cents. Here's how I've ranked the Nuggets' most important assets long term:
10. Kenneth Faried
A month ago, there was no way in my mind that Kenneth Faried was going to be on this team after the trade deadline. Now, I'm not so sure. I still don't think he's part of the Nuggets' future, but if the chemistry between him and Jokic continues to grow (they're outscoring opponents by 17 points per 100 possessions when on the court together), maybe there's a way he hangs around in Denver for another year or two — maybe.
There probably should be an argument about Gallinari vs. Chandler, but when you look at the contracts, it's hard to make a case for Gallo being more important for Denver's long-term future. Unlike Chandler, who still has two years on his contract, Gallo will be a free agent this offseason (given he opts out of his final year) and is set to make upwards of $20 million a year — Chandler will be making $12 million. Unless he agrees to a huge hometown discount, Gallo is likely to be gone before the start of next season, whether that's via trade or free agency.
Malik Beasley has plenty of promise, but we haven't seen any of it. Not only has he spent the vast majority of the season cheering from the bench, but he didn't play during Summer League, either. Maybe he turns into a nice piece or maybe he doesn't pan out; there's no way to say. I wouldn't be surprised, though, if he's a throw-in in some deal the Nuggets make.
7. Will Barton
Will Barton is a really interesting asset. On one hand, he's only 25 years old; when compared to guys like Chandler and Gallo, he's a much more viable long-term option, and he's only getting better. On the other hand, he may be the Nuggets most valuable trade piece, as he's a proven scorer who's making just $3.5 million over the next two years. I'd love to see him hang on and grow with this team, but I would be surprised if he makes it through the trade deadline unscathed.
Like Barton, Chandler could easily be a key piece in a trade that brings a big name to Denver. Still, of all the veterans on this roster, he's the one I believe has the best chance of becoming a key cog in the Nuggets future. For one, he's good, offensively and defensively. He can play multiple positions, he can guard and he can score. More importantly, he's a team-first guy, willing to do whatever it takes (come off the bench; take fewer shots) to get the Nuggets a win. That's the type of guy you want growing with these young players.
Talk to anybody who watched a lot of Denver Nuggets Summer League, and you'll hear a lot about Juancho Hernangomez. The kid just has it. Even at such a young age, he gets it; he's extremely intelligent and always ends up making the right play. Is he raw? Sure. But in two to three years, I have no doubt that Hernangomez will be playing a major role on the Denver Nuggets.
When it comes to the next three guys, you could make a case for any one of them and I wouldn't fault you; they all have immense upside, and that includes Mudiay. There's no denying that he's had a disappointing season, but the flashes remain intoxicating. At his peak, Mudiay could become the perfect point guard in today's NBA — size, vision, creativity, shooting. Now, it's all about him reaching it.
3. Jamal Murray
Why is Murray above Mudiay? Obviously it's because I think he has higher upside, but there's another factor: I believe Murray is Denver's long-term point guard. He's not playing it now, but down the line, I'd expect Murray to be running the offense with Jokic, much the same way Stephen Curry runs the Warriors offense with Draymond Green. Is that a lot to put on a 19-year-old rookie who hasn't done anything other than drain a couple threes? Probably, but if you've really watched Murray, you'd see he's capable of being that type of player.
2. Gary Harris
I'm sure some of you are shaking your head right now. There probably aren't many people who would value Harris over Murray, but, well, I'm all in. I love Gary. He does everything, and he does it well. Even better, he's improving — quickly. This is high praise, and while I'm saying he'll reach their level, Harris reminds me a lot of Jimmy Butler and Paul George: guys who entered the league as defensive stoppers and saw their offensive game evolve immensely with each year. If he can become three-quarters of what those guys are, he'll make the Nuggets a very happy franchise.
1. Nikola Jokic
Was there any doubt? Murray, Mudiay and Harris may have sky-high potential, but the only player on the Denver Nuggets who is already showing that potential is Jokic. At 21, he's already the Nuggets best player. At 21, he's already one of the best passing big men we've ever seen. In my belief, the Nuggets have officially found their next franchise player.