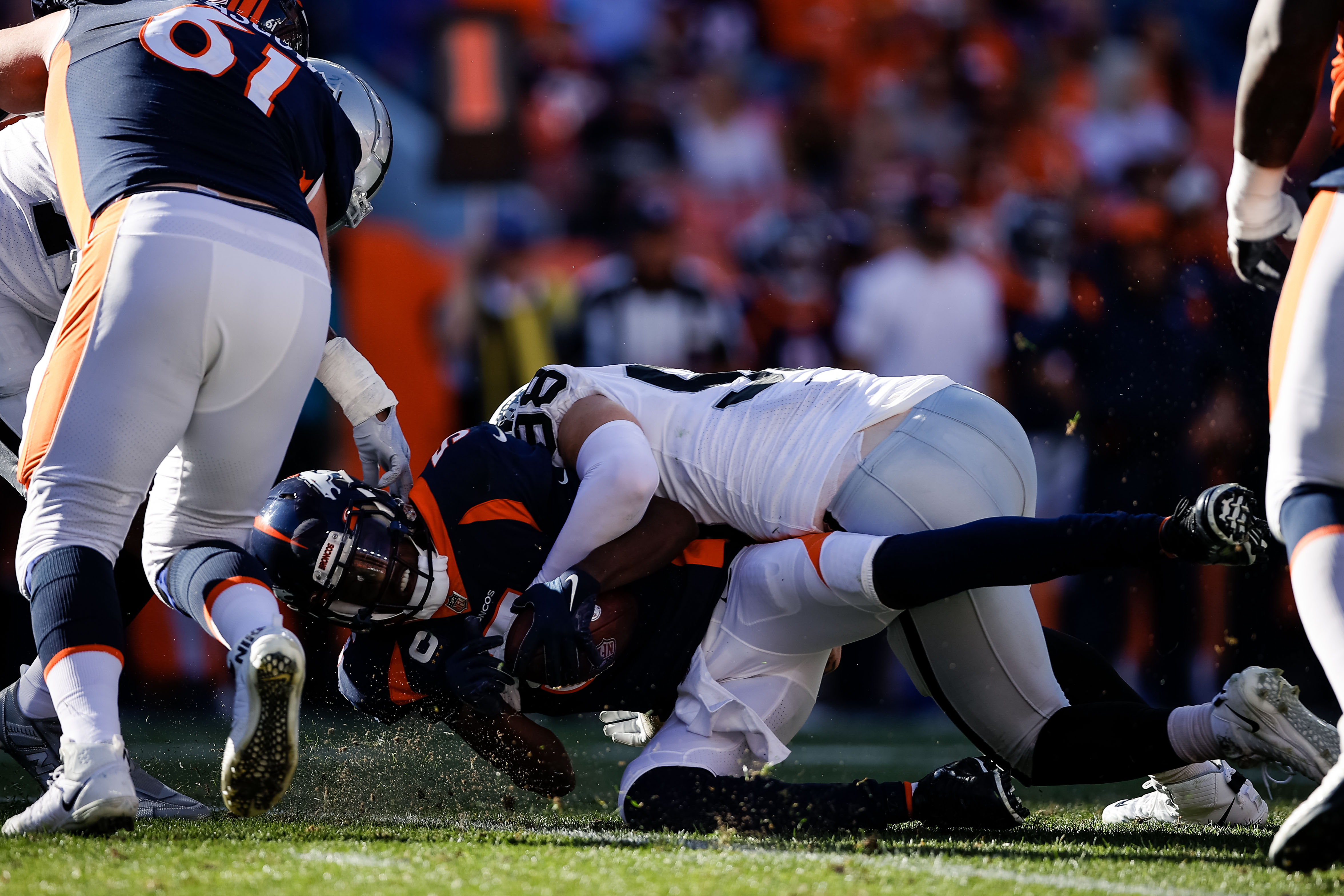 Both the Cleveland Browns and Denver Broncos enter tonight's primetime matchup with a bevy of injured players.
Which are likely to play tonight and which are likely to sit out? Let's take a look.
Denver Broncos Injuries
OUT: Multiple Broncos that have played a key role throughout the season will be out Thursday Night against the Browns.
Chief among those players is Alexander Johnson, who suffered a torn pec in Week 6 against the Raiders, and will now miss the rest of the season. That means that both of the Broncos' starting inside linebackers are out with season-ending pectoral injuries.
To make matters worse, Johnson's backup — Baron Browning — will also miss the game, though he should return before too long, as he is battling a concussion.
That's going to force Micah Kiser and Justin Strnad to start at linebacker, potentially opening running lanes galore for Cleveland's backfield.
Edge rushers Andre Mintze and Aaron Patrick will also be out for Thursday's game. Mintze is being placed on injured reserve with a hamstring injury and Patrick is out with a wounded ankle. That will affect Denver's edge-rushing depth, but those absences shouldn't impact much.
QUESTIONABLE: Things could get really unlucky here depending on how Thursday goes in the run-up to the game.
Teddy Bridgewater, Garett Bolles and Caden Sterns are all presently listed as questionable for the game, which could be a serious problem for the Broncos. The good news is that the two most impactful of those players, Bolles and Bridgewater, are seemingly set to play Thursday night.
Teddy Bridgewater expected to play tonight vs the #browns I'm told. That drew some interesting comments from Cleveland. More on @gmfb pic.twitter.com/guGR9pwCyn

— James Palmer (@JamesPalmerTV) October 21, 2021
James Palmer reported early Thursday Morning that Bridgewater is expected to play tonight, which should come as great news to the Denver Broncos.
Should the fanbase take this as a moment to reflect on what it means that numerous NFL professionals inside the Broncos' building are favoring a one-legged journeyman over Drew Lock, mere weeks after they favored a journeyman without practice reps over Lock? Yep. Will they? Nope.
As another source of optimism, it appears Garett Bolles will also most likely play on Thursday night, as Mario Vetanze, a private physician who is known to work with Bolles, alluded to.
Garett is fine, per sources https://t.co/GkB97ZDqYi

— Jedi Master Mario (@MileHighMario) October 20, 2021
That leaves Caden Sterns, who appears to be a true coin flip. Normally that wouldn't be an issue, considering Denver's starting safeties, but Kareem Jackson's recent play could make Sterns' absence more painful.
IN: Melvin Gordon, Shelby Harris, Noah Fant and Justin Simmons all spent some time on the injury report this week, but all of them are ready to play Thursday.
That's huge for the Broncos, as it would be hard to see their offense producing much without Gordon and Fant. It would also be difficult for the defense to be down multiple safeties, or lose a key interior defender.
Cleveland Browns Injuries
OUT: The Browns offense has been decimated by injuries, as all three of their most important skill players have been listed as out for Thursday's game.
Baker Mayfield, Kareem Hunt and Nick Chubb will all be out for their primetime matchup with the Broncos. It goes without saying that that deals a tremendous blow to both the Browns passing attack and rushing attack.
In Mayfield's place, the Browns will start Case Keenum, will look to get his revenge against the Broncos, after they replaced him with Joe Flacco. At running back, the Browns will turn to D'Ernest Johnson, who impressed last season in relief of their two star running backs.
Lastly, on defense, the Browns are down cornerback A.J. Green, which should help Denver's battered passing attack.
QUESTIONABLE: As we just looked at, the Browns are down numerous key offensive starters, and they have the potential to be down several more by kickoff.
Both starting tackles, Jack Conklin and Jedrick Wills, are listed as questionable. They only participated in one day of practice this week, and it was limited participation at that. That could leave them with Alex Taylor and James Hudson starting on the edge of their line. Fortunately, it sounds like Wills is expected to play, while Conklin is likely out.
Starting center J.C. Tretter is also questionable, with Michael Dunn potentially taking his place.
The last member of the offense on the injury report is Odell Beckham Jr., who hasn't added much to the Browns offense this season, but it would still hurt to be without him, and it sounds like that is the most likely outcome.
On defense, the Browns could be without several members of their front-seven. Defensive linemen Jadeveon Clowney and Malik Jackson are both questionable for the game, as are linebackers Mack Wilson and Malcolm Smith, which could open up some running lanes for the Broncos.
IN: Despite spending time on the injury report, the Browns are set to get Myles Garrett, Malik McDowell, Takkarist McKinley, Jordan Elliott, Greg Newsome, Greedy Williams, and Denzel Ward back on defense this week.
On offense explosive tight end David Njoku will return to the field.