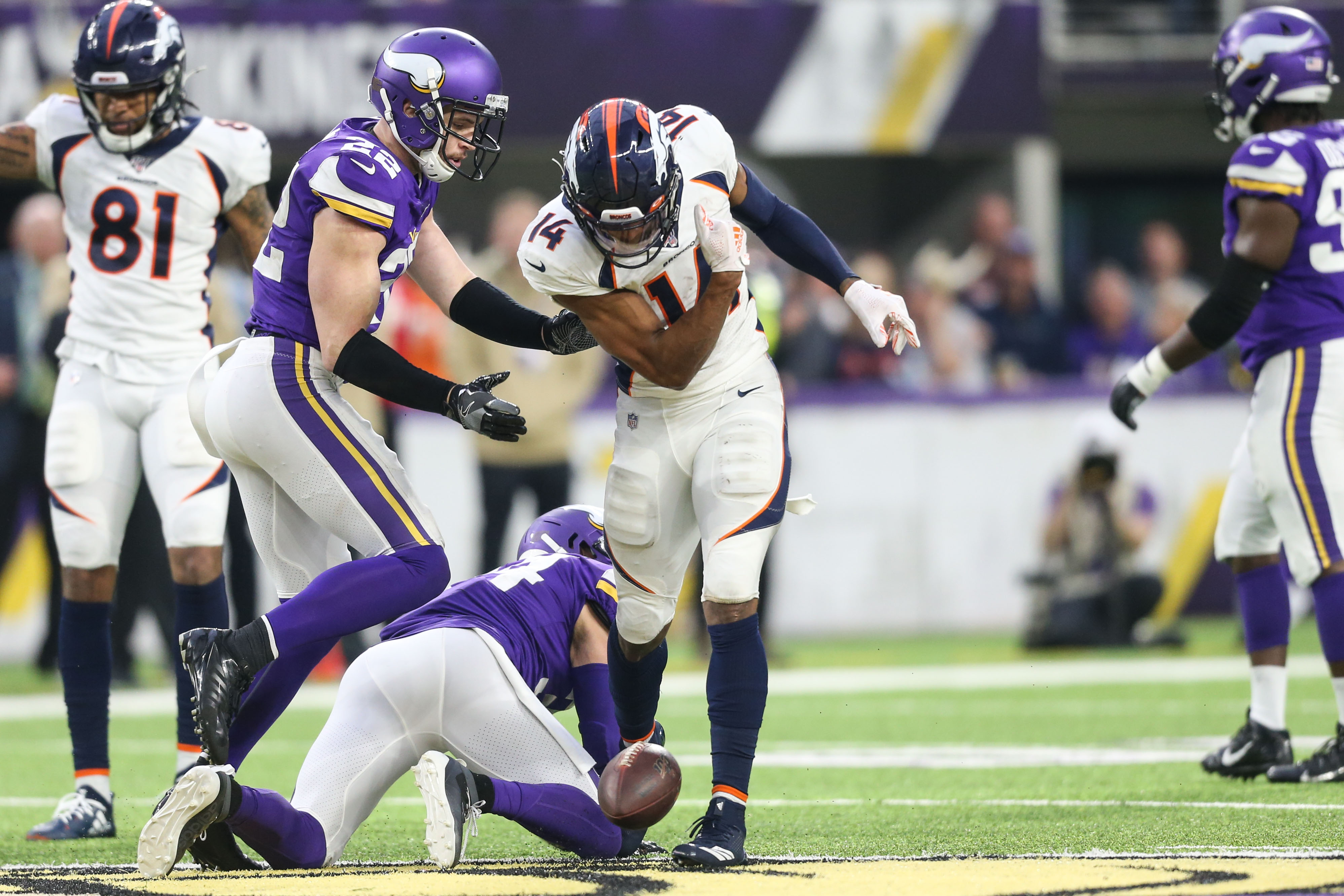 The day is finally here. The wait is over. The Denver Broncos will take the field once again for the first time since their bitter loss to the Las Vegas Raiders in last season's finale.
Broncos Country will finally get a chance to get their eyes on some of their favorite players but, as we all know, preseason means assessing risk so not all of the fanfavorites will be in action today.
Who's Out
As a well-seasoned vet coming off major injury, it was inevitable that Von Miller would be physically preserved for the regular season as much as possible.
This is a typical move if you observe the preseason league wide. The Aaron Rodgers, Deandre Hopkins and Josh Allens of the world will get the pass this week to get their bodies right, just in time for a tune-up in the coming weeks.
Von is certainly in the same category as those players and will be afforded the same luxury.
Similarly, Broncos star wide receiver Courtland Sutton will sit, too.
Ideally it would have been nice to see Sutton get a few reps in, even if it was a single series, but it appears that he will be sidelined for this first preseason contest.
Another Broncos player coming back from season-ending injury, Sutton has looked like he is recovering nicely. He has slowly ramped up to show flashes of the dynamic playmaking he possesses. No setbacks have been reported, so Fangio and Co. are likely just taking every possible precaution to get Sutton back to playing shape.
The plan is for him to get into at least one of the preseason games before the regular season opener, but fans will have to wait past today to see that.
Who's in
The quarterback battle is alive and well for the Broncos and both the incumbent Drew Lock and newcomer Teddy Bridgewater will see the field today barring anything unforeseen.
This will be the first game action for both players this season and it is when the QB competition really begins. Both guys should receive ample opportunity to set themselves apart with their play.
Let the battle commence.
And while they won't have Sutton to throw to, Lock and Bridgewater will have young star Jerry Jeudy out there.
If anyone's stock has risen in training camp, the fastest riser has easily been Jeudy. His play on the field and route running has been on full display leaving teammates and fans in awe.
Jerry Jeudy (@jerryjeudy)  absolutely BURNED his man for a long TD at Broncos-Vikings joint practice today 👀🔥 #9sports #BroncosCountry pic.twitter.com/oGuJPbwU9c

— 9NEWS Sports Denver (@9NEWSSports) August 11, 2021
Jeudy is only a second-year player and having his rookie offseason completely derailed by COVID-19, one has to imagine every snap, practice or otherwise has been essential to his continued growth and further developing team chemistry.
Expect him to flash and use his fantastic quickness and route running to get open offering his quarterbacks an easy target.
Other Notables
Former Minnesota Viking running back Mike Boone suffered a quad strain that a team source said will sideline him for 4-to-6 weeks as and not require surgery. Boone was carted off the field leaving many speculating the injury could be far more serious.
Per source: Following MRI, it's been determined Broncos RB Mike Boone will be out 4-6 weeks with quad injury. No surgery. Could have been worse. Boone was having terrific camp. #9sports

— Mike Klis (@mikeklis) August 13, 2021
Wide receiver Tim Patrick was held out of practice recently on what was deemed as groin injury. It does not appear to be serious, but it would not be surprising if he sat due to his rather extensive injury history
Starting left guard Dalton Risner also left practice yesterday with a knee injury. From all reports it was a "minor tweak" so fortunately it does not appear to be anything substantial
Exhale. Starting LG Dalton Risner says he's good. Tweaked his knee that caused momentary discomfort but it came around quickly. He was held out of final team drill as a precaution. If the No. 1 offensive line is playing Saturday, he says he'll be there. #9sports

— Mike Klis (@mikeklis) August 13, 2021
Other players who's availability is in question include defensive tackle Mike Purcell (ankle), linebacker Josey Jewell (groin), lineman McTelvin Agim (groin), lineman Deyon Sizer (hamstring) and defensive end Marquiss Spencer (ankle).
Receiver/return man Dionte Spencer and WR/QB Kendall Hinton were held out of practice as well but they don't appear to battling any significant injuries giving them a good shot at being available.
Updated list of starters not playing today per Andrew Mason: Garett Bolles, Kareem Jackson, Kyle Fuller, Bryce Callahan, Ronald Darby, Courtland Sutton, Justin Simmons, Mike Purcell, Von Miller, Alexander Johnson, Bradley Chubb, Dalton Risner, Dre'Mont Jones, and Shelby Harris. Tim Patrick and Deionte Spencer also out, along with Josey Jewell.