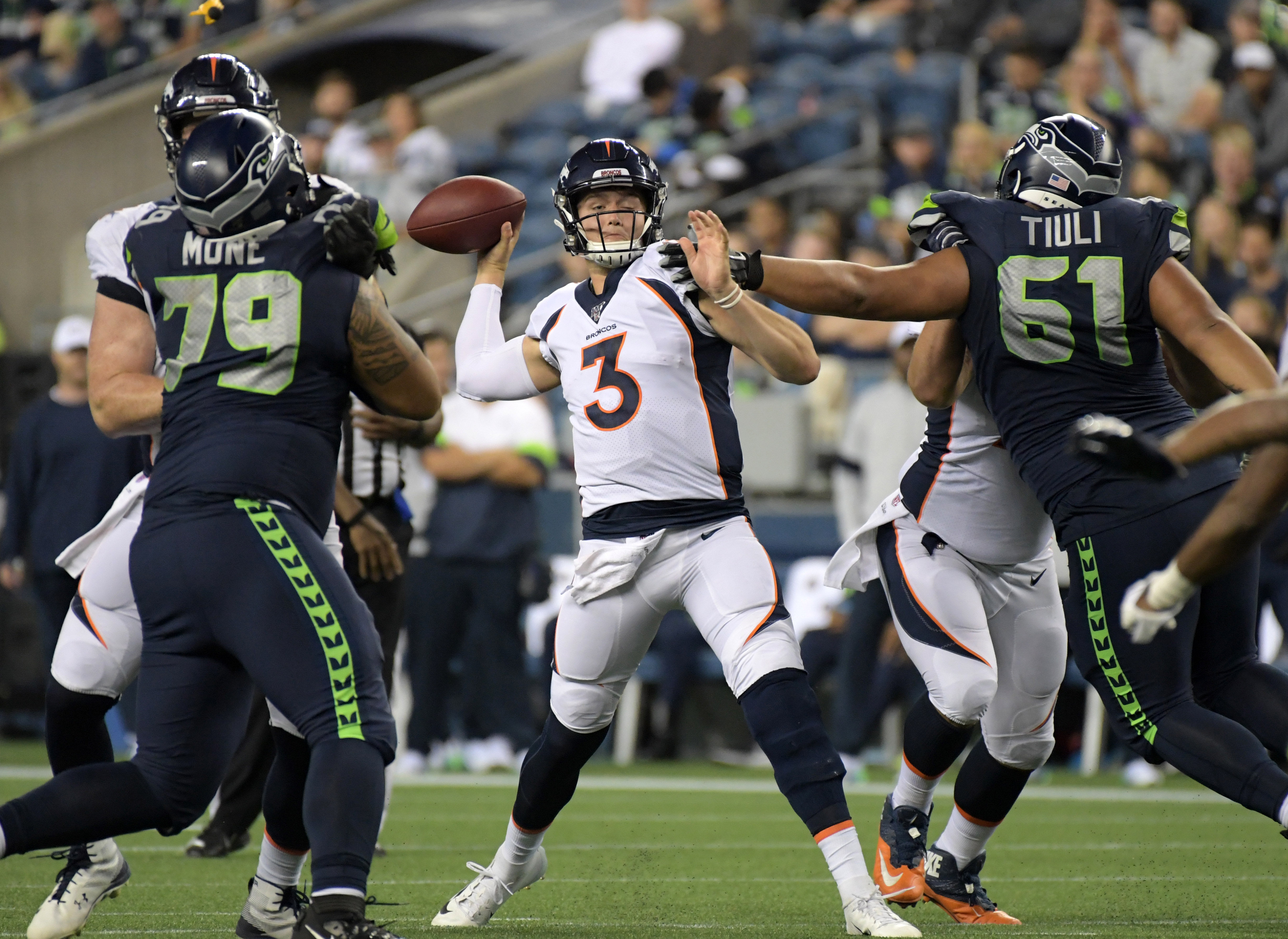 Preseason Game 2 is just around the corner and there are still several questions that need answers regarding the direction of this Broncos team.
Seattle's roster has splashes of talent across it and should pose more of a challenge than Minnesota's second-teamers. Plus, the Seahawks have arguably the loudest stadium in the entire league. Therefore, this game should feel more in line with what a regular season match-up might be, allowing some players to earn their spot on this roster or find themselves on the outside looking in.
Coach Vic Fangio and crew are looking to deploy even more starters versus the Seahawks then they did last week, allowing for some of the more veteran guys to get their legs under them before jumping right into regular season play.
Who's in: The starting offensive line
Last week, aside from Lloyd Cushenberry, the starters on the offensive line sat. But this week we should see the likes of Garett Bolles, Graham Glasgow and Dalton Risner back in action against a deep Seattle front seven.
All have remained adequately healthy through the off-season and camp thus far aside from a scare from Risner during joint practice with Minnesota, but Risner was back on the field shortly thereafter and seems to be ready to go.
This will be a great opportunity to see how the unit operates on the field and whether they can keep their quarterback as clean as the backups did last week.
It will also be very telling to see who gets the start at right tackle as it seems Bobby Massie and Calvin Anderson both have a shot at filling that spot. Both will get some run with the starters but only one can win the job.
Vic Fangio said the right tackle competition is still close between Bobby Massie and Calvin Anderson.

Should both play against Seattle.

— Aric DiLalla (@AricDiLalla) August 19, 2021
Who's out: Courtland Sutton
It's not a lock but based on Courtland Sutton's progress coming back from an ACL tear, there is a good chance he won't see the field against the Seahawks.
Sutton has been sporting a knee brace throughout camp and though it doesn't seem to hinder him, it's an indicator that things still aren't quite fully healed.
#Broncos WR Courtland Sutton (ACL) remains on right track for regular duty in Week 1, but indications are he will not play tonight against Seahawks.

— Ryan O'Halloran (@ryanohalloran) August 21, 2021
When asked about whether he felt 100% after practice this week, he said, "I never want to say I'm 100 because I always feel like I can get a little bit more. There's always a little bit more in there, I just have to go tap into it. I think I'm really close."
As eager as he appears to be to get on the field, he may just have to wait a little bit longer.
Who's in: The defensive starters
Denver's backups did a fantastic job holding their own and showing their depth against the Minnesota Vikings, but now its time to see how this starting defense looks against a dynamic offense.
This will be the first time Broncos Country will get to see the likes of Kyle Fuller and Ronald Darby in orange and blue in live action. On top of that, fan favorites Justin Simmons, Shelby Harris, Bradley Chubb and the rest of the crew will remind teams why they are projected to be one of the most exciting defenses in the NFL.
It's an opportunity to shine and put the AFC on notice before the season even begins for this squad. Likely, they will only be out there for only a series or two, but that doesn't mean the flashes of brilliance won't shine through.
Who's questionable: Von Miller
Miller's status against Seattle remains up in the air and it may not be revealed whether he is playing or not until much closer to game time.
Given last year's ankle injury was on turf, new dad Von Miller would prefer to play first game back on grass https://t.co/KrFHFEzVxO

— 9NEWS Denver (@9NEWS) August 19, 2021
UPDATE: Miller will not play tonight per Mike Klis at around 5:10 pm MT.
While talking to the media this week, he explained, "I didn't want my first game to be turf. I injured myself on turf. I really wanted to get a grass playing field. I know we have to play on turf during the season, and our first game is on turf versus the Giants. We'll have turf games, but I didn't want my first game after injury to be on turf, especially with the type of injury I had."
Even though he appears ready to play and has not looked hindered at all in camp, they may wait to get Miller out there.
The Broncos face the Seahawks tonight at 8 p.m. MDT on KUSA.