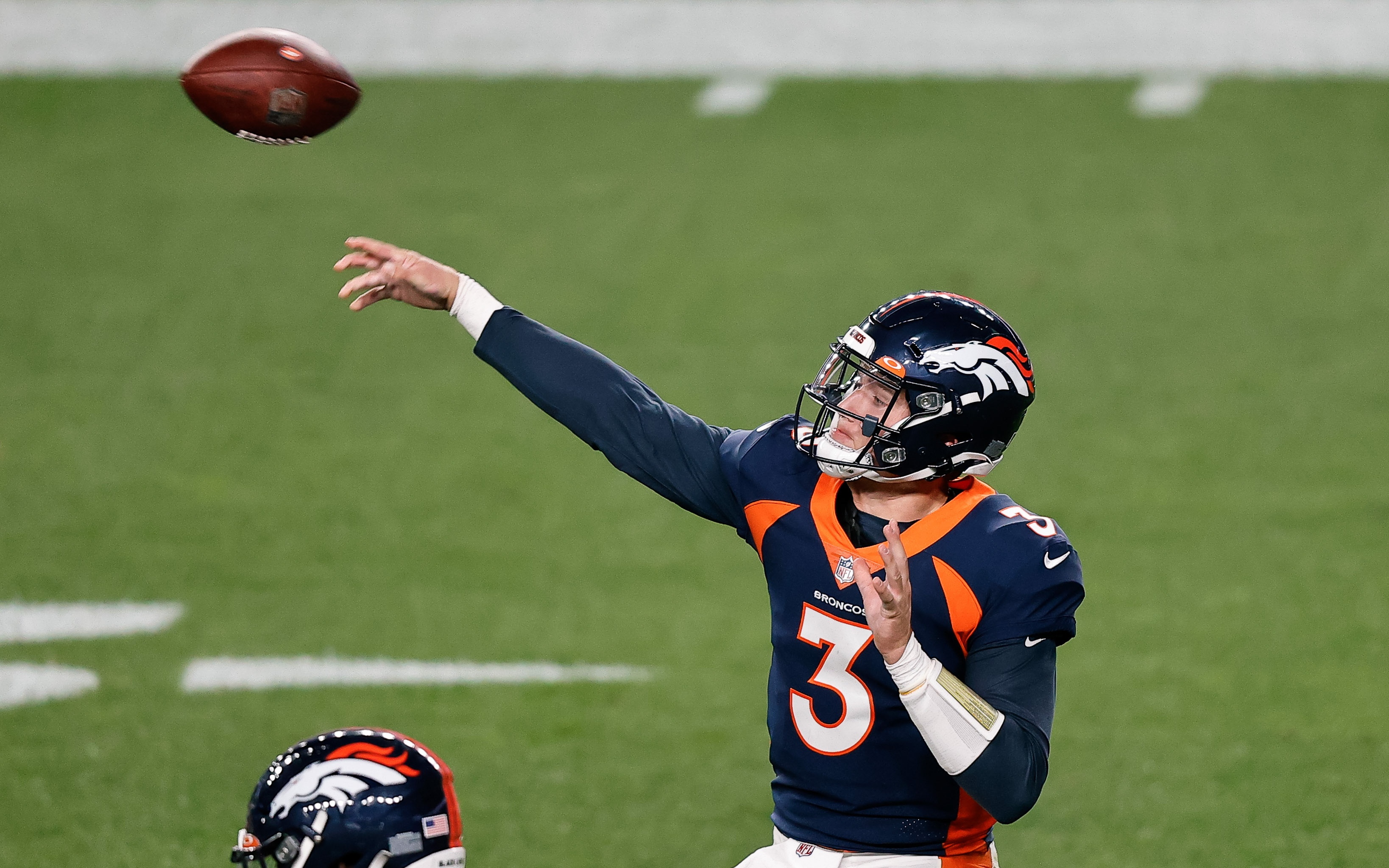 The quarterback battle has ended, and Teddy Bridgewater has emerged the victor. It was hard-fought and all-consuming, but we all knew only one man could win the job.
Bridgewater brings veteran savvy and experience to a position that has been in flux for far too long, but the decision leaves a lot of lingering questions about the direction of the franchise and Drew Lock's future.
Lock was selected in the second round of the 2019 NFL Draft with the intention of becoming the quarterback of the future for the Denver Broncos. Now the future is here, and he finds himself sitting on the bench in favor of another "band-aid" quarterback.
Honestly, Bridgewater is not a bad QB by any means and there are arguments to be made for him manning the helm of this Denver roster. However, the best possible outcome for the Broncos organization was for Lock to be named the starting quarterback for the 2021 season.
Lock put in the work
It was clear early on that after a disappointing 5-11 outing from the Broncos Lock was ready to bring his preparation and work ethic to another level. As a 23-year-old man, now 24, who had just finished his first full season as a starting quarterback in the league, it was obvious there was work to be done.
So, that's what he did. He went to work. Lock spent the bulk of his offseason working to hone his craft by spending his free time in the practice facility, working on the things that would help him persevere where he fell short months before.
He even went as far as spending time with NFL and Denver Broncos legend Peyton Manning to study film and glean as much knowledge and wisdom as he could in an attempt at self-betterment.
Lock was also afforded the opportunity to have a full off-season undisrupted by COVID-19 and health and safety protocols. He was able to get in valuable practice reps and create chemistry with teammates before the games began to mean anything, which appears to have been immensely valuable in his growth and development.
He was by no means perfect in training camp but continued to flash his big-play potential and minimized the mistakes that he was infamous for. He kept the ball safe and refused to take unnecessary risks downfield.
Lock went 14-of-21 for 231 yards and 2 touchdowns with zero turnovers on 8 total drives in the two preseason games he has played in. Teddy posted similar numbers but, with seven-plus years in the league versus Locks two, the growth potential with Lock still far outweighed Bridgewater's.
Now that Lock is done, adjust his numbers to: 14-21, 231 yards, 2 TDs, 0 INTs. In 8 drives, Broncos O: 2 TDs, 3 FGs, 1 turnover on downs, 2 punts https://t.co/U99tm7Y9xQ

— Nick Kosmider (@NickKosmider) August 22, 2021
This was Lock's opportunity to show he could be "the guy" for the Denver Broncos and he did exactly what was asked of him. He should be rewarded for his growth as opposed to designated to clipboard duty on the sideline.
It sends a poor message to the rest of the locker room for Lock to get the snub with the amount of work he put in and the growth that was clearly evident in his play on the field.
In any other position in the NFL in a neck-and-neck battle, the winner would be the upside player that gives you more potential to win games. This move screams "safe" and whether that will pay off for those who pulled the trigger on this decision remains to be seen.
Lock's success was the best-case scenario for Denver
With Teddy Bridgewater, not all hope is lost for the 2021 season, but what trajectory does that put this team in the years to come?
For Broncos leadership to give Bridgewater the job outright they must believe that he gives them the best chance to win a Super Bowl otherwise they are wasting a very talented roster.
The sentiment around Teddy is that he will be a game manager and minimize risk, but very rarely does that lead to championship rings. If he is anything other than that, the Broncos find themselves in quarterback purgatory with no confirmed talent and a mid-round draft pick, arguably the worst possible place for a team to be.
If Bridgewater struggles, what options does that leave for this front office?
They could pull Bridgewater for Lock, but that seems like a very problematic plan. If Lock comes in and strings together some nice performances them someone has to eat crow, and that is not something you see often in the NFL ranks. It becomes an indictment against Vic Fangio, George Paton or both very quickly.
Not only that, but if they don't make the change early, then they are potentially looking at another wasted season and the exact same scenario next off season, wondering if Drew is the future or just an average to below-average NFL quarterback.
Additionally, as happens with almost all quarterback battles, you have fans, media and players alike that will start to call for Lock as soon as Bridgewater falters. This can quickly create toxicity and finger-pointing with a likely sacrifice, probably from the coaching ranks.
Denver needs to see what they have in Lock in order to cleanly turn the page. Either he balls out and gives them enough confidence to get paid and become QB1 or he flames out and moving on becomes more palatable for all parties.
If Drew Lock is thrust into the starting role, they have the chance to see what they have in the burgeoning quarterback with the safety-valve that is Teddy Bridgewater. They are able to assess Lock against a fairly easy early schedule and make a clear-cut decision if he is not able to stack up against the dregs of the NFL.
At least then we all have a definitive answer.
If not all-in on Lock, why draft the future quarterback?
General manager George Paton has done an excellent job building the Denver Broncos roster, but if there is one gripe it could be that he opted not to draft a quarterback in the 2021 NFL Draft. Namely Justin Fields.
This becomes even more glaring with the announcement of Bridgewater's ascension.
It is obvious that he is not the long-term answer to Denver's quarterback question with his current track record, injury history and age. So why not gamble on a highly touted prospect, like Fields, who can be the next franchise quarterback?
Accurate. And bears repeating that the #Broncos chose Patrick Surtain with Justin Fields on the board. https://t.co/UXQWbDrCxW

— Matt Lombardo (@MattLombardoNFL) August 23, 2021
If Lock was not going to be given the opportunity to show what he has with a healthy roster and a full off-season, then why not begin planning ahead with a guy one actually believes in?
This is the perfect situation for a rookie quarterback to step in and grow into the legitimate professional under a veteran like Bridgewater but now it appears to be squandered for another year.
The Broncos can always draft a quarterback in the first round next year but that will come at a much higher price, especially if they attain a winning record or even a playoff berth as they believe they can.
Lock was a potential beacon of hope for a different outcome at the position for Denver Broncos fans and now that beacon has been completely dimmed. The quarterback carousel continues to spin with another recycled player at the controls and everyone is left wondering what is next.