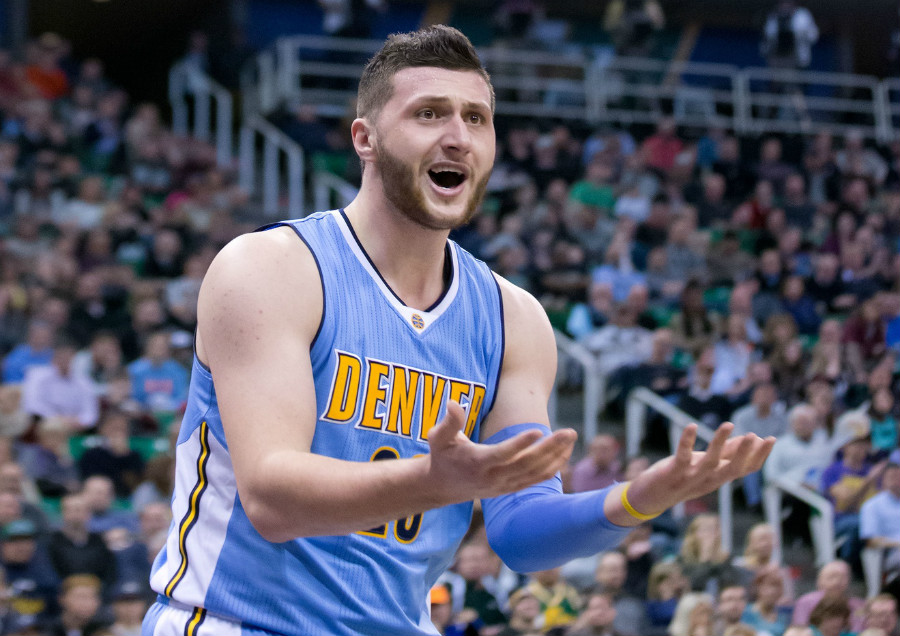 Jusuf Nurkic was the Denver Nuggets' prized rookie back in 2014. Even after his first season was cut short by injury, many expected the big Bosnian to bounce back and have an impressive sophomore campaign.
This has not been the case for Nurkic.
Instead of a warm welcome back into the rotation, he's seen his minutes cut and cut to the point that he's no longer playing. And now, you'd be hard-pressed to find a Nuggets fan who'd pick Nurkic over Nikola Jokic, Denver's new rookie sensation.
While it's happened gradually, this really is a shocking turn of events.
Coming into the year, the Mudiay-Nurkic tandem looked to be Denver's saving grace; they would give the organization the identity they've been so desperately looking for. But with Nurkic starting the year off on the sideline, recovering from offseason surgery, Jokic took the world by storm, leaving the big-man from Bosnia in the rearview mirror for coach Michael Malone.
Nurkic has only appeared in 19 games this season and has only managed to average 6.4 points (6.9 in '14) and 4.9 rebounds (6.2 in '14) per game, but how much of that is Nurkic's fault? Really, you can make the argument that he's actually playing better in 2015.
Across the board, Nurkic's Per-36 numbers are up this season:
2014: 13.9 points; 12.5 rebounds; 1.6 assists; 2.2 blocks
2015: 16.3 points; 12.9 rebounds; 2.1 assists; 2.6 blocks
For Nurk, the real issue is simply that Malone has more trust in Jokic and Joffrey Lauvergne. But even that raises the question: Why?
The obvious reason would be that he's not healthy. Not only is he still coming off a serious offseason knee surgery, but he's faced several in-game setbacks this season already.
Maybe they're trying to keep him from injuring himself further?
Nope. Malone has been asked a decent amount of questions regarding Nurkic's involvement since All-Star break, and his answer has remained roughly the same each time:
"There's a chance, there's always a chance" Malone on if Jusuf will play tonight #Nuggets

— Aniello Piro (@aniello_piro) March 1, 2016
"I give Nurk credit; he's staying ready, staying engaged," Malone said prior to the team's game against the Memphis Grizzlies on Monday. "The biggest thing right now when you have Kenneth, DA, Nikola, Joffrey, and Nurkic it's impossible to play five guys. If there's an opportunity to play Nurk, we will definitely put him out there."
So it's not that he can't play; it's that he isn't playing.
In fact, there's a growing feeling that he isn't going to be playing anytime soon. Nurkic was the last player out of the locker room Monday and was the first guy to leave the building following the game.
And even when he was on the court (during warmups), Nurkic seemed lackadaisical in preparation for the second half of the Nuggets' game.
His second half warm up consisted of shooting one ball from the three point line like a football, throwing one pass to Mudiay and a few to Darrell Aurthur, per Nate Timmons.
Whether you're coach Malone, his teammates or the fans, that's not the type of attitude that's going to make you say, "This guy needs to be in the game!"
And in part, that's probably why he hasn't.
Nurkic did not play against the Sacramento Kings, Los Angeles Clippers, Dallas Mavericks, and Memphis Grizzlies. An in each one of those games, Denver's opponent had someone who ripped them inside the paint.
If Nurkic had played, the end result could have been very different. After all, defense is supposed to be his calling card. Wouldn't Malone have preferred Nurkic go toe-to-toe with DeMarcus Cousins the the lanky Jokic or Lauvergne?
And that's why this is a question. Sure, maybe Malone just wants Nurkic to earn his minutes, and that's fine, but the thing holding Nurk back isn't his ability; it's his attitude.
If it was based on ability, he'd have been matched up against Cousins, as he was the Nuggets' only legitimate shot of containing him (Cousins went off for 39). If it was based on his ability, his numbers should be earning him more minutes, not less.
Right now, Malone is trying to turn Nurkic into a professional, and that's why he's not playing. If this keeps up much longer, though, it may be time for Nuggets fans to start getting a little nervous.