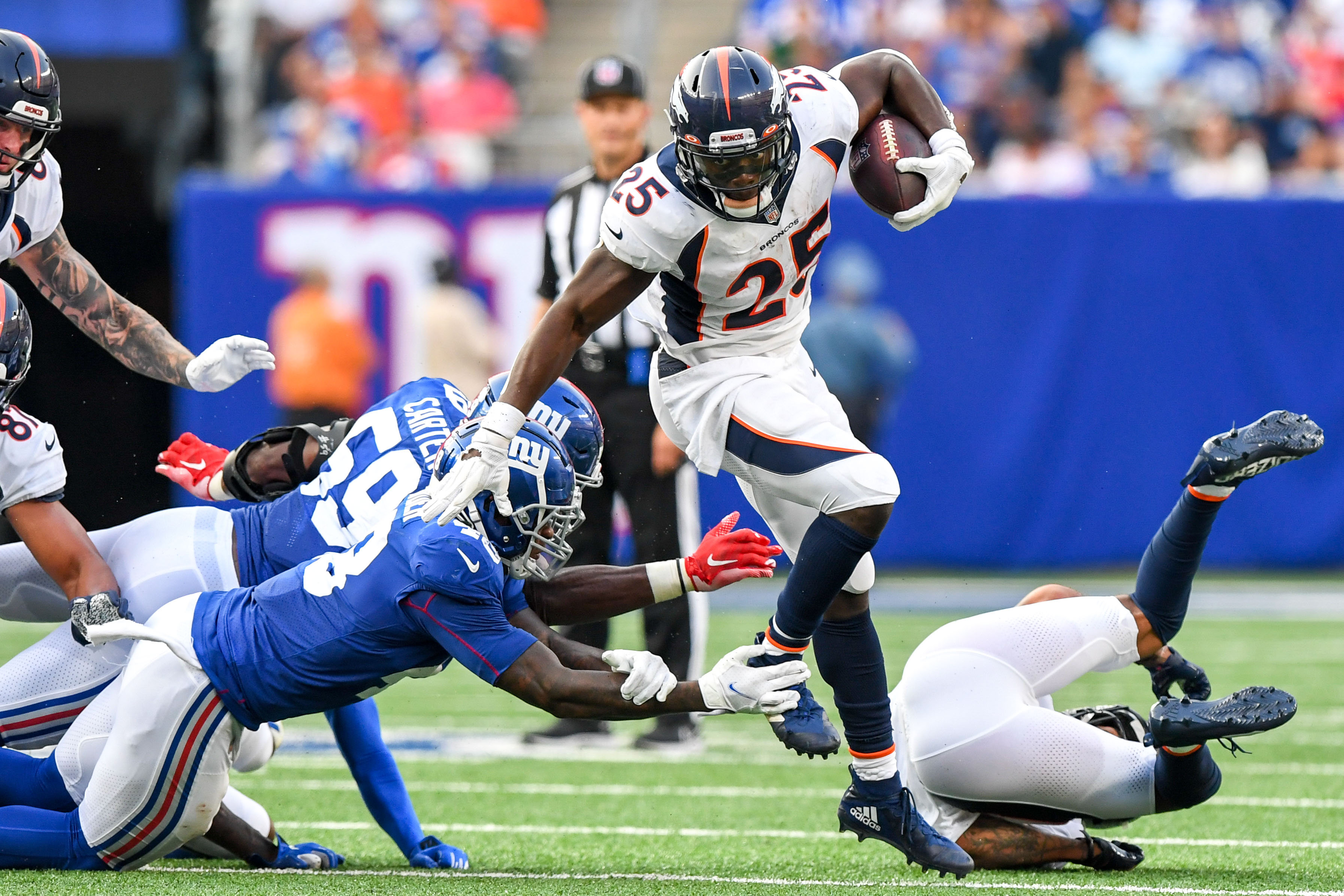 The Denver Broncos have seemingly found an identity in their run game between Melvin Gordon and Javonte Williams, but they'll have to make a difficult decision this offseason.
Gordon's contract is set to expire, and the Broncos will have to decide whether or not they want to bring him back on a multi-million dollar extension.
Here's why bringing him back on such a deal would be a poor choice.
29-year-old running backs are poor investments
We've all heard that saying about how the value of your car tanks the moment you drive it off the lot, right? Well, running backs are pretty similar, especially in the modern NFL.
Over the last decade, you could count the number of running backs whose performance hasn't cratered after signing a big-money deal on your fingers. They are few and far between, and even those that have continued to produce on their expensive extensions, aren't necessarily living up to what they're being paid.
Ezekiel Elliott is an excellent example of this. He's presently the Cowboys' leading rusher and is producing pretty well, but he also doesn't look like he's even near worth the $12 million he's making annually. Ask any national analyst or Cowboys beat reporter, and they'll tell you, Tony Pollard — a fourth-round pick on his rookie deal — has outperformed Elliott this season, or has at least brought a comparable amount of value to the table. Meanwhile, Pollard's average annual salary is five percent of Elliott's average annual salary.
Elliott is nearly 19 times more expensive than Pollard, and even the most fervent Elliott supporters couldn't argue that he's any more than slightly better than his cheaper co-star.
Elliott is relatively young compared to Gordon, and yet still, you can see the wear and tear of age on his game. This is a widespread phenomenon too. If you look at the NFL's top rushers, Gordon stands out, even at his present age.
Of the NFL's top 27 rushers in terms of yardage (not including Gordon), only one is older. Plus, that one outlier doesn't exactly provide a large vote of confidence for Gordon's future, as it is the well-past-his-prime Mark Ingram. Meanwhile, 15 of those same 27 running backs are presently on their rookie deals.
Do you really want to roll the dice on an even older version of Gordon, when there are practically no examples of a running back older than Gordon playing at a high level?
You aren't paying Gordon for 2021
Here's the other element of the paying Gordon conversation. I can hear you thinking as you read this, "but Gordon's been fantastic this year. He's provided the offense with an identity and is a perfect co-star to Javonte Williams. You're really gonna let that walk out the door?"
Yes.
The Broncos aren't in discussions to pay Gordon for the 2021 season. That already happened. Back in the summer of 2020, when this COVID bonanza was just beginning, the Broncos paid Melvin Gordon $18 million to play for them in 2020 and 2021. While the move was widely panned at the time, it has since paid off.
The Broncos are in discussions to pay Gordon for the 2022 season and beyond, and that's where things get dicey. It's unlikely that Gordon would produce at a level that would make him worthy of the contract he would be signing, and that especially true upon factoring in his age and the fact that he would operating as part of a tandem backfield.
It's understandable to look at what Gordon as produced this year and want more of that, but even if Gordon is re-signed, it's extremely probable that he won't provide Broncos Country with much more of what he's brought this year.
In 2017, Gurley was named the NFL offensive player of the year, finished second in the MVP voting, and was voted as the sixth-best player in football by his peers. This led the Rams to sign Gurley to a massive extension, but less than two years later, the Rams cut him and it took several months before he was able to find a team willing to sign him. Less than three years after signing that massive extension, Gurley was out of the league.
This isn't the exception either. It's the rule.
There are better, cheaper options
Now, let's get to the final piece of the puzzle; the countless options that are much, much better.
This article isn't a rallying cry against the Broncos building a dominant tandem in their backfield. In fact, this article is actually in support of such an endeavor, it's just arguing against one of the worst possible avenues the Broncos could take to accomplish that task.
Drafting a running back isn't ideal either, but it's easily more preferable than signing a running back at the tail-end of his career to a multi-million dollar extension. This is also an avenue we've seen George Paton take frequently.
Between his time with the Vikings and Broncos, Paton has helped select Alexander Mattison, Dalvin Cook, and Javonte Williams, all of whom produced more on their rookie contracts than any running back over the age of 28 is presently producing in the NFL.
Earlier we mentioned how more than half of the NFL's top 28 rushers are presently on their rookie deals, highlighting just how easy it can be to find these awesome running backs in the draft.
This is a preferable option even if Gordon is willing to take a hometown discount.
Ingram, the only back older than Gordon who is still producing at a high level, is presently making roughly $2 million annually. Compare that to San Francisco's sixth-round rookie Elijah Mitchell, who has been one of the offense's most valuable pieces and has been twice the player that Ingram has been this season, despite costing less than $1 million annually.
Now, it's undeniable that hitting on a rookie running back in the draft would be preferable to signing Gordon. However, therein lies the fly in the ointment. You're not guaranteed to hit on a draft pick.
However, even upon acknowledging the possibility of whiffing on the draft pick, it appears to be the preferable angle. If you miss, the cost of your mistake is a late-round draft pick. If you sign Gordon and miss, you're wasting a roster spot and five times as many resources as what you would have spent on a rookie.
Plus, if you miss, you still have a competent fill-in on the roster in Mike Boone, which is a pretty nice insurance policy. The drop-off wasn't especially noticeable against the Chiefs when Boone saw his only major workload of the season.
Not only is Gordon the option with less upside, but it's the much riskier selection as well.
Re-signing Gordon is like arguing for a quarterback with Drew Lock's decision-making and Teddy Bridgewater's physical tools. All risk and with no real upside.