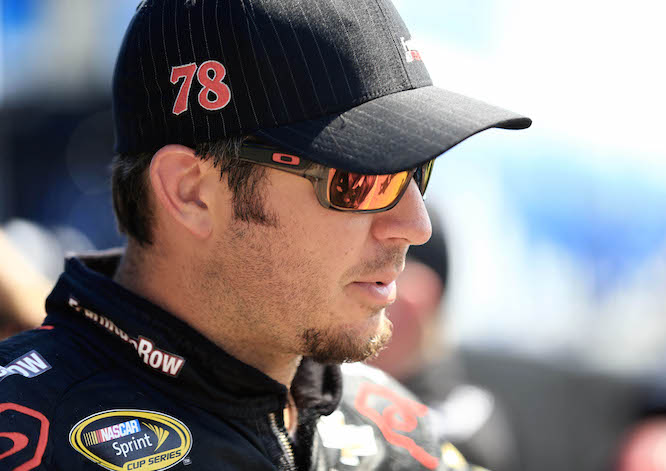 The Martin Truex Jr. narrative has evolved into one of the truly great sports stories of the year, and not just here in Denver where his Furniture Row Racing team calls home. Like many stirring sports yarns, adversity has played a part. In fact, Truex embodies the underdog role to the Nth degree. He'll have a chance to claim the NASCAR Sprint Cup Championship this Sunday at Homestead-Miami Speedway.
Back in 2013, Truex's former team, Michael Waltrip Racing, was found to have manipulated the results of a Chase race. As a result, Truex was bumped from the Chase, and dumped by the team.
Truex then joined Furniture Row Racing, the Denver-based operation far-removed from racing's Mecca in North Carolina. Now two years after the controversy, Truex has found his groove, with a win at Pocono and 8 top-5 finishes so far this season. But hardship has befallen Truex off the racetrack as well.
In August of last year, Truex's long-time girlfriend Sherry Pollex was diagnosed with Stage III ovarian cancer. She is currently undergoing a year of precautionary chemotherapy treatments. The most recent round of treatment came this past Monday. Both individuals have persisted.
Chemo Monday, well you know…hoping for Victory lane Sunday ?? #NeverGiveUp #TruexNation pic.twitter.com/UJaLmLzJYZ

— Sherry Pollex (@SherryPollex) November 16, 2015
In 2007, the couple founded the Martin Truex Jr. Foundation which supports initiatives for child cancer patients and families.
Thankfully, America is beginning to take notice, and rightfully so.
WE ARE GOING TO HOMESTEAD!!! #TruexNation #NASCAR

— Samantha Rae (@HurriKahne_5) November 16, 2015
WE ARE GOING TO HOMESTEAD!!! #TruexNation #NASCAR

— Samantha Rae (@HurriKahne_5) November 16, 2015
Very impressed with @MartinTruex_Jr's attitude about life. Racing is a huge part of his life, but it's not his whole life. Story coming soon

— tom jensen (@tomjensen100) November 19, 2015
Hansen notes that there is a "huge amount of respect" for the Furniture Row brand as well. Knowing winks from drivers and compliments from fans are just some of the examples of recognition that Hansen has witnessed.
Along with fellow drivers Jeff Gordon, Kevin Harvick and Kyle Busch, Truex made an appearance on The Tonight Show on Tuesday.
Look who we found… @jimmyfallon in a #FallonTonight fire suit! #TheChase #NASCAR https://t.co/qNAgky0GxX pic.twitter.com/pqRQ9oiASZ

— Furniture Row Racing (@FR78Racing) November 17, 2015
The limelight could not have shined on a more deserving individual. And yet, again, the odds are not in his favor.
Furniture Row Racing is a one-car outfit, compared to the four-car teams of the three other title eligible-drivers. Kurt Hansen, the host of Race Central, put it this way: "He's not just racing against three other cars. He's basically racing against 12 other drivers working in unison to push and protect their respective title-eligible driver."
Getting to the head of this pack would be like "passing The Queen Mary in a bathtub," Hansen said.
It's worth noting that the Goliaths that have sprouted in Truex's path so far have proven to be inadequate. Perhaps David can come out on top again at the Ford Ecoboost 400.
Not only do we need an underdog, but we need someone to remind us that there are more important things than crossing the finish line in first place come Sunday.
---
Calvin Jouard is an intern at Mile High Sports and a student at the University of Denver
---