SAN ANTONIO – From the outside looking in, it is easy to assume that Will Barton's confidence has fallen off a cliff, but in reality that could not be further from the truth.
"My confidence is not down so it does not really matter," Barton stated unflinchingly at shootaround on Thursday morning about eight hours before tipping off against the Spurs in Game 3. "As long as I have confidence in myself, that is all I care about."
Barton has never lacked bravado. His irrational confidence is part of who he is at his core and without it, he would have never risen from concrete courts in Baltimore to becoming the starting small forward for the second-seeded Denver Nuggets. Unfortunately, his statistics in his first two playoff games are not quite as large as the confidence Barton has in himself.
So far, Barton's production has been less than stellar in the first two playoff games with the Nuggets. He has only made seven of his 25 shots, just one of his 11 three-point heaves, and has even missed five of his eight free-throw attempts. He is averaging a very pedestrian nine points, 7.5 rebounds, and two assists. Overall, after just two playoff games, Barton is sporting an awful 90.9 offensive rating.
That is not to say that he is struggling in every facet. While his shooting numbers have been bad, Barton has also counteracted that issue with strong defense and he also has stayed away from making unnecessary mistakes. In his 58 minutes over the past two games, Barton has yet to commit a turnover.
Normally when players are struggling with their shot, a reconfiguration of their shot selection could be the remedy to what ails them, but with Barton, he does not feel his issues have much to do with where or when he is getting his shots.
"If it is open, shoot it. They know I want to get to the rim anyway. I want to get to the rim even when I am making jumpers. That does not really effect me," Barton said when asked if getting to the rim more could help him break out of his slump. "If you look at the last two games or last game, I was actually trying to get to the rim first so it is not like I am out there hunting jumpers. I am taking jumpers that are given to me. It is not like I am coming down and just jacking threes. I am wide open and I have to make those shots."
He is not wrong. Both Barton and the rest of the roster absolutely have to find a way to start consistently converting their open looks into points, but that does not mean that there is not more that Barton can do to help pull himself out of his slump.
Here is Barton's shot chart — which is admittedly ugly — throughout the first two games of the playoffs.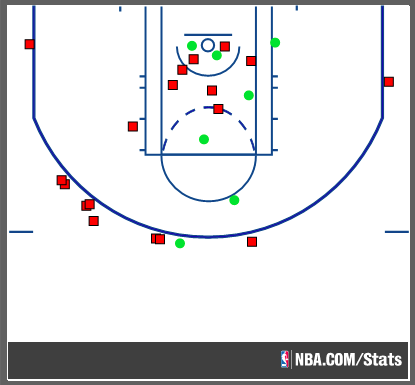 There is one big takeaway to be had here: Barton is getting into the paint, but not to the rim. A likely reason for this is the fact that the Spurs drop their bigs on defense to try and force inefficient mid-range jump shots. If Barton can find a way to fully get to the rim and start finishing with the creativity he has shown his entire career, it could help him break out of this slump that he is in.
Still, none of this really matters to Barton. All that he really cares about is winning.
That is the biggest reason for his carefree attitude at shootaround in San Antonio prior to Game 3. Winning is priority number one for him and, with Denver coming off of a big win at home, Barton was not stressed despite his own individual struggles.
"Like I said, I don't even overthink it," Barton explained. "I think people are doing too much thinking about it. I am fine and I am not tripping. Like I said, as long as we are winning. If we lose tonight and I have 40 (points) I am still going to be pissed off. So what is that doing for me? We won and that is all that matters. I just need to try to be better game in and game out.
"If we would have lost, it would have been different, but we won and now that gives me another opportunity to help my team. At the end of the day, all I care about is winning. I'll be fine."
Now, the Nuggets will look to overcome the Spurs on their own turf at the AT&T Center — an arena that Denver has lost 13-straight games in. If you ask Barton, the way Denver will finally end their long losing streak in San Antonio is if the Nuggets stick together.
"You just have to band together anytime you are on the road," Barton explained. "Crowd is going to be against you and they are a good home team so you have to be more close on the road as a unit and as a team."
The Nuggets take on the Spurs in San Antonio at 7pm MDT for Game 3 of the first round of the Western Conference finals with the series tied 1-1.