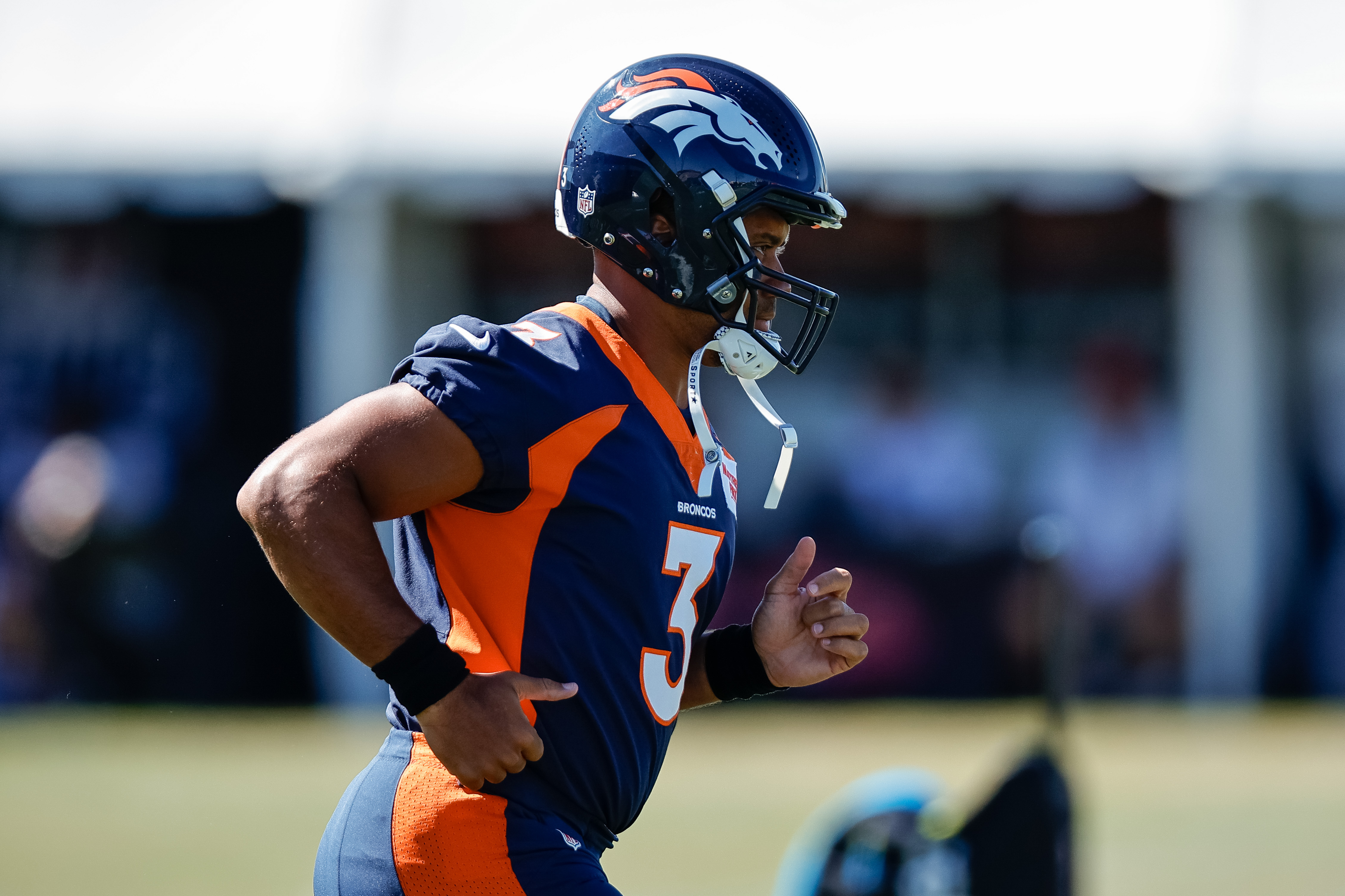 The Denver Broncos open up the NFL preseason with a matchup against the Dallas Cowboys on Saturday.
Will Russell Wilson or any of the Broncos starters play?
Denver Broncos preseason preview vs. Cowboys
The Broncos will host the Cowboys on Thursday at the UCHealth Training Center for a joint practice.
Everybody in Broncos Country wants to know whether or not the starters will see any action in Saturday's opener.
According to Broncos head coach Nathaniel Hackett following Wednesday's practice, they are still working to determine whether or not they'll give the starters some run.
"We're slowly working through it," Hackett said. "I want to be sure we get a good practice tomorrow."
Depending on how Thursday's joint practice with the Cowboys goes, Hackett and his staff will have a better idea of the direction they'll head regarding playtime on Saturday.
Some NFL teams who have various ongoing position battles with starting spots on the line will sometimes play starters to help determine a clear winner.
Hackett believes in having an open mind ahead of his team's first preseason action.
"I think every person is different," Hackett said on Wednesday following practice. "Some guys want to go in there, get a couple hits and then they want to get out. Other people have that philosophy (wanting to play multiple series) also. We're going to treat everyone a little bit different and see what works best for us. In the end, all I care about is the season. Preseason is a great time to evaluate the other people and see who can help us throughout this season. I'm excited for them. When it comes to some of those guys that we know we're going to depend on, we're going to be sure to do what's right for them."
Will Broncos Country get to see Russell Wilson?
This preseason, the Broncos no longer have to deal with a quarterback competition.
For Russell Wilson, the Broncos don't necessarily face any pressure to play him because he is the solidified starter.
Despite Wilson being the Broncos guy under center, does he have to play in the preseason?
"No. I don't think so," Broncos head coach Nathaniel Hackett said during Wednesday's press conference. "A guy of his caliber that's been doing it this long—I don't think it's as important. You always have to look at it as risk reward. Of course, you want to go out there and play football all the time. I think that's why we practice. When you get out there—I've had a lot of different experiences throughout my career. The No. 1 most important thing is getting the guys healthy going into the season. That's all that matters."
While Broncos fans would love to see Wilson play his first action at home in orange and blue, is the risk of playing in a meaningless preseason game worth the excitement that fans will get to experience when games matter in the regular season?
For Broncos safety Justin Simmons, he believes that there is a lot to gain from live action in comparison to practice itself from a football standpoint.
"Yeah. I think there's always—you can always gain a lot from really doing anything," Simmons said after practice on Wednesday. "When you're playing in a preseason game, the biggest thing is live action. Obviously with the practices we have here, we're trying to take care of each other, so a lot of it is just thud, and making sure you're in really good position. There's a lot of assuming you'd make the tackle, assuming you can get a guy down, assuming you'd be able to break up the ball without actually diving or things like that. During a live action game, there is no assuming. It's live action with those tackles on the sidelines instead of just running out of bounds and assuming you'd get the tackle."
It's possible that the team make a final decision today regarding whether or not starters will play on Saturday.
The Denver Broncos are off on Friday from practice and will open up the preseason on Saturday at 7:00 PM against the Dallas Cowboys at Empower Field at Mile High.