Today marks 48 days until the beginning of the 2022-23 NBA season. In preparation for the most anticipated year in Denver Nuggets franchise history, Ryan Blackburn is asking and answering 20 burning questions facing the Nuggets prior to Media Day on Monday, September 26th. One question each weekday for the next four weeks.
Question 3: When will Jamal Murray get back to his old self?
Jamal Murray is itching to return to the basketball court.
Over the summer, clips have leaked out of both Murray and Michael Porter Jr. playing 5-on-5 at a high level. Though they don't replace live game action in a Denver Nuggets uniform, fans were excited to see the two young stars back in action.
For Porter, the return to the court is fairly straightforward. He has been in this situation before recovering from a long term back injury. He knew exactly what it would take for him to get back out there, and it appears that the process (after a small setback in March) has gone fairly smoothly.
For Murray, this long term injury recovery has been entirely new territory. Murray tore the ACL in his left knee back in April 2021, having surgery a few days later. There was hope that Murray would be able to return by the end of the 2021-22 season in time to help the Nuggets in a playoff run. Things didn't turn out that way, and as a result, Murray's first NBA game action will be over 17 months after surgery when Denver plays its first preseason game at home on October 3rd.
By then, the Nuggets hope Murray will not only have fully recovered from the injury, but also kicked off some inevitable rust during the process.
Yes, Jamal Murray looks good in this extended run. Doesn't look like there's any hesitancy, on offense any way. But, to me, the best part of this video is :12 seconds into it.

"Look, I'm not playing nine randos. This guy can dunk!" pic.twitter.com/NOv2xjrVWr

— Mike Singer (@msinger) August 17, 2022
The Nuggets have missed Murray badly during these last two playoff runs. Though the offense has mostly been strong with Nikola Jokić carrying the load, there are certain layers to Denver's attack that the Nuggets have needed desperately. First and foremost is Murray's ability to create shots off the dribble. During the 2020-21 season, Murray attempted 451 pull up jumpers off the dribble, maintaining a 49.6 eFG%. That ranked 11th out 26 players to attempt such shots and right between Donovan Mitchell and Devin Booker. These shots, while aided in part by Jokić's gravity and passing to help create extra space, weren't easy shots by any stretch. They were star caliber shots, similar to the ones Murray made in the bubble back in 2020.
Combined with a quick trigger on the perimeter, Murray was exceptionally comfortable navigating pick and roll in difficult situations. His chemistry with Jokić is undeniable, and while nobody questions Jokić's part in that two-man game, the Nuggets have struggled to replicate pick and rolls and handoffs at Murray's level of effectiveness. He bailed the Nuggets out often, even while the MVP did his thing.
Having multiple players on the court with a high comfort level attacking a defense is really important for any team. Murray at his best represented a peer to Jokić in that department, not just a sidekick. While Jokić helps the Nuggets run, Murray helps them fly. At his best, the Nuggets cannot be stopped with their two-pronged offensive attack, mixing in the best traits of Jokić ball to keep everyone else involved too.
But when will Murray be back to that level? Will he ever get back to that level this season?
A study conducted by the Stanford Medicine looked at a variety of players to tear their ACL to determine various return-to-play and return-to-performance conclusions. In the study, the following conclusion was drawn:
The researchers developed another algorithm to match each ACL-injured player with two other NBA players of similar age and playing styles who had not torn their ACLs. The performance levels of the healthy controls were then compared with those of the injured players upon their return to the court.

"The healthy controls provided an estimate of what the injured player's career may have been like had they not been injured," Thomas said. "We found that when you use these control players, and account for the effects of aging, injured players didn't have any worse career outcomes. They play as well as you'd expect if they didn't have an injury."

–  Kevin Thomas, MD-PhD biomedical informatics student, Stanford Medicine, 2019
Some of the players in recent history to sustain an ACL tear have gone on to be just as productive and effective in future seasons. There are some that do not, or they sustain additional injuries that hinder their progress. In recent history though, players returning from the injury still find ways to be impactful.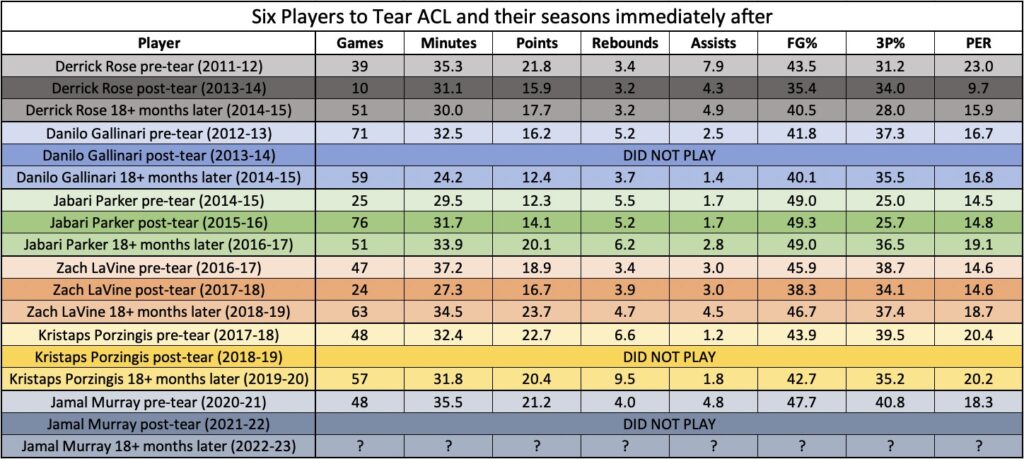 While Derrick Rose never ended up returning to MVP candidate form, players like Danilo Gallinari, Zach LaVine, and Kristaps Porzingis have gone on to be exceptionally productive players. All three of those players were sidelined for the entire following season before seemingly returning stronger than before. Though Gallo struggled in his first year back (perhaps in part due to questionable knee treatment at the time), his next five seasons after 2014-15 saw him match or exceed career highs in every category. LaVine returned with a vengeance and has blossomed into an All-Star in each of his last two seasons. Porzingis, while seen as a bit of a disappointment, has remained productive for the last three seasons since returning, maintaining his previous effectiveness.
Rose and Jabari Parker have dealt with knee injuries for majority of their careers. They are the other side of the coin when it comes to ACL rehab. Rose tore his meniscus immediately after tearing the ACL, while Parker tore the ACL in the opposite knee. Both players also came back during the season following their primary injuries,
Because the Nuggets took an abundance of caution in Murray's recovery window, the extra time has afforded Murray the time to strengthen the knee as much as possible. There's no reason why Murray can't get back to the level of performance he had prior to the tear.
When Murray gets back to that level is the larger question.
Head coach Michael Malone has already stated that the Nuggets will be cautious with Murray at the beginning of the season, limiting him on back-to-backs in order to manage his injury recovery. The Nuggets only face three back-to-backs in October, November, and December though. Expecting Murray to be in top form immediately probably isn't reasonable, but not expecting it at all seems like the wrong call too.
Here's how Gallinari, LaVine, and Porzingis performed throughout their first seasons back, based on a rolling game score average (via Basketball Reference).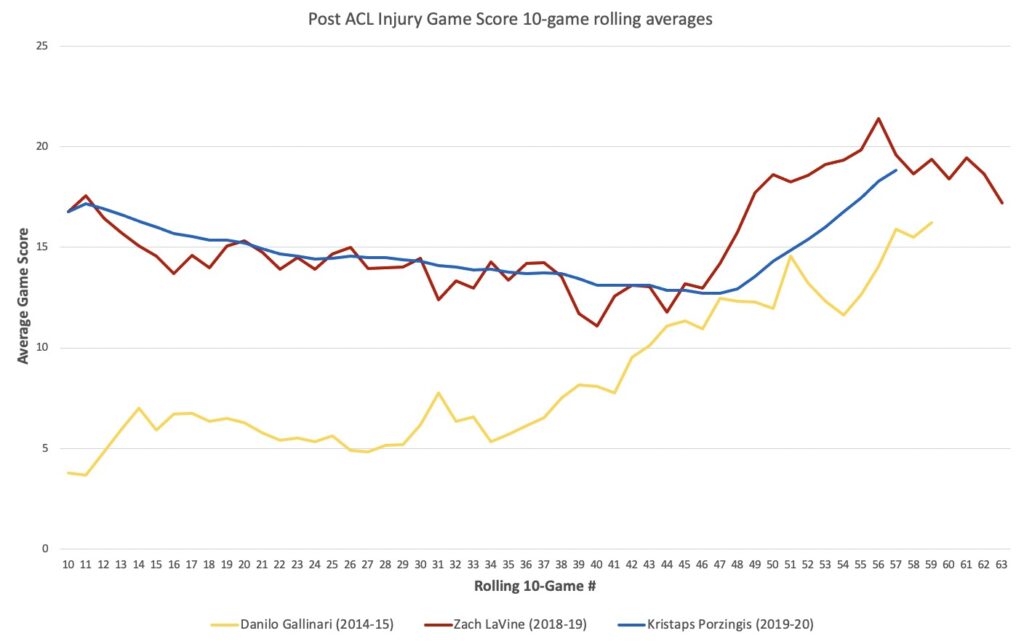 Gallinari started in a difficult place during the 2014-15 season, but by the end of it, he was performing at a borderline All-Star caliber level. LaVine and Porzingis both started their seasons strongly, saw some regression during the middle of the season, and then improved tremendously during the second halves of their seasons as well. Both performed at All-Star caliber level (albeit briefly) and showcased the talent many believed them to have.
What does this mean for Murray's play? We will just have to wait and see. Every player is different, and every injury is different, including a player's experience during the rehab process. Perhaps Murray plays like he was shot out of a cannon at the beginning of the year like LaVine and Porzingis. Perhaps Murray starts slow like Gallinari and the improvement process takes some time. Each of the above three finished the season better than where they started though, which should give Nuggets fans some cause for patience if Murray isn't playing at an All-Star level immediately.
More than likely, fans will see reduced minutes from Murray early on, and most of the games will reflect that in his per game numbers. There will be some flashbulb moments where he goes off for a big game or takes over a half against a good team. The majority of the games early in the year will likely set the foundation for his conditioning and comfort level before he takes off in January.
On the year, I expect Murray's production and impact to sit somewhere between his regular season numbers in 2019-20 and 2020-21. The assists and rebounds will mostly remain unchanged. Points is difficult to gauge, but in 2019-20 he averaged 18.5 per game. In 2020-21 he averaged 21.2 per game. By extension, around 20 points, 5 assists, and 4 rebounds per game on the season feels fairly realistic, with a slight drop in shooting efficiency.
The good news for Nuggets fans, Murray should be peaking in the second half of the year. Keeping him fresh for the playoffs will be a large priority for the team, but once January hits, it will be difficult to take Murray off the floor when he's looking like his old self again. Perhaps better.
And when the playoffs roll around will be when Murray is at his most comfortable. A full two years after the injury. It won't be a distant memory, but for Murray and the Nuggets, it will be cathartic to perform well at the highest levels once again.
I, for one, am looking forward to the show.