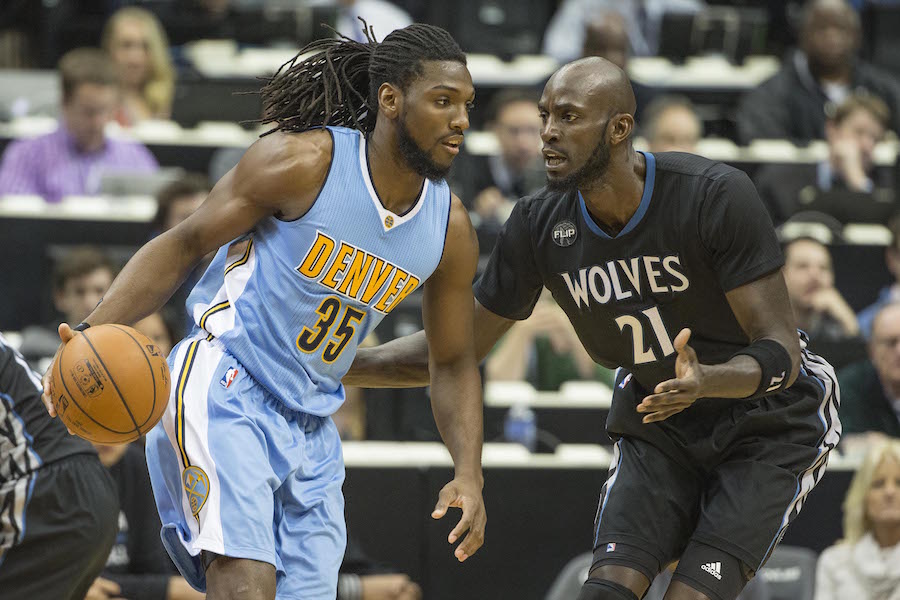 We interrupt your regularly scheduled Super Bowl hype for this special bulletin: Your local NBA team is in need of immediate reinforcements. How to acquire them is an issue.
After Thursday night's 117-113 road win over the Washington Wizards, the Denver Nuggets sit at 18-29 on the season, still stuck in the same rut they've been in for two and a half years now. A meaningful spot (No. 6 or better) in the Western Conference playoffs is a fantasy at this point, something that appears to be a long way off in the distant future. (Let's be honest: This would be a very bad year to sneak into the playoffs as a seventh or eighth seed anyway. You miss out on a lottery draft pick for the privilege of getting killed and buried by Golden State or San Antonio.)
The Nuggets aren't remotely close to being the team they were when they fired Hall of Fame-to-be Coach George Karl back in early June of 2013, right on the heels of having lost the NBA's Executive of the Year, general manager Masai Ujiri to Toronto. Yes, it was frustrating losing in the first round of the playoffs under the Karl/Ujiri regime, however… well, you know.
You can applaud and criticize the moves made by Ujiri, but what you can't accuse him of was simply standing pat. Ujiri made big moves, like trading Carmelo Anthony and Chauncey Billups to New York for the better half of the Knicks roster. He also convinced Dream Teamer Andre Iguodala to come to Denver even if he didn't secure him long-term (which ended up being a big mistake). More often than not, Ujiri's moves paid off. He wasn't honored by his peers for sitting on his wallet.
So now, two and a half years later, current Nuggets GM Tim Connelly is in a quandary. He has a young nucleus with promise. Youngsters Nikola Jokic and Emmanuel Mudiay – both of whom were selected to play in the NBA Rising Stars game on All-Star Weekend – along with Gary Harris and perhaps Jusuf Nurkic and Joffrey Lauvergne provide some hope for the future. They can be effective pieces on a playoff team. But it will be some time – if ever – before any of those five are being talked about as potential participants in the real All-Star game. And until Denver has an actual All-Star (or two) on the roster, they won't be a serious playoff contender.
So does Connelly simply stand pat, filling needs with low-cost spare parts again during the coming offseason, and hoping that the next lottery – and the one after that – will yield a future superstar? Should he be counting on ping pong balls to lead his team to the promised land?
Or does he do what Ujiri did and make a big move of some sort? Not just unloading Ty Lawson or picking up Mike Miller, but a big move. Like possibly trading former Dream Teamer Kenneth Faried or cornerstone Danilo Gallinari? What about throwing in one of the three young bigs? Does he chase a player like Kevin Love, who could very well be traded by Cleveland? What about former MVP Derrick Rose, supposedly on the outs in Chicago? What about a guy like Markieff Morris from Phoenix? Does he aim smaller, and go after a Nick Young from the Lakers or David Lee from Boston? Are those guys a serious upgrade?
Would Connelly be willing to part with this summer's TBD draft pick if it meant adding a player that has first-round talent and more experience?
The NBA trade deadline is Feb. 18.
And what about next summer's free agent market? Now that he's in charge of the checkbook, would Josh Kroenke allow Connelly to chase someone like Harrison Barnes, Hassan Whiteside or Nicolas Batum? What about Joakim Noah? Would he make even a token overture to Kevin Durant?
The Nuggets won't be relevant in the Western Conference until they do something bold. Counting on another lottery pick to provide that player hasn't worked far more often than it has. We know Nuggets management is reluctant to dip heavily into the marquee free agent market, and equally reluctant to part with any young prospects. (Sounds very much like the Colorado Rockies, doesn't it?) But they have to do something. Standing pat and making hopeful promises about the bright future isn't selling tickets.
We now return you to your regularly scheduled Super Bowl coverage.
Hear Mark Knudson and Michael Klahr every Saturday morning 8a- 10a on Mile High Sports AM 1340