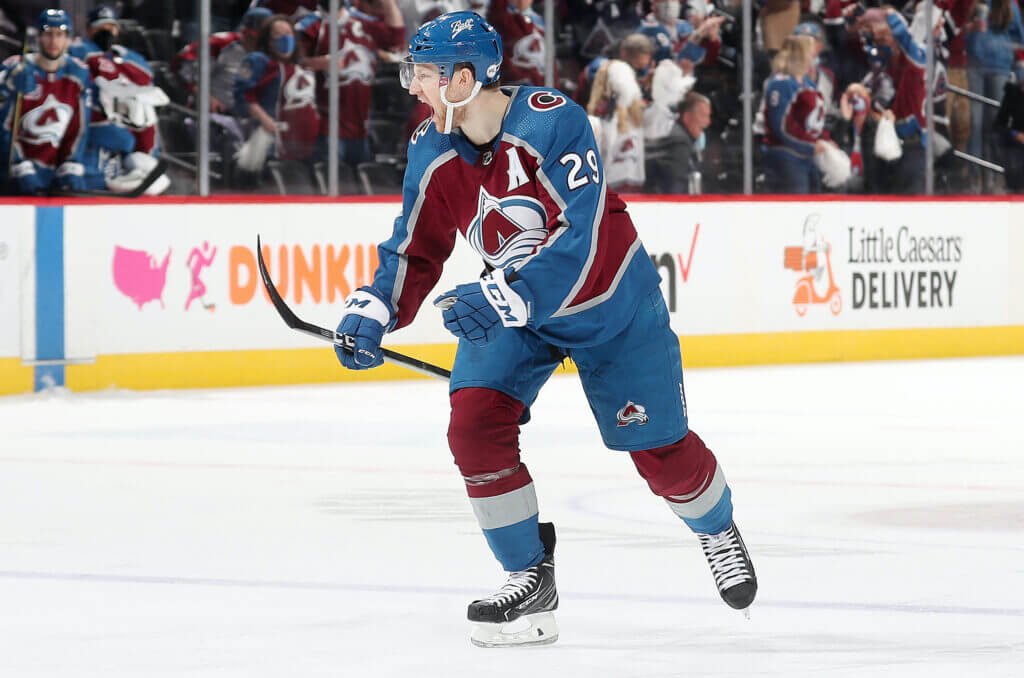 Remember the overhyped Auston Matthews vs Connor McDavid matchup? Or the thought of one more Sidney Crosby vs Alex Ovechkin series?
Those dream scenarios could take it to the golf course as all four have been knocked out of the first round. If you're wondering who the real face of the NHL is, then look no further than the guy centering the top line in Colorado.
Step aside Crosby, Ovechkin, Matthews and McDavid. Take a back seat with Roman Reigns because the real 'face that runs this place' is Avalanche superstar Nathan MacKinnon.
A wrestling reference was only fitting. Because like WWE superstars, MacKinnon has saved his best showing for the main event. The regular season is the equivalent of an opening match. Save that meager spotlight for McDavid and Matthews.
The Stanley Cup playoffs? That's where the real stars shine. And for the third consecutive year, MacKinnon has proven that he succeeds in the spotlight. He doesn't toil under pressure and he's the real face of this generation's NHL superstars.
Listen to "Grubi Steals Game 2" on Spreaker.
MacKinnon's eight goals and 12 points in five games have turned heads in the Avalanche's dominating 5-0 start to the playoffs. But this isn't the first time he's excelled in the postseason. In his rookie season in 2014, an 18-year-old much smaller and more nimble MacKinnon had three goals and 10 points in seven playoff games. Last year he had 25 points in 15 games — all of which came during a 14-game point streak to open the postseason.
He ranks among the best in nearly every category. His 1.47 points per game in the playoffs is first among active players and third behind only legends Wayne Gretzky and Mario Lemieux in NHL history (minimum 35 games). Certainly not bad company.
Meanwhile, Matthews and McDavid had a combined nine points in 11 games in this year's playoffs. Their two goals are equal to what MacKinnon had in Sunday's Game 1 against the defensively sound Vegas Golden Knights.
"It's a hunger to win, it's competitiveness," Avs coach Jared Bednar said of MacKinnon. "When you put those together, the work ethic, the competitiveness, the skill and the desire to win — especially in elite players like that — it's special."
Crosby had his decade of brilliance in the NHL. But the now 33-year-old, who made a name for himself under the moniker 'Sid the Kid,' has now suffered three consecutive first-round defeats.
MacKinnon has spent the last number of years training with Crosby with hopes of one day achieving what Crosby has done during his storied career. He is the first to accomplish the feat of 12 points in five games since Crosby in 2010. Crosby ended that year with just 19 points and his career-high 31 came in his Stanley Cup-winning 2009 season.
The only thing that would keep MacKinnon from reaching 31 points in a Cup-winning season is if the Avalanche cruise through each opponent. And even then, it's still attainable given the pace at which MacKinnon produces.
"Being Nate's wingman… it's definitely one of the best jobs in hockey," said Avs captain Gabe Landeskog, who has 11 points in five games playing alongside MacKinnon.
Crosby and Ovechkin are on the back end of their careers. Jonathan Toews, Patrick Kane, Patrice Bergeron and the rest of the best from the 2010s are also winding down.
Let Matthews score at a 60-plus goal clip in the regular season. We can all watch with amusement as McDavid unleashes his best before the playoffs — putting up numbers we haven't seen since Lemieux in his prime. But that's where their stardom ends. And where MacKinnon's begins.
Because in the playoffs they all take a back seat to the best player on the planet.
Will the real face of the NHL please stand up?
MacKinnon stands. The rest sit and watch.
___
Aarif Deen is our Colorado Avalanche beat reporter. He covers Avs games live from Ball Arena and attends practices, media availabilities and other events pertaining to the Avs on the daily beat. He is also a co-host of Hockey Mountain High: Your go-to Avalanche podcast. Deen joined Mile High Sports upon completion of his bachelor's degree in journalism and master's in business administration from the University of Michigan – Dearborn. Before Mile High Sports, Deen worked for the Michigan Wolverines Athletics Department as the assistant sports information director.
Follow him on Twitter @runwriteAarif