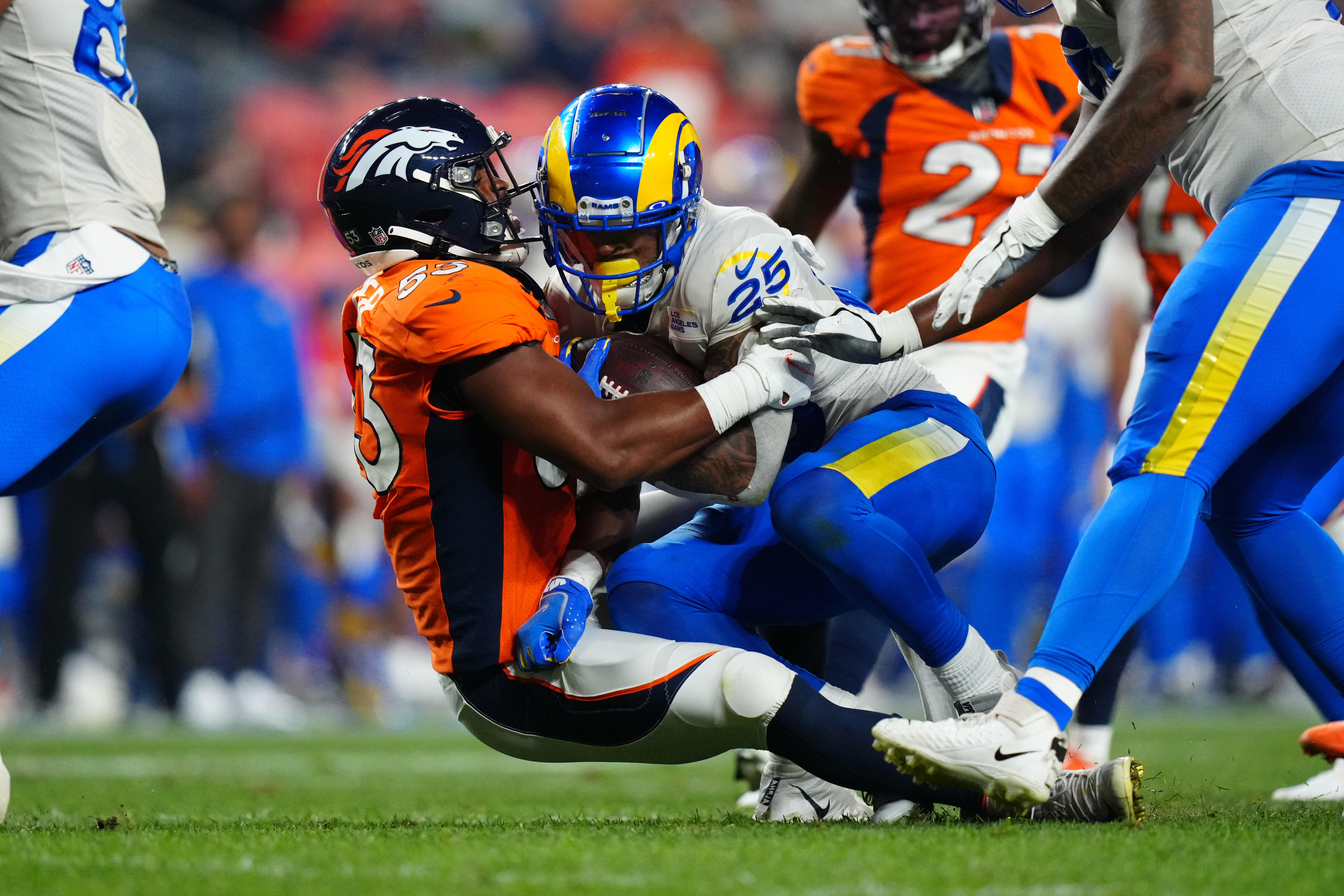 The Denver Broncos ended their preseason undefeated after beating the Los Angeles Rams 17-12 on Saturday night.
Now, the front office's attention turns to finalizing the 53 man roster for the 2021 season and will have to cut 27 players by 2 p.m. MDT on August 31st.
With that in mind, here's a prediction for the fate of six on-the-bubble players.
TE Eric Saubert
One of the biggest shocks of training camp has been the emergence of Eric Saubert. After the Jacksonville Jaguars let him walk, the Broncos signed him in May as a replacement for former tight end Jake Butt.
In last night's game, Saubert made an impressive catch down the middle and took it for a 20-yard gain, eventually leading to a Broncos touchdown.
Saubert will safely make the final roster as Denver's No. 3 tight end, ahead of Andrew Beck. While Noah Fant and Albert Okwuegbunam will be the dominant attacking tight ends, Saubert will be used primarily as a blocker and play a significant part on special teams.
However, it'll be unsurprising if Saubert ends up putting up a solid stat line, considering the pass-catching ability he flashed throughout the exhibition period.
Prediction: Will make it
WR Tyrie Cleveland
Few Broncos players' stock has fallen sharper in training camp than that of Tyrie Cleveland.
Cleveland was a decent returner for the Broncos in 2020, and flashed as a receiving threat, but hasn't shown anything worthwhile in 2021.  
With the Broncos wide receivers unit being so strong, Cleveland really needed to shine on special teams. Unfortunately for him, both Diontae Spencer and Trinity Benson have been far more impressive as returners.
Although the call was reversed, Cleveland did himself no favors when he fumbled the ball during a crucial drive against the Rams.
He won't make the final roster, but the Broncos will likely sign him to their practice squad for special teams' depth. 
Prediction: Won't make it
OLB Jonathon Cooper 
Jonathon Cooper has proven himself to be the steal of the draft. Taken in the seventh round, he has outplayed all expectations.
Cooper made a name for himself in week two against the Seahawks. He finished the game with two sacks, a pass breakup, two tackles, and a forced fumble. At this time, he has Pro Football Focus' top grade among all rookie defenders at 91.6. Against the Rams, Cooper had limited playing time which is an excellent sign that the Broncos view him as a long-term option.
Two days before the 2021 NFL draft, Cooper was informed that there was an irregularity in his electrocardiogram test. He had to have three separate heart procedures in the offseason to correct the irregular heartbeat. Cooper making the final roster is a true underdog story.
Prediction: Will make it
T Cam Fleming
Before training camp, most would have considered Cam Fleming to be a lock for the final roster. However, a poor training camp and preseason performance have changed that narrative.  
Fleming was signed after Ja'Wuan James went down with a season-ending torn Achilles. He and Bobby Massie were going to compete for the starting right tackle job. However, Calvin Anderson quickly passed him on the depth chart.  
Fleming put the final nail in his coffin when he got beat off the right edge and missed a block that resulted in a strip-sack on Drew Lock. Even though the Broncos will lose $1 million in dead money to release Fleming, it's not worth losing the roster spot.
Prediction: Won't make it
WR Trinity Benson 
Spencer came into training camp as the favorite to win the punt-returner job. However, Benson has emerged as a much more robust option.  
Against the Rams, Benson was on the field for both punt and kickoff returns. Arguably, the Broncos' weakest unit is their Special Teams. Benson has proven himself to be a versatile and reliable weapon, something that's desperately needed. He also made two clutch catches that lead to a Broncos touchdown, which ultimately decided the game.  
Benson ended the preseason with two touchdowns and 80 receiving yards. His performance level has continued to improve week to week, and he's quickly become a fan favorite. It'll be a shock if Benson doesn't make the final 53-man roster.
Prediction: Will make it
OLB Derrek Tuszka
Derrek Tuszka is in the unfortunate circumstance of the Broncos having too many strong options at outside linebacker. Von Miller, Bradley Chubb, and Malik Reed were always going to be roster guarantees. With Cooper exploding the way he has, there just isn't any room for Tuszka.
In the three preseason games, Tuszka showed that he's a capable OLB with six tackles. When Tuszka is inevitably cut, he shouldn't be without a team for long. There are plenty of other NFL teams in desperate need of depth at outside linebacker. Expect him to get signed quickly.
Prediction: Won't make it