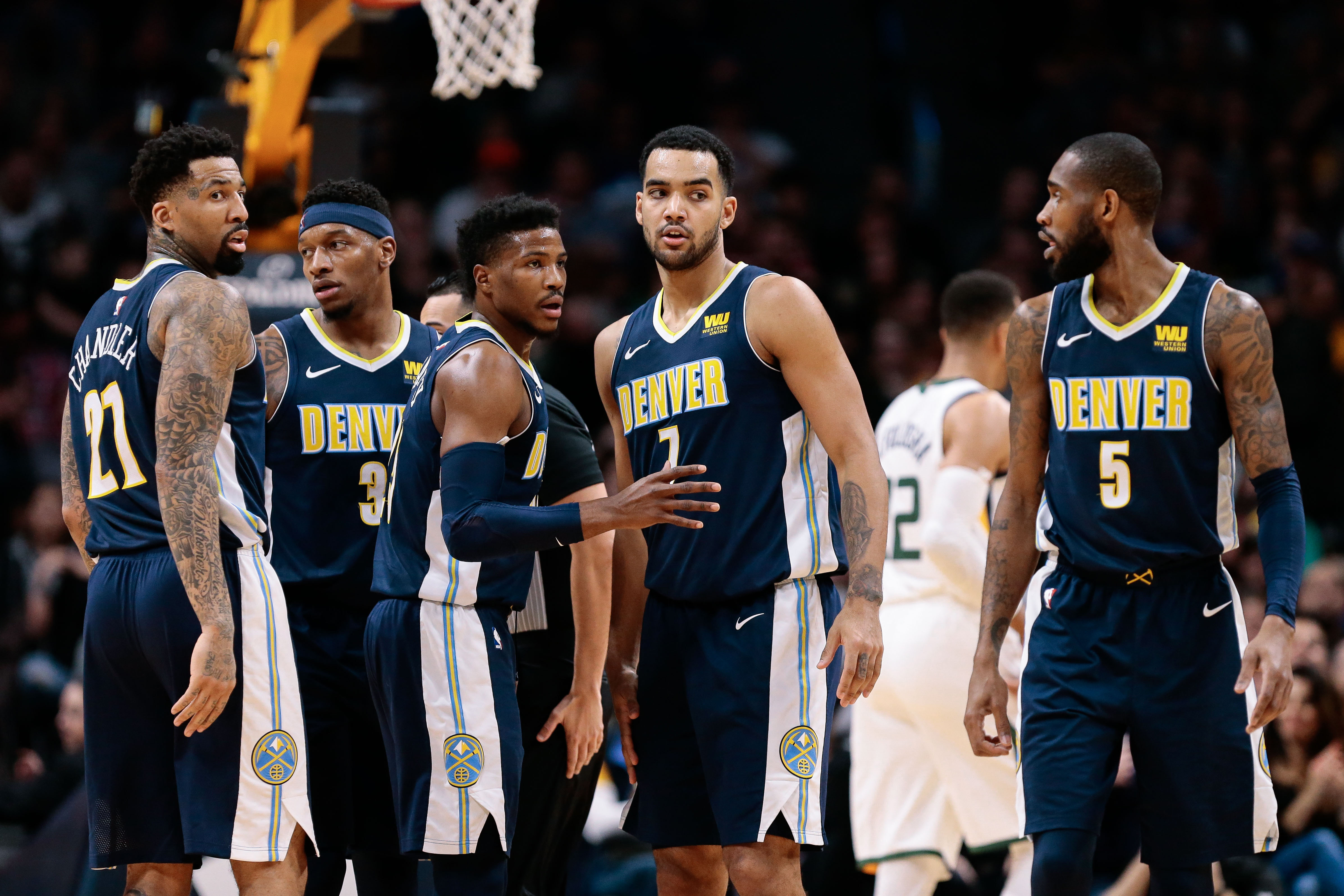 When the Denver Nuggets elected to trade Wilson Chandler — the longest tenured Nuggets player that was involved in the Carmelo Anthony fiasco — to the Philadelphia 76ers, the reverberations throughout the Nuggets organization were seismic.
Suddenly, there are a plethora of new opportunities for the younger players on the roster, a new wide-open starting role, and lots of savings financially. Chandler being traded expanded the options that the Nuggets have to work with for the rest of their offseason in relation to free agency and the construction of their roster.
Before we get into how drastically this trade changes things, the trade itself should be analyzed.
Nuggets send Wilson Chanlder, 2021 second-round pick, and second-round pick swap rights in 2022 to Philadelphia for cash considerations.
Grade: B+
The trade, as it stands, accomplished pretty much every goal that both the Nuggets and 76ers had established.
Denver wanted to clear salary off of their books without giving up a first-round pick. Check.
Philadelphia wanted to find a versatile wing that would not hurt their future financial flexibility for future years. Check.
Chandler wanted out of Denver and to play for a contender. Check.
It is hard to find holes in this trade. The only reason that the deal does not get an A is because Chandler may have been able to be traded for future assets if dealt at the trade deadline last year or prior to the 2016-17 season. Regardless, Denver only had to give up a single second-round pick to move off of his salary, which is a win.
Even though Denver did not get back a future asset, it makes sense as to why.
There was little to no leverage on the Nuggets' side of things. They needed to clear salary and it has been known throughout the league that the Nuggets had been looking to move off of Chandler's contract for the better part of two years. Finally, Chandler and the Nuggets have gone their separate ways, and it seems that it was the best for both parties involved.
Financial savings
The entire point of trading Chandler was to lower the Nuggets' tax bill and that is exactly what they accomplished. Sending Chandler to Philadelphia saved Denver $50.5 million and they even received an undisclosed amount of cash in return.
With Chandler on the books — when adding in Will Barton and Nikola Jokic's new contracts — the Nuggets were a whopping $22.1 million-and-change over the luxury tax line with $145.7 million worth of salary committed for the 2018-19 season. That amount of salary equates to a massive $52.7 million tax bill when taking into account the progressing scale of the luxury tax. If that scenario would have played out through the upcoming 2018-19 season, Josh Kroenke would have to pay an obscene $198.5 million to field the Nuggets roster for just one season.
Trading Chandler changed all of that. By removing his $12.8 million in salary, Denver falls to just $9.3 million over the tax; not $22.1 million, which saved the Nuggets just over $50 million. I know that math seems to not make any sense, but stick with me here.
Because the NBA luxury tax works in $5 million increments, the further into the tax that a team is, the more tax they pay. When Denver was $22.1 million into the tax with Chandler on the books, this is how the luxury tax breakdown looks (hint, it is not pretty).
With Wilson Chandler's contract

Now, with Chandler on his way out of Denver and off to Philadelphia, the Nuggets tax bill is just $9.3 million after shedding $12.8 million from their payroll. Being under the $10 million mark means Denver does not have to pay such an extreme luxury tax, as shown below:
Without Wilson Chandler's contract

The difference between the luxury tax payment with and without Chandler's contract on the books is $37.8 million, and when you also account for the shedding of Chandler's $12.8 million contract, that is a total of $50,564,955 in savings from just trading Chandler's salary.
The Kroenke family has to be very happy with the savings they will see after just one move.
Will Barton to slide into starting role
One of the big selling points when convincing Will Barton to re-sign in Denver was that he would be given a starting spot. Trading Chandler did exactly that.
Now, Denver can go into the rest of the offseason knowing exactly who their starting five will be. Jamal Murray and Gary Harris will make up the back court while Paul Millsap and Nikola Jokic fill out the front court with Barton solidifying the starting five as the small forward.
Being nervous about the defensive capabilities of a team with Barton at small forward is valid, but the numbers that the five-man pairng of Barton with the starters actually defended incredibly well. Albeit, they only played together for 65 minutes last year because Paul Millsap was hurt for the majority of the season, but in those 65 minutes, Denver had an defensive rating of 92 while their offensive rating was a blistering 124.7. That gives the Nuggets lineup of Murray, Harris, Barton, Millsap, and Jokic an absurd +32.7 net rating together in 13 games played.
65 minutes is a minuscule sample size. For perspective, the Nuggets most used five-man pairing played 345 minutes together last season. Even with that being said, there is a lot that Barton brings to the table with the starters that could really help the Nuggets as a whole.
First off, Barton is a significantly more impactful offensive player than Chandler currently is. He can get to the rim seemingly at will, was a 37 percent three-point shooter last year on 5.2 attempts per game, was able to act as a point guard when needed, and was one of just 18 players in the entire NBA to average more than 15 points, five rebounds, four assists, and one steal per game last season. Among those 18 players, Barton was tied for least amount of turnovers per game and only four of the 18 players have yet to be named an All-Star. Those four are Ben Simmons, Kris Middleton, Tyreke Evans, and Barton.
Simply, whatever the Nuggets need from Barton on offense, he can provide. Denver was in trouble of taking a big step backwards without Barton, and now with the Chandler trade complete, the script has flipped as Barton went from almost being signed by the Indiana Pacers to suddenly being slotted in as the Nuggets starting small forward.
New opportunities for younger players
Shipping out Chandler without bringing back any players from Philadelphia was a large step towards consolidating the roster and figuring out which young players deserve a future contract. The likes of Malik Beasley and Juancho Hernangomez are both in line to be extended by the end of the 2018-19 season, but neither has been able to prove themselves much in an NBA-game setting.
Now that Chandler has been traded to the 76ers and Barton has stepped into the starting small forward role, both Hernangomez and Beasley are expected to get a boost in playing time as long as the Nuggets do not make an additional and unexpected splash in free agency or on the trade market. That means there will be holes to be filled on the Nuggets' bench unit; specifically the backup shooting guard and small forward slot.
Hernangomez — who had a solid rookie year, but a bout of mononucleosis stalled and essentially eliminated his sophomore campaign — has shown that he has an enticing skill set that fits the backup small forward spot well, but Hernangomez has to prove that he can keep up with quicker wings players when defending on the perimeter while also knocking down three-pointers at a consistent rate. If he cannot do one of those, his value becomes much lower. This is the year that the Nuggets may really need Hernangomez. He has a chance to prove himself. All that is left is going out and playing.
Beasley is in a similar situation, but he is even more unproven than Hernangomez. Beasley has not been able to find his niche in Denver and has instead become a garbage-time killer late in games that are out of reach. In the 2018-19, that role is likely to take a big step forward. Now that Barton is sliding into the starting small forward spot and Devin Harris is unlikely to return to Denver, Beasley is essentially the only backup shooting guard on the roster. He will have to be involved in Michael Malone's rotation in some way because a three-guard rotation of Murray, Harris, and Monte Morris just isn't enough. Beasley's energy, athleticism, and potential as a three-point threat make him a viable bench replacement for Barton, but like Hernangomez, Beasley needs to prove he can consistently defend while also knocking down shots.
After two years with Denver for both Beasley and Hernangomez, it is time for them to step up and produce for the Nuggets, or potentially fall out of Denver's rotation entirely. With the Nuggets financial situation looking tighter and tighter down the line, who the Nuggets pay is going to be a big topic of discussion. The 2018-19 season will be an audition of sorts for both Hernangomez and Beasley to show that they are without a doubt NBA-caliber players and that they are worth the Nuggets investing time and money into.