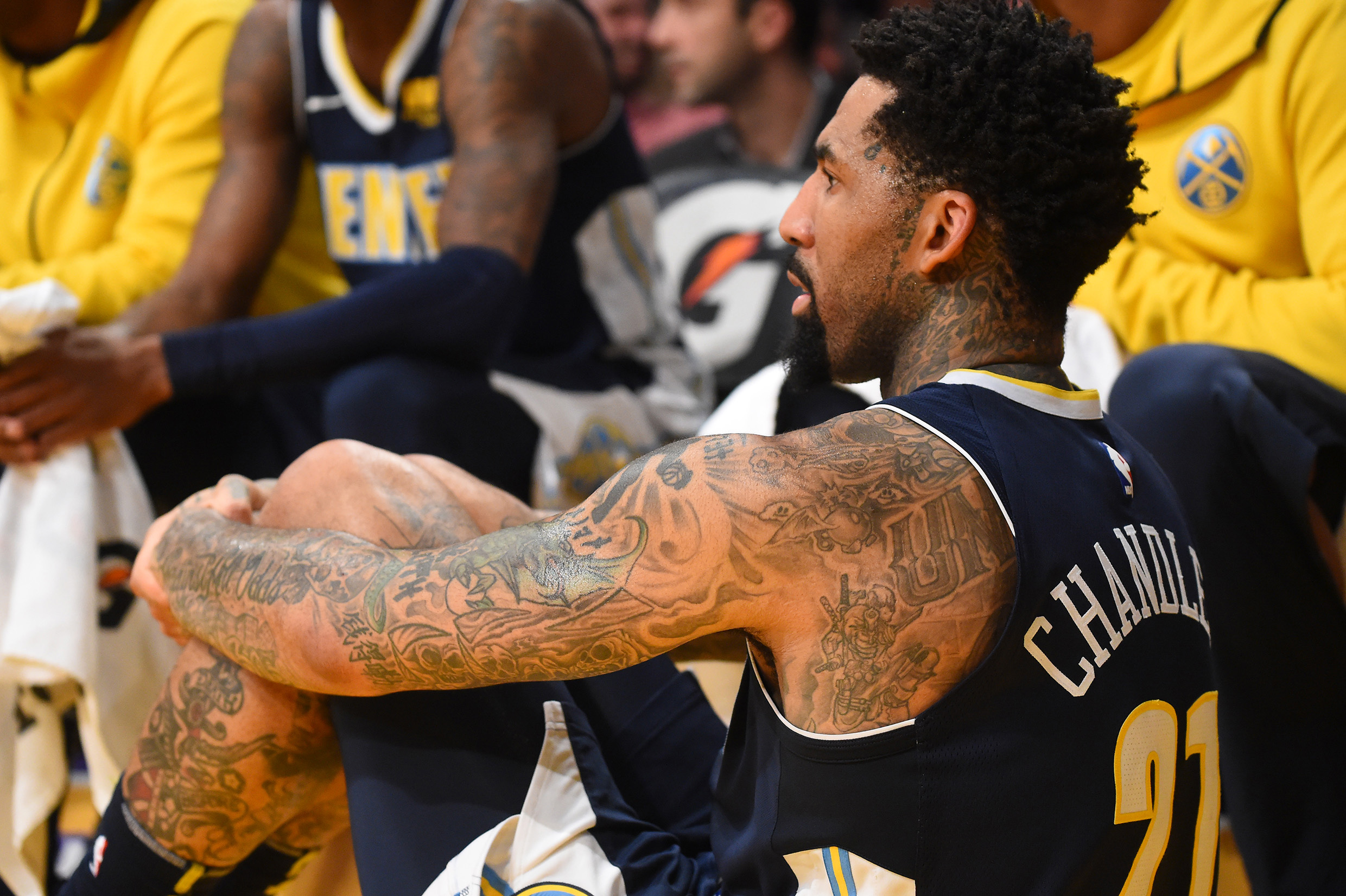 Wilson Chandler was an integral part of the Denver Nuggets when George Karl led the team to an improbable 57-25 record in the 2012-13 season. At the end of that season, Karl was let go. After a brief — and unsuccessful — stint for Brian Shaw, the Nuggets brought in Michael Malone to clean up the destruction that Shaw left in his wake.
Malone — the NBA-lifer and Queens native — was tasked with rebuilding the culture in Denver while helping nurse a young and talented roster to maturity and relative readiness for playoff competition. The development of the youth has gone well, but Chandler — who is one of two players left from the Nuggets' team ran by Karl in his final year along with Kenneth Faried — has found that his role has changed drastically.
Faried has voiced his frustration with coming off the bench; though, in truth, there is no viable path to him starting in Denver. Wilson Chandler's case is a bit more interesting. Chandler went from falling out of the starting to the rotation, to trade requests, all the way to vague illnesses. It hasn't exactly been smooth sailing for Chandler in the Malone-era of Nuggets' basketball.
"I think with Wilson, a lot of it is his approach mentally," Malone told the media after Denver's victory over the Knicks in January. "I think the key is communicating with him, putting him in the right role — a role that he can embrace and excel in — and then the rest is on him to just go out there and play his game."
Finding the correct role for Chandler has been a bit of a challenge for Malone this season. Virtually all of Chandler's per-game numbers are down from his career averages. His points, rebounds, assists, effective field goal percentage, and even his PER have all dipped.
In some sense, this could have been expected. Chandler was slotted behind Danilo Gallinari on last year's depth chart. Gallinari was Denver's best scorer and the team's top free-throw shooter. It was never fair to expect Chandler to slide in and fill those large scarpas, but Denver needed Chandler to add some value on the offensive end, especially without Paul Millsap. Chandler hasn't been able to do that.
Chandler is a quiet guy. That much is easily inferred even from the most minimal of interactions with the 30-year old. His stoicism and suppositious introversion can be misconstrued as a lack of effort or a lack of passion for his role on this Nuggets team. Chandler insists though that's it's not his effort or energy-level that varies, it's his comfort level.
"Nah," Chandler told Mile High Sports when presented with the questions of his mental approach. "I just play a lot of positions. Sometimes I'm out on the wing and I just stand in the corner."
Chandler has played predominantly on the wing under head coach Mike Malone. While Malone lauds the versatility of his veteran forward, Chandler was transparent in his comments — he prefers to play the four.
"It's the position that I came in playing when I started under Mike D'antoni and George Karl. It's a familiarity thing," Chandler said. "That's the position where I'm most comfortable, but the way this team is built, we've got a lot of bigs."
Chandler may have a case for himself. So far, 30.7 percent of his shot attempts this season have been catch-and-shoot threes, per NBA.com's tracking data. Also, 31.4 percent of his attempts are three-pointers in which he does not dribble the ball — he shoots 34.9 percent on such looks. Chandler's not hanging in the corner because he's a sharpshooter. He's simply unsure of how he fits into the offense.
Again, some of this is to be expected. An NBA team is in trouble if they're looking to run a large chunk of their offense through someone like Chandler, but leaving a player beyond the arc and asking them to remain engaged — on either end of the court — can have adverse effects. What Chandler is being asked to do isn't easy.
While Chandler isn't entirely correct about the being shoved in the corner — 29 percent of his looks come from non-corner threes — this puts him in the top 50 percentile among forwards and is well above his career average, according to cleaningtheglass.com — he's right that he's hardly been incorporated into the offense this year.
His usage percentage has dipped to 14.6 percent per Cleaning The Glass. That would be the lowest mark of Chandler's career — down six percentage points from last season when he came off the bench for more than half of the games he played in.
Losing an engaged Chandler on the offensive end is something Malone might be willing to live with. This team has plenty of firepower and most of their issues can be found on the defensive end — especially without Millsap.
At 6-foot-9, Chandler may be slightly undersized to match up at the four with a more traditional big man, but the modern NBA features few back-to-the-basket bangers. The game has shifted to embrace the importance of spreading the floor with shooting on offense and very few aspects of a player's game are valued as highly as switchability and versatility on the defensive end. When engaged, Chandler fits that bill perfectly.
"His versatility for us is huge on that end," Malone told the media after a January victory over Portland. "He can guard ones, twos, threes, and fours."
That's a wide defensive range and Chandler's teammate Will Barton thinks the coach might even be selling him short.
"Even fives sometimes," Barton told Mile High Sports with a smile. "I've seen him guard one through five. He's huge for us on defense. He can switch onto anybody and we don't lose nothing when he's guarding, so that's big."
Chandler is asked to do as much as any player on Denver's roster on the defensive end — a tall task for a player who has seen his role in the offense reduced dramatically, but despite concerns over Chandler's mental approach, his teammates trust him to stay locked in and engaged, no matter where, or how often he is on the court.
"He's always going to play hard, he's always going to lock up," Will Barton told Mile High Sports. "That's just Wilson. It's expected of him."