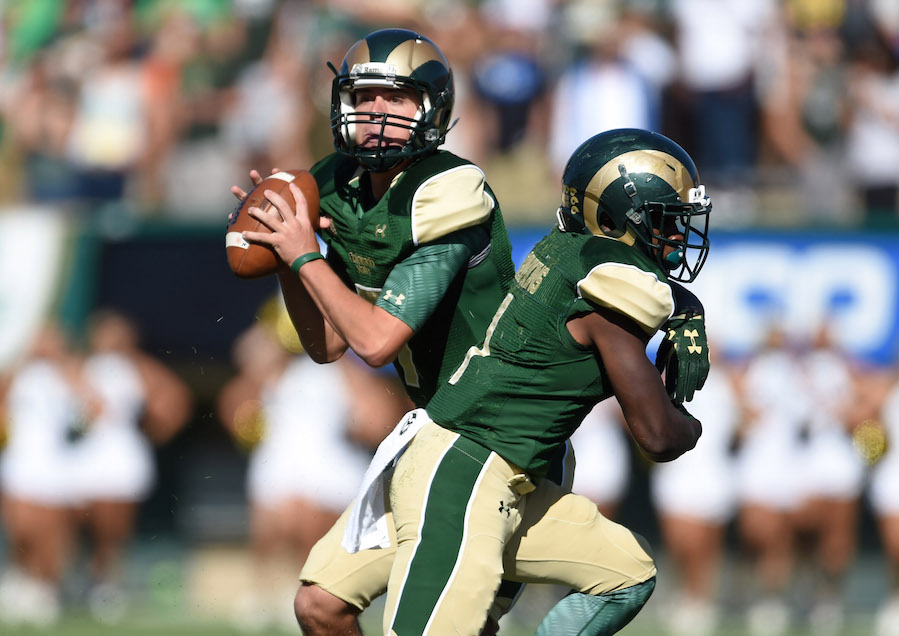 A once-ailing Colorado State Football team has found life. And some time to rest.
The Rams trampled the Falcons of Air Force last week in unexpected fashion, by a score of 38-23. Now they have an off week to revel in the victory and build off its success.
Remember, this is an Air Force squad that held their own against the undefeated Michigan State Spartans, which are currently ranked No. 4 in the Coaches Poll. CSU's win was unexpected, but the way in which they won was even more surprising.
Video credit: Colorado State Rams YouTube
In addition to some big plays on offense (as seen above), the Ram 'D' held Air Force to 269 yards on the ground. While you typically don't celebrate 200-yard-plus rush games on defense, you have to consider a few stats. Since the Falcons ran the ball 56 times, and they routinely average 320.8 rush yards per-game, Rams' effort was more than enough against the 5th-ranked rushing attack in the nation.
And now there could be some momentum building in Fort Collins.
The Rams take the win into their bye week, and will undoubtedly look to build on the confidence and momentum gained when they take on West Division leaders San Diego State on Oct. 31.
Apart from New Mexico and West Division leaders San Diego State, Colorado State's remaining schedule features an assortment of sub-par teams.
Two weeks' time will see the Rams in Laramie in the Border War showdown with Wyoming. However, the "showdown" part of that sentence is suspect. Wyoming is tied for 114th in the country in points per game (20.0), and just picked up their first win of the season against Nevada last week.
The other two teams on the Ram's plate hail from the division opposite the Rams, a league where only one team has a winning record.
UNLV and Fresno State each have two wins, and appear to be of the same talent level. The Bulldogs eked out a win over the Rebels last week, 31-28.
Wins over these three teams puts the Rams at the coveted six-win threshold that signifies bowl eligibility. But a bowl game is by no means a lock with a .500 record, one of those coming against Savannah State. If the Rams were to steal a game from either New Mexico or San Diego State, the possibility of bowling is much greater.
---
Calvin Jouard is an intern at Mile High Sports and a student at the University of Denver
---