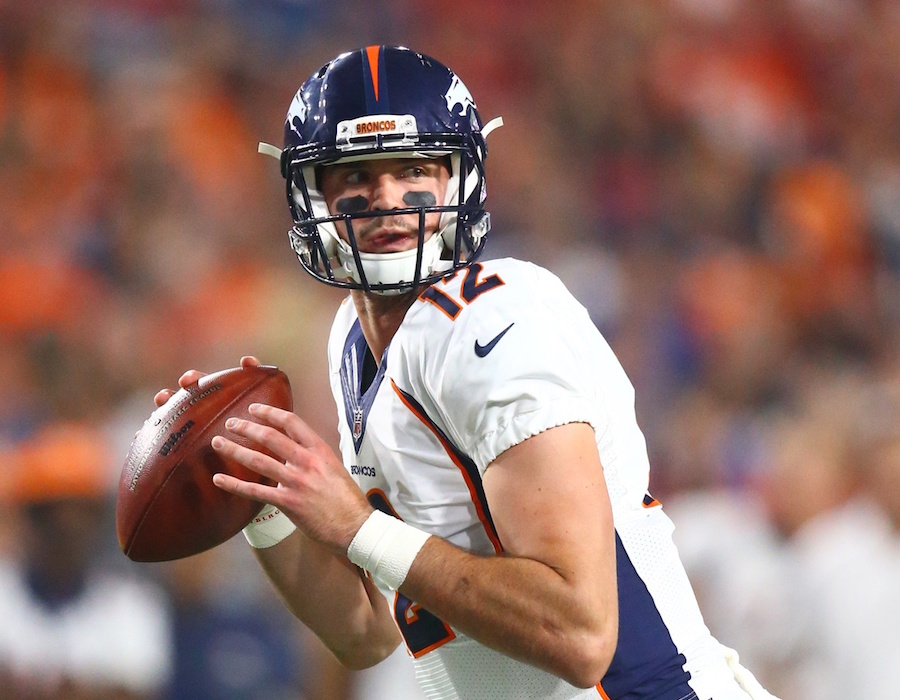 At 3-7 entering their Week 12 trip to face the 4-6 Oakland Raiders, the Denver Broncos cling to a slim chance to turn their season around. Losers of six straight and and seven of eight, the Broncos are turning to the youngest active quarterback on their roster, Paxton Lynch, in hopes of finding a spark. The experience the 2016 first-round draft pick will gain – Sunday will be just his third NFL start – will be invaluable, but head coach Vance Joseph says he is focused more on breaking the losing streak than getting his young players experience.
"Whatever helps us win on Sunday, we'll do. But, right now, we're not trying to get young guys reps on purpose. If they can help us win, absolutely, we'll play those guys," Joseph said on Thanksgiving day before sending his team home for the holiday.
Joseph last week turned to a trio of youngsters, two on the defensive front seven, and a tight end in a loss to the Bengals. Two of the three were activated off the practice squad just last week.
"[OLB Deiontrez] Mount last week and [ILB] Joseph Jones and [TE] Austin Traylor — those kids played well last week, so that was fun to see."
Denver activated Jones from the practice squad on Nov. 7; he saw action on 86 percent of special teams snaps against the Bengals, his first game.
Mount and Traylor were activated just last week. The third year player, Mount, participated on special teams while the rookie, Tryalor, registered a decent NFL debut on the stat sheet. The University of Wisconsin product recorded four catches for 36 yards.
Lynch represents a very different investment, however. As the No. 26 pick in 2016 – one Denver moved up to get – his development is crucial. As the Denver offense has struggled under both Trevor Siemian and Brock Osweiler, the time became only logical for the Broncos to see what Lynch is capable in game action. Practice, Joseph said Thursday, will only reveal so much about a player who ultimately is expected to take over at the position long-term.
"Practice is a controlled environment. For a young guy to get better at playing quarterback he has to play in real games where things are not controlled for him, he has to make his reads and he has to overcome adversity and all of those things. That comes from playing in football games."
Learning that about Lynch is important for the franchise's longterm future, and winning games is important for Joseph's short-term future as he nears what would be only the sixth losing season of the Pat Bowlen era. A win on Sunday would be more like a win-win, given the circumstances.
Click here to watch Vance Joseph's full press conference video from Thursday, including a full injury report ahead of the Oakland game, or watch in the video below.
Video courtesy of Denver Broncos Facebook – AMP users click here to watch on Facebook