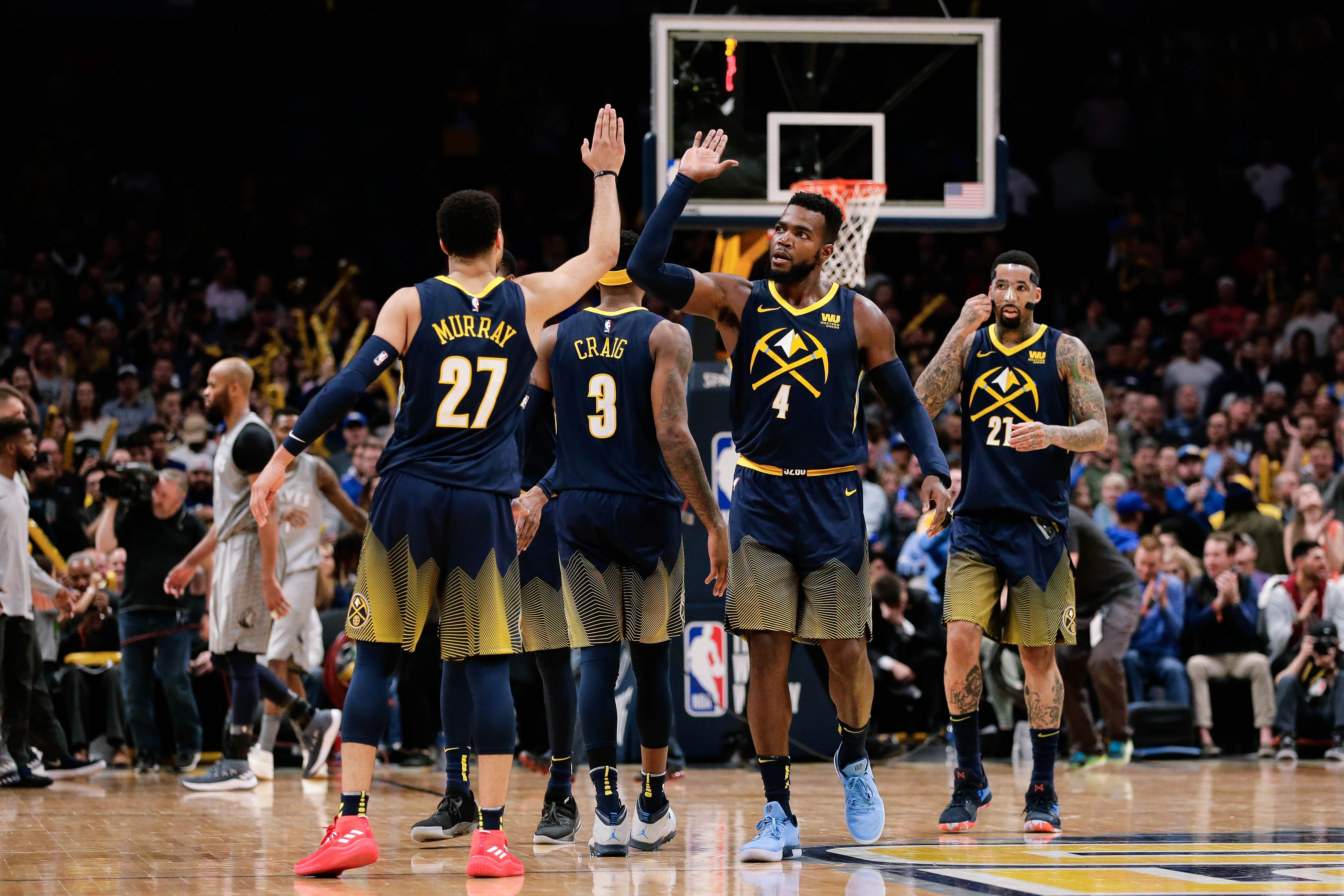 Everything is on the line for the Denver Nuggets and the Minnesota Timberwolves on the final day of the 2017-18 NBA season.
The winner between the two will head to the playoffs while the loser heads home to watch the NBA playoffs from their couch. Minnesota has not been to the playoffs in 13 years, which is the longest current streak in the NBA, and a loss to Denver tonight would make that streak 14 years long. Denver, on the other hand, is looking for their first playoff berth since the 2012-13 season, which feels much longer than four years ago.
Now, with the first one-game matchup to decide who goes to the playoffs in 21 years standing between both Denver and Minnesota, the stakes are as high as they can get for a regular season game. It is absolutely critical for both teams to find a way to win.
Nuggets' head coach Michael Malone does not care how Denver continues to win. All that matters is that his young Denver team finds a way to steal a victory on the road and is awarded their first playoff berth of the Malone-era of Nuggets' basketball.
"Critical? If we lose, we are out, so I guess you cannot get more critical than that," Malone explained. "If we have to score 134 to win like we did in L.A., so be it. If we have to score 88 points and play great defense, so be it. Whatever it takes to get the win. Right now, it is obviously win by any means necessary and we have done that six games in a row against really quality opponents. We feel really good about that, but again, we cannot come up for air. We cannot celebrate. The season is not over. We have one heck of a challenge coming up against a team we just beat here."
Malone is right. The challenge Denver faces is a massive one, but this is hardly the first time that the Nuggets have stared down defeat and somehow find a way to overcome seemingly impossible odds. There is a confidence growing in this Nuggets team that has not been seen since the franchise-record 57-win season four years ago.
"It is our swagger. It is knowing we can win games whether it be on the offensive end of the defensive end," Millsap explained after defeating the Portland Trail Blazers. "I think that is what it is; it is a mindset. You have to believe you are a playoff team. Playoff teams believe they can win any type of way and I think that is the attitude that we have right now."
Now, counting the Nuggets out of a game can be a fatal misstep for any team Denver faces and the Nuggets are beginning to realize that. Denver is no longer playing the part of young and upcoming. Instead, the Nuggets are choosing to keep their trust in themselves and their teammates. That trust has led to a communal belief that this roster can hang with any team in the NBA on any given night.
"I always feel like we have a chance especially considering the guys that we have in this locker room," Millsap said. "I don't think that anyone dropped their head (after losing to the Toronto Raptors). We just continued fighting to put ourselves in a situation to go out there and get into the playoffs. We have our opportunity. Now, it is do or die."
Now, as Denver transforms from a young team on the rise into a playoff opponent that nobody wants to see, the Nuggets are learning quickly how great they can be.
"When we believe in our game and believe in each other, we are a different team and we click on all cylinders," Jamal Murray said.
The hard part now is channeling that talent into aggression and being able to dictate the flow of the game. For the Nuggets to find a way to come away with a victory in Minnesota against the Timberwolves, they will need to do exactly that for a full 48 minutes.
"It is going to take all of it; everyone on the court and everyone on the bench will have to be locked in and ready to play," Gary Harris said. "Minnesota isn't going to let us come in and win. They are fighting for the playoffs as well. We are going to have to take it."
Now, all the remains is just waiting for tipoff to see if this Nuggets' team has what it takes to finish the season on a seven-game winning streak against seven opponents over .500. Every player on both teams know what is at stake, and this young Nuggets' roster is chomping at the bit to prove themselves that much more and take the next step to becoming a playoff team.
"One more. One more," Harris said when asked about his mindset. "Me and Will (Barton) were just talking about that. We have never felt anything like this. For us to be playing in it and having a shot to go to the playoffs, it is huge. We need it. That is all that we are thinking about; playoffs, playoffs, playoffs, playoffs. That has been the goal since the beginning of the season. We have had a lot of ups and downs but it is still right there in front of us so if we go out there and win it will be huge. We have a young team. We want to be in the playoffs so we have to get in there. We just have to do it."
"We are fighting for our lives right now. We've got one more game; win and you're in the playoffs," Harris continued. "There is no better feeling. This is our first time — especially for me — playing for something this late in the season," Harris said. "We wouldn't want it any other way. We know that when we go out there that we control our own destiny. If we win we're in, at the end of the day. We are looking forward to it."
Just win; that is all that is left of the Denver Nuggets 2017-18 season. If the Nuggets win, they're in the playoffs. What a massive step it would be to battle back from having their playoff hopes nearly dead in the water and still find a way to make the playoffs after finishing the regular season on a seven-game win streak.
"Our whole mindset is go to Minnesota, get a win, control your own destiny, be a playoff team," Malone explained. "That is all we have on our minds right now."