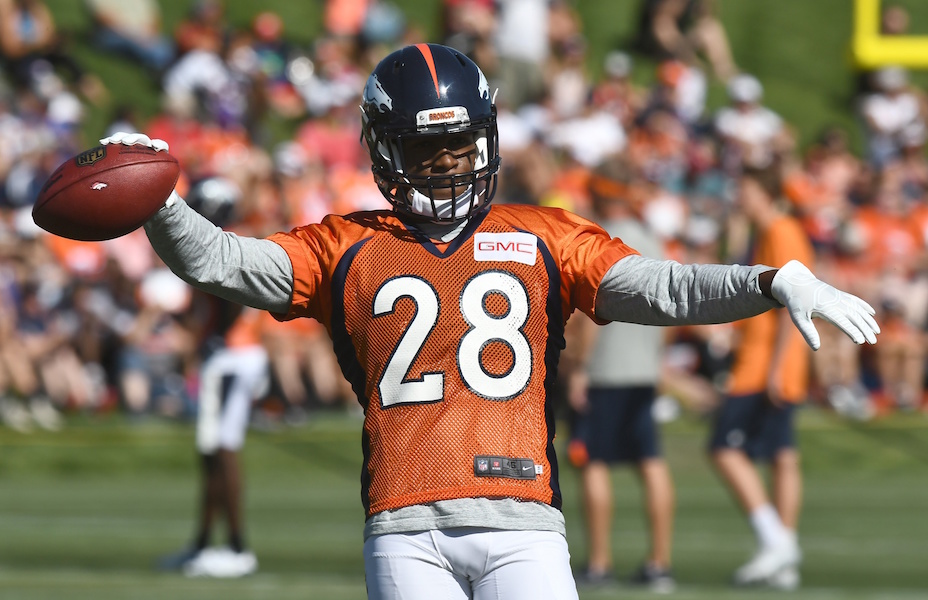 With his job in Denver now secure, Jamaal Charles can focus on the next phase of getting fully conditioned and healthy for the 2017 NFL season. As young players battle for their jobs on Thursday night, Charles can rest easy.
"At the end of the day, I wasn't worried about [if] my job was on the line," Charles told Eric Goodman and Les Shapiro following Saturday's game in which he proved to the coaching staff in Denver that he was healthy and ready to contribute.
"I was just going out there and play football like I've been doing my whole life," the former Kansas City Chief continued. "I wasn't trying to put no pressure on me, I was just trying to go out there. Everybody knows what I can do. I just need to do it with a new jersey on, that's the main thing."
What Charles has done, and the Broncos are hoping he can continue to do, is produce more than five yards per rushing attempt, pass block among the best in the league, and be a receiving threat out of the backfield.
Charles understands that coming off back-to-back seasons shortened by knee injures, he may not see the same volume of touches he was used to for most of his time in Kansas City. He's fine with that.
"I've been that guy before," he said of only getting five touches per game instead of 15-20. "I don't know if you guys remember, Tommy Jones was in front of me, Peyton Hillis was in front of me, and I still made the Pro Bowl both times, so it doesn't matter who's in front of me at the end of the day; I just gotta do my job."
He can feel more confident about his ability to do that job after a strong performance in his only preseason game of the year. Saturday against the Packers, in a make-or-break audition, Charles rushed for 27 yards on four carries – a 6.8-yard average.
"I feel like I've always felt," Charles told Goodman and Shapiro. "I just need to stay healthy. That's the goal right now. I always feel like I felt. At the end of the day, I'm just happy I walked off the field healthy."
With his knee healthy, Charles is now focused on becoming fully acclimated to playing at a mile above sea level.
"I don't think I'm in the right condition," he said after the game. "It took me until today to really feel that. [I'm] trying to get used to this altitude and get used to this thin air. I'm really going to have to do some extra work to get myself healthy and get myself in shape. I'm going to have to tap my head a few times and let C.J. [Anderson] come in a couple plays. But I just got to get in shape; I think that's the main thing."
Charles and the other veterans locked into roster spots can relax on Thursday night as they watch from the sideline the team's final preseason game. His time is not over yet.
"Like I said the other day KD and LeBron are the same person if they go to a different team. I tell a lot of people, I played last year and people forget that. I scored last year against the Raiders, so it's just a different team, different uniform. I'm the same person, and I'm always going to be the same Jamaal Charles until they take away my gift. And man can't take away your gift, only the most high can, so when that happens that means it's done for me."
Listen to the full interview with Jamaal Charles in the podcast below.
Catch Afternoon Drive with Goodman and Shapiro every weekday from 4p-6p on Mile High Sports AM 1340 | FM 104.7 or stream live any time for the best local coverage of Colorado sports from Denver's biggest sports talk lineup.