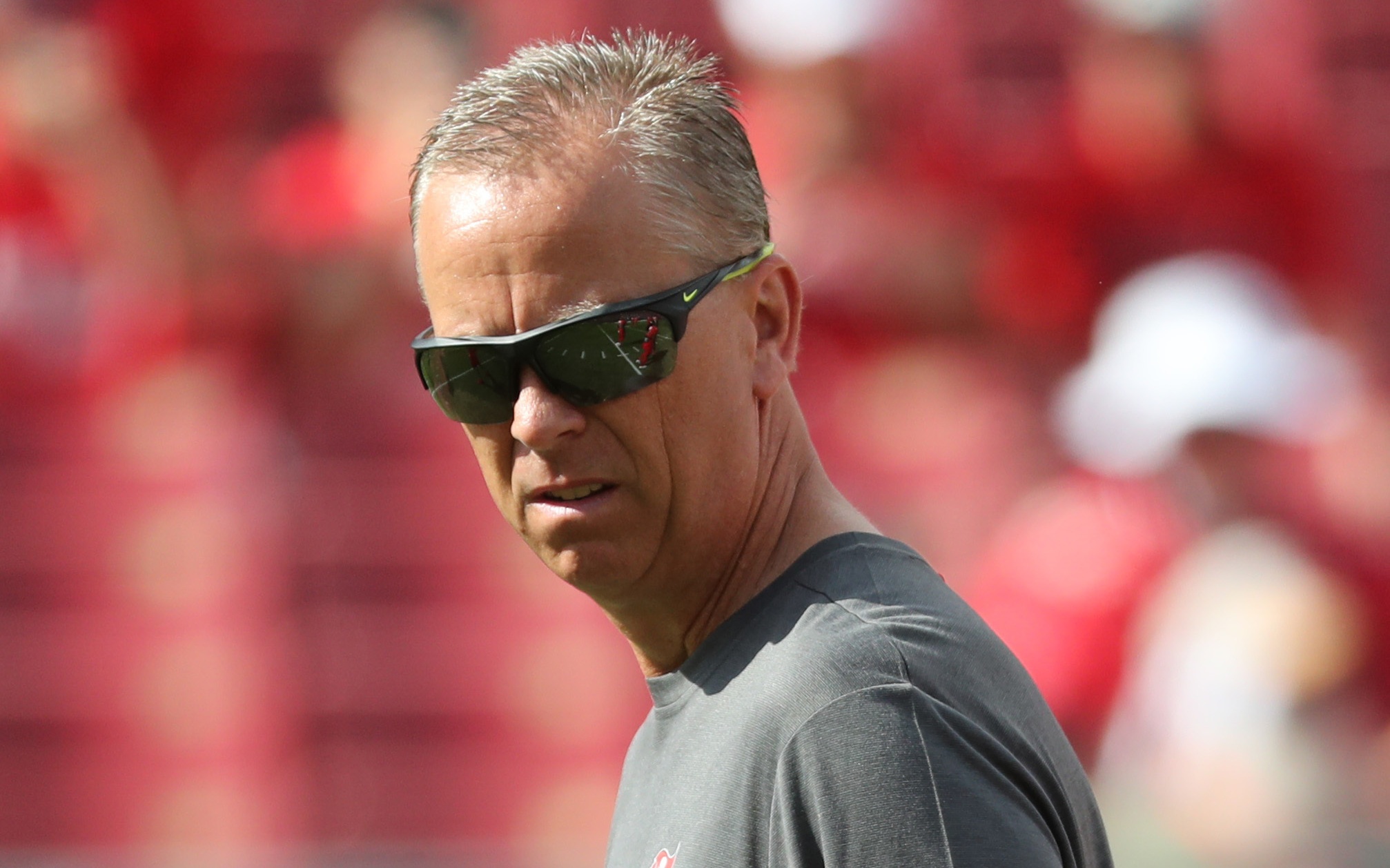 Gary Kubiak will not become the Denver Broncos next offensive coordinator.
That bombshell dropped at about 2 p.m. MT on Friday afternoon from Adam Schefter. This is, however, good news for the Broncos. Kubiak's old-school system, his leaning on old-school assistants — like Rick Dennison — and his looming over the franchise as the former head coach would have possibly stunted the growth of the entire organization.
Now, instead, the Broncos are moving a new direction. That's quite positive, with a new head coach. Instead of trying to do the same old thing again, the Broncos need some new blood calling the offensive plays.
And, maybe the best reason Kubiak won't become the next OC is the fact that Vic Fangio will be in charge of making the call for his offensive coordinator (not Elway) per Nicki Jhabvala.
Offensive Coordinator Candidates
1. Rich Scangarello will be interviewed by the Broncos on Monday as per Tom Pelissero.
But, now Adam Schefter is reporting the Broncos are being blocked from interviewing Scangarello.
Some on the coach, anyway: Scangarello is the quarterbacks coach for the San Francisco 49ers and he helped third-string quarterback Nick Mullens to a 90.8 passer rating this year. Of course, Broncos fans remember how Mullens and tight end George Kittle ripped apart Denver's offense in a must-win game in December, with Kittle gaining 210 yards through the air.
Not only did Scangarello help Mullens realize his potential — as a third-string QB turned starter — this year, but the QBs coach actually discovered Mullens, too. John Lynch explained that in a radio interview in November. While the Broncos likely want someone with coordinator experience at the NFL level, finding someone who can not only lead the offense but also discover new talent would be huge.
2. Todd Monken is a hot name around the league lately, and could be that innovative coach the Broncos desperately need on the offensive side of the ball. Monken utilizes the a combination of the Air Coryell and Air Raid offenses, ones which use many deep vertical routes to help stretch out defenses. While the west coast offense — like Kubiak's — is more efficient and is comfortable moving the ball with short routes and plays, the Air Coryell offense is a more high-risk, high-reward system. While similar to the Air Coryell system, the Air Raid also attacks defenses with as many receivers on the field as possible, with bunch formations and more, and can deploy some short, efficient passes as well.
Two possible problems with that attack in Denver: Case Keenum doesn't have the biggest arm in the worst and that Air Raid needs a stout offensive line which can not only pass protect for long periods of time, but can also open up holes for the power rushing attack.
Monken's philosophy was able to help the Tampa Bay Buccaneers enjoy an elite passing game in 2018 despite having to use Jameis Winston and Ryan Fitzpatrick as quarterbacks. One of the best parts of the Air Raid is it's built for receivers to run into open space and makes some bad quarterbacks look like great ones. They scored 24.8 points per game in 2018 (More on Monken's offense here.)
3. Jim Bob Cooter has ties with the Denver Broncos, as an offensive assistant in 2013 with the team. Since then, he was the Detroit Lions quarterbacks coach and then moved up to offensive coordinator in 2015-present.
Cooter's offense was at its best in 2017, being ranked No. 7 in the NFL while scoring 25.6 points per game that year. His offense with the lions brought about the change from the zone-blocking scheme to a more power run game, which is what we saw in Denver lately, more power concepts. In Detroit, Cooter's offense used a lot of shorter routes — like quick slants and bubble screens — while rarely calling deep passes.
4. John DeFilippo was fired by the Minnesota Vikings in December, working for only 13 games in that role. At only 40 years old, he's on the younger end (Jim Bob Cooter is only 34) for coaches in the league.
His offense — which was used during stints in Cleveland and Philadelphia as well as Minnesota — is a west coast scheme but also mixes in a lot of play-action passes, pre-snap movement by receivers and even incorporates some spread-offense techniques as well. In fact, DeFilippo's offense actually sounds a lot like Kubiak's.
Which isn't a bad thing when considering the need to use more play-action for Case Keenum, who thrives when teams call those plays and/or he's moved in/out of the pocket.
5. Mike Munchak? Woody Paige is calling him as the next offensive coordinator for the Broncos. Others are saying Munchak could make a lateral move from offensive line coach with the Steelers to the same position with the Broncos.
And, the Broncos will talk with Munchak for a second time, likely about either an OL or OC position.
As of the early evening on Friday, only Scangarello is to be interviewed by the Broncos. We'll update as they come in.